Moscow Mule Cocktail: Ginger Madness!
Brandy O'Neill | Nutmeg Nanny
The Moscow Mule cocktail is full of spicy ginger and bright lime. Perfectly refreshing for summer!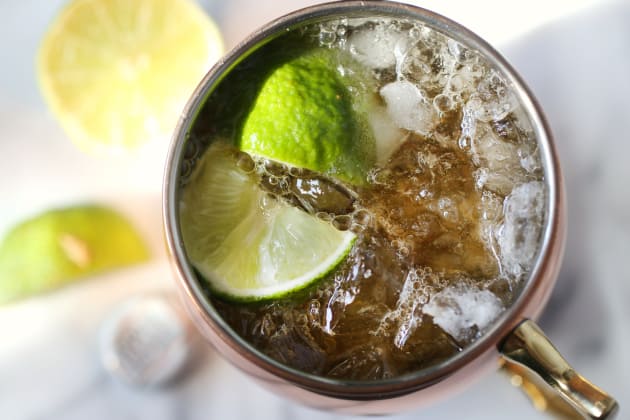 I still remember the first time I had a Moscow Mule. My husband and I were waiting for a table at this fancy little restaurant a few towns away. I had forgot to make reservations, but figured since it was a Wednesday night there wouldn't be a wait.
I was wrong and I was starving, so leaving was completely out of the question. I had my mind set on ordering their duck, and I wasn't leaving until I had it. While we waited for a table to open up we grabbed a seat at their tiny, but very efficient, bar.
Their bartender reminds me someone from the past. Like he hopped out of a speakeasy and just started shaking up cocktails in the year 2014. He is always coming up with tasty new drinks or a delicious spin on a classic.
When I asked him what was new, he told me I had to try their Moscow mule. I was sold! If a bartender tells me I have to try something I'm in no place to turn that recommendation down.
The first thing I noticed is that he started chipping a large block of ice for my drink. Seriously, there are bars that are still chipping away at their own ice? I'm such a sucker for nostalgia, and I was sucked right in.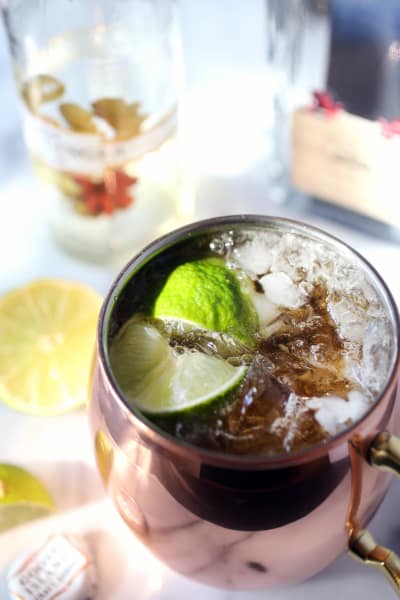 After he did his thing, he sat down in front of me the most perfect mix of ginger, lime and booze a girl could ask for. The best part is that they use their own homemade ginger ale!
While I'm not sharing a recipe for that just yet, a nice spicy store bought brand ginger ale or ginger beer works just as well. Just be sure to not use anything too weak. That means to stay away from that green bottled ginger ale you find in the soft drink aisle.
Shoot for the glass bottles of Jamaican ginger beer if you can find it. Trust me, it is well worth it.
Oh and that adorable bronze cup? That is a traditional Moscow mule mug. You can easily find them on Amazon, and while they are not required for the drink, they do add a nice amount of bling to your cocktail and keep your drink extra cold. Plus they look pretty cool. 
Love cocktails? You've got to try Brandy's Cara Cara Gin & Tonic and Pear Vodka too!
Ingredients
2 ounces Vodka
1/2 Lime, squeezed
12 ounces Ginger Beer, spicy
1 wedges Lime Wedge
Directions
Fill a 16 ounce large glass or Moscow mule mug with crushed ice.
Pour in vodka and squeezed lime. Top with spicy ginger beer and garnish with an extra wedge of lime. 
Recommended
Tags: Cocktails, Drinks, Easy, Quick, Vodka, Ginger, Limes, Party Food