Bisquick Banana Bread: Easy Breakfast
Stephie Predmore | Stephie Cooks
Bisquick Banana Bread is so easy to make! Add pecans, walnuts, or even sunflower seeds for a customized quick bread all your own.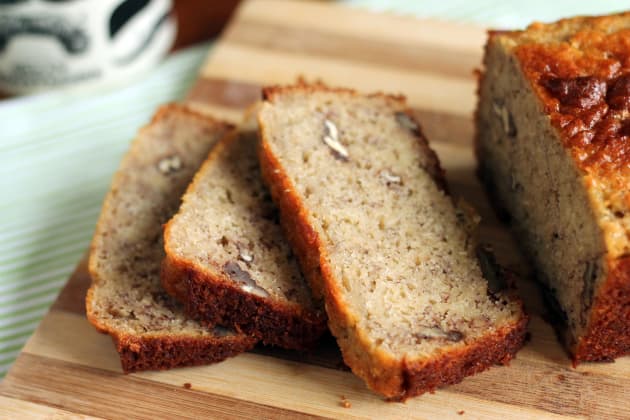 Is there really anyone who does not like banana bread?
I mean, really. I think that everyone I know likes banana bread. Even people who do not like bananas can often be found chowing down on a piece of banana bread. Weird? Maybe. Awesome? Entirely.
I move that we start making more banana bread. No more making it just when company comes over and you need to pretend that you actually keep afternoon snacks on hand at all times. Let's actually keep an afternoon-snacking-loaf on hand at all times. (Relatedly, you can slice up your banana bread, wrap individual slices in a layer of plastic wrap and then foil, and freeze them to later pull out and microwave as a banana bread craving hits… which would be every day around here.)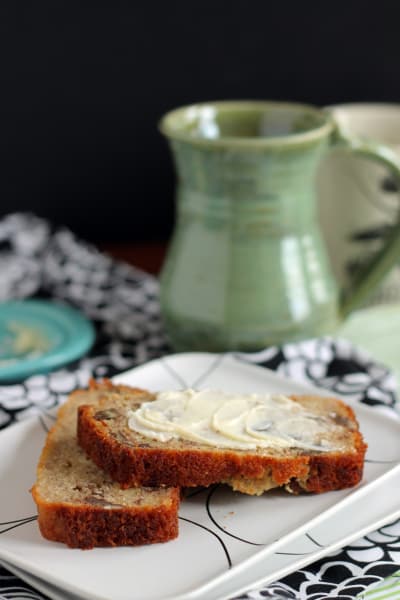 Ok, maybe you don't want to keep a loaf of banana bread around to tempt you at all times. Instead of making it for ourselves, let's make it for someone we love. Maybe your aunt just had surgery – I bet she needs a loaf of banana bread to help her towards a speedy recovery. Maybe your best friend is having a particularly bad week – banana bread will cheer her right up! Maybe your brother just got a big promotion at work – banana bread is the perfect way to say "congrats!"
How are we able to make so much banana bread? Where are we finding the time? This Bisquick Banana Bread recipe is the answer. By using our favorite homemade Bisquick mix recipe, part of the work is already done for us. Adding a few key ingredients, such as buttermilk and just a bit of almond extract, elevates this bread to something that tastes like you spent hours baking. No one needs to know that it took you less than 10 minutes to mix together. That can be our little secret.
If you're looking for another way to use your homemade Bisquick mix, try my recipe for Homemade Red Lobster Biscuits! 
Ingredients
2 cups Homemade Bisquick Mix
2 large Bananas, very ripe and mashed
2 Eggs
1/3 cup Granulated Sugar
1/3 cup Brown Sugar
1/2 teaspoon Pure Vanilla Extract
1/4 teaspoon Pure Almond Extract
2 tablespoons Unsalted Butter, melted
2/3 cup Pecans, chopped (optional)
Directions
Preheat oven to 350°F. Grease a 9x5-inch loaf pan and/or line with parchment paper. Set aside.
Measure homemade Bisquick mix into a large bowl. Set aside.
In a large measuring cup or medium bowl, whisk together all other ingredients except for pecans. Add to the Bisquick mix; stir until just combined. Fold in pecans.
Pour batter into the prepared baking pan. Bake for 40-50 minutes, or until a toothpick inserted into the center comes out clean. Allow to cool in pan before turning out onto a baking rack.
Recommended
Tags: Comfort Food, Baking, Quick Bread, Easy, Breakfasts, Brunches, Snacks, Family Meals and Snacks, Bananas, Nuts