Sausage Bean Soup Warms You Up
Lisa Grant | Jersey Girl Cooks
Sausage bean soup is a hearty meal in a bowl. It feeds a crowd, and happily so!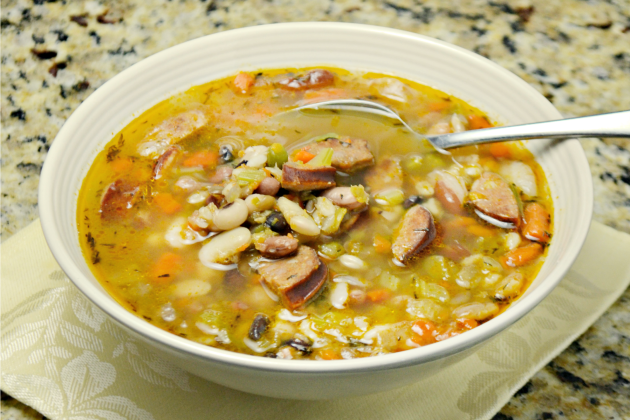 The minute the weather gets chilly I crave making big pots of soup.  In all honesty, I could probably eat soup five times a week in the fall and winter.  With my family's busy schedule I tend to make a big pot of soup once a week and there are plenty of leftovers for our nights on the run.  We're usually running from one place to another quite often so it's comforting to know I can have dinner pulled from the fridge and heated up in minutes.
When I cook soup, I often make two batches. One goes in the freezer and the other stays in the refrigerator. This hearty soup contains meat, beans and veggies so it is a hearty meal. It can be served with a loaf of bread or English muffins on the side and everyone is happy. If I feel ambitious enough, I might even make grilled cheese to go with it. But I really don't think it is necessary.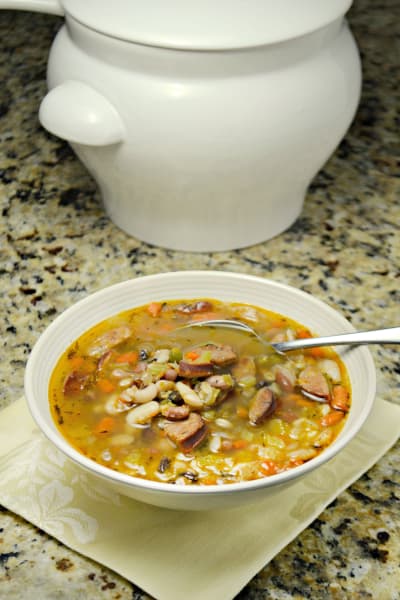 While this meal is simple to make, it does take some time. But it's the type of cooking you do when you are working from home, doing laundry or cleaning the house. Once it is in the pot it doesn't require too much love. Just stir every 20 minutes or so and it cooks itself. Just make sure to keep it on low as you don't want the bottom of your pot to burn. 
I used smoked turkey kielbasa in this recipe but you could use any type of smoked sausage. You can even leave the meat out to make it a vegetarian meal. Just remember to replace the chicken broth with vegetable broth.
I have soup on my agenda quite often.  I know I will be making Potato Leek Soup, Tomato Soup with Rice and Spinach and  Slow Cooker chicken tortilla Soup in my near future.
What's your favorite kind of soup?
Ingredients
16 ounces Mixed Dried Beans
1 tablespoon Canola Oil
1 cup Onion, chopped
1 cup chopped Celery
1 cup Carrot, chopped
12 ounces Smoked Sausage
1 tablespoon Dried Thyme
8-10 cups Low Sodium Chicken Broth
2 tablespoons Tomato Paste
extra Boiling Water, if necessary
Salt, to taste
Black Pepper, to taste
Directions
Soak dried beans in a pot of water overnight. Rinse and drain in a colander before using.
In a large soup pot, heat oil on medium heat and saute onions, celery, and carrots for 10 minutes or until soft.  
Add smoked sausage and cook for another few minutes. Add thyme, broth, tomato paste and beans.  Cover and bring to boil. Reduce heat and simmer for 2 1/2 to 3 hours making sure to stir occasionally.
Add extra water if necessary if soup becomes too thick. Add salt and cayenne pepper to taste. 
Recommended
Tags: Easy Dinners, Easy, Soups, Beans, Sausage, Winter