Slow Cooker Chicken Tortilla Soup
Jen Schall | My Kitchen Addiction Updated
No time to cook? Put your slow cooker to work for you with this easy Slow Cooker Chicken Tortilla Soup. Dinner is served!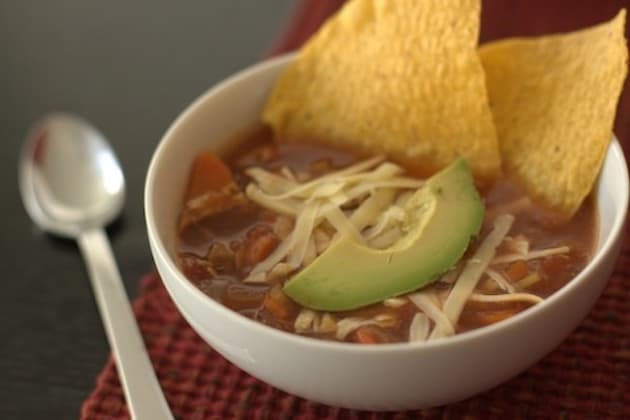 I've always favored thick, chunky soups, if you can even call them a soup. Chili is one of my favorite winter meals, and I will take a hearty loaded potato soup over chicken noodle any day of the week.
A few years ago, though, I decided to give the chicken tortilla soup at a local restaurant a try. After all, I am a big fan of Mexican flavors (remember that Enchilada Sauce recipe I shared with you?), and it was a cold day, so soup just sounded good.
I didn't know what to expect… I knew the soup would be broth-y. But it was love at first bite (or slurp, perhaps). I had a new favorite soup, broth and all.
Fast forward to the present: Chicken tortilla soup is now a staple at my house, and I have developed a few different recipes for it, always attempting to replicate that first bowl.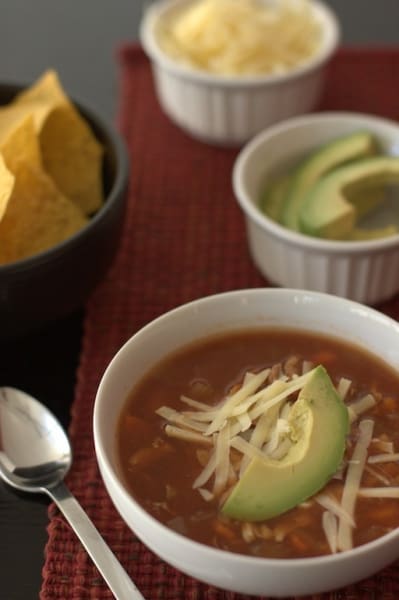 After my daughter was born, I was craving soup, but I knew I didn't have time to make it on the stove. There are a lot of things you can do in the kitchen while carrying a baby (we are big fans of the Moby wrap my house), but preparing soup on the stove is not one of those things. So, I knew that I had to come up with a hands-off version of my beloved chicken tortilla soup.
This is where the slow cooker comes in. I have found that my slow cooker is a very valuable tool when it comes to cooking with a little one at home. I can do all of the prep work the night before or during a morning nap (if the little miss decides to actually take a morning nap!), and let dinner simmer away all day long so that it's ready and waiting with little effort on my part later in the day!
As it turns out, my slow cooker chicken tortilla soup turned out to be the best version I've made to date. The great flavor comes from good quality chicken stock (either homemade or store-bought, just make sure it's good!) and lots of aromatic veggies.
And, since the recipe uses already cooked chicken (leftovers are great, or pick up a rotisserie chicken at the store), it comes together in no time at all, leaving you with plenty of time to snuggle with a baby who refuses to take an afternoon nap.
When dinner time rolls around, just throw together a few of your favorite toppings like avocado, cheese, and sour cream. Dinner is served!
Ingredients
1 tablespoon Extra Virgin Olive Oil
1 rib Celery, diced
5 medium Carrots, diced
2 large White Onions, diced
4 cloves Garlic, diced
26 ounces Chopped Tomatoes
1 tablespoon Ground Cumin
1 teaspoon Chili Powder
1 teaspoon Kosher Salt
1/2 teaspoon Black Pepper
6 cups Chicken Stock
3 cups Chicken
3 cups Bell Peppers
Directions
Heat the olive oil in a large skillet over medium heat. Add the celery, carrots, onions, and garlic, and sauté until tender (about 5 minutes).
Stir in the tomatoes and spices (cumin, ancho chili powder, salt, and pepper), and continue to cook for an additional minute or two.
Pour the vegetable mixture into your slow cooker. Stir in the chicken stock, shredded chicken, and bell peppers.
Cook on low for 8 hours.
When you are ready to serve, simply add tortilla chips and your other favorite toppings.
Notes
Want to save the leftovers? This soup freezes well. Just transfer the cooled soup to an airtight container and freeze for up to 6 months. Then, just reheat, and enjoy!
A carton of chopped tomatoes should be equal to 26 ounces
Tags: New Mom in the Kitchen, Crock Pot, Chicken, Soups, Mexican, Simmering, Dinners