Tomato Soup
Shaina Olmanson | Food for My Family Updated
This tomato soup recipes call for rice and spinach. It's a new twist on an old favorite!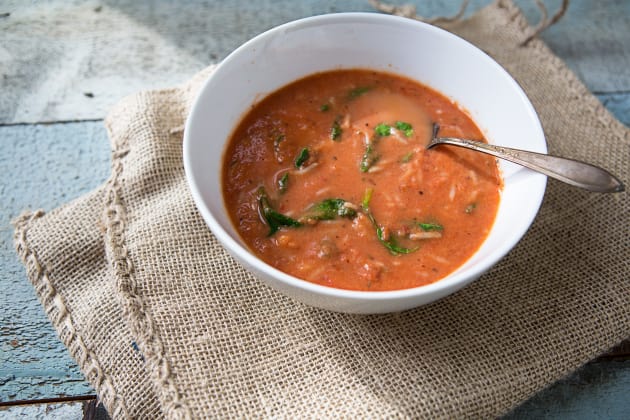 I harbor a soft spot in my heart for tomato soup, and despite being in a family where a bowl of the red stuff only appears twice or thrice yearly, I have passed on a sort of nostalgia to my children.
I know this to be true because they have several times discussed the merits of tomato soup and a warm grilled cheese sandwich with me.
It was under such a pretense that I constructed a large pot of tangy goodness recently. I dutifully removed our stewed tomatoes from the freezer the day before to give them an adequate amount of time to turn to slush in the refrigerator. I picked out a nice sliced loaf from the bakery because I still haven't mastered a good grilled cheese base in my own kitchen. Then an hour before it was time to eat I collected the ingredients and started the pot simmering.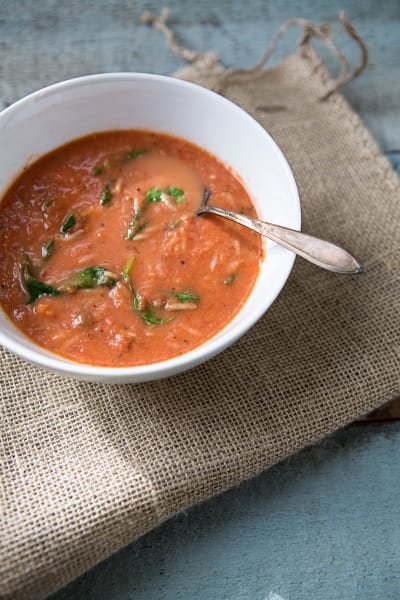 Small faces appeared in the doorway from their walk home from school, boots crusted with salt and snow, cheeks ruddy. "What smells delicious, Mom?"
The sounds of boots thumping off excess snow, of backpacks being unzipped and folders pulled out, chaos consumes the house. In the midst of it all, there is a silent pot of bubbling soup that brings us together and has us sitting down to dinner as a family after the homework has been finished and the boots set out next to the heating vents to dry for tomorrow's trek to school.
Sandwiches are dipped and others are not, and at the end of the meal everyone is satisfied, content with their bowl full of wistful winter memories.
Ingredients
2 tablespoons Olive Oil
1/4 large White Onion, diced
3 cloves Garlic, minced
28 ounces Crushed Tomatoes
1 tablespoon Dried Basil
1/4 cup Heavy Cream
1/2 cup Baby Spinach
2 cups Brown Rice
Kosher Salt
Black Pepper
Directions
Heat the oil over medium heat.
Add the diced onions and cook for 5 minutes.
Add minced garlic and cook for an additional 30 seconds.
Pour in the crushed tomatoes, 1/3 cup water, and basil; simmer for 25 minutes over a medium-low heat.
Puree with a hand blender until smooth.
Stir in the cream, spinach, and rice and continue cooking about 5 minutes more to cook the spinach slightly.
Season with salt and pepper.
Serve warm.
Notes
You may also use white rice.

Tags: Family Meals and Snacks, Soups, Simmering, Vegetarian, Healthy