Sourdough Bread
Kate Donahue | Food Babbles Updated
Sourdough bread is the best bread there is. No argument, no debate, it just IS.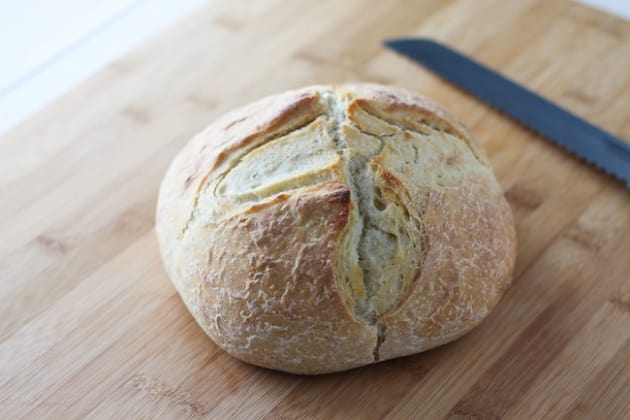 Remember that time we made a sourdough starter from scratch? That was so much fun! How's yours doing? Did you name it? I hope it's thriving well, all bubbly and active or hibernating peacefully in your refrigerator.
How about we put your wild yeast to work now?
Naturally, I think the first thing you should make with your pet sourdough starter is a nice chewy, crusty loaf of sourdough bread. I have a deep love for the particular type of bread. There's nothing quite like the complex, deep flavor of sourdough. Some recipes try to replicate it by using buttermilk or the like, but it just doesn't compare to authentic, true sourdough bread.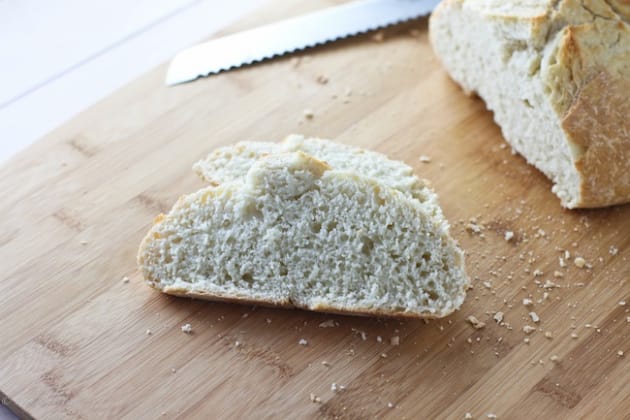 Once you have a sourdough starter, making a loaf of bread with it at home is easy. This does take a little pre-planning, though. Definitely plan on making this loaf a two-day project because first we need to wake your sourdough starter up! If you've had your starter sleeping in the fridge, it needs some time to get going.
So make sure you feed it just as you normally do and then let it sit at room temperature for about 6 hours, until it's bubbly and active - then you're ready to go!
There are plenty of recipes out there that can be done in one day but I prefer a longer, slower rise because this allows the flavor to deepen and develop more. You just can't rush that. Oh, trust me! It's definitely well worth the wait.
This bread is tangy without being smack ya in the face sour. Just enough to let you know that this is no ordinary loaf of bread, it's an extraordinary loaf of bread. Now, go rouse that sleepy sourdough starter from its peaceful slumber and get baking!
Ingredients
1 cup Sourdough Starter
5 cups All-Purpose Flour, divided
1 tablespoon Sugar
2 teaspoons Salt
Directions
In a large mixing bowl, vigorously beat together the fed sourdough starter, 3 cups of flour and 1 1/2 cups lukewarm water. If the dough is not smooth add a little more water, a tablespoon at a time just until a smooth dough forms.
Cover the bowl and leave at room temperature for 4 hours then refrigerate 12 hours or overnight.
Add the remaining 2 cups of flour, sugar and salt to the dough. Either by hand or with a stand mixer fitted with a dough hook, knead the dough until smooth.
Cover the bowl and allow the dough to rise until nearly doubled, smooth and relaxed. This may take anywhere from 2-5 hours. Do not rush this process.
Gently divide the risen dough in half. Gently form two loaves and ideally, place them in a covered stone baker or on a parchment-lined baking sheet. Cover and rise until very puffy, 2-4 hours.
If baking on a parchment-lined baking sheet, place an empty broiler pan in the lower portion of oven. Preheat oven to 425 degrees.
Slash the tops of both loaves and mist with water. Place in preheated oven and if using parchment-lined baking sheet, pour one cup boiling water in broiler pan below loaves and immediately close oven door.
Bake loaves or 25-30 minutes until golden brown. Remove from oven and cool completely on a wire rack.
Tags: Bread, Side Dishes, Baking