Tiramisu: Italian Classic Made Healthy
Steph S. | ::steph chows::
Lady fingers and coffee make Tiramisu a classic. We think you'll love Steph's lightened up version.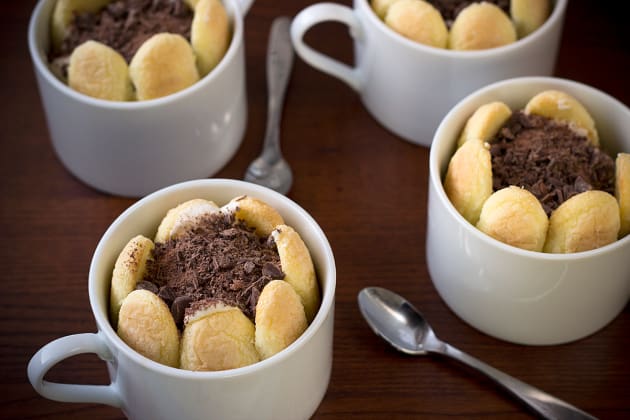 Purists will shudder at this version of tiramisu. No pretty layers, no mascarpone cheese, no heavy whipping cream. Don't get me wrong, I love, love, LOVE traditional tiramisu.
It's a favorite to order out, and the first few times I tried to make a "lighter" version at home, it didn't work out too well. Too sweet. Too cream-cheesy. And just not what I wanted.
Never fear, third time must be the charm. I've got the ratio down now and I stopped trying to use instant espresso – hello, bitter! This healthier version of the Italian classic is easy to make and takes ingredients you can find anywhere.
For extra fun, I serve them in mugs, pre-portioned and cute to boot! You might notice the chocolate chunks on top. Sure, you can use cocoa powder to make these even healthier, but I can't help my sweet chocolate tooth.
Plus, my husband John only likes them this way. He's a stickler for his milk chocolate. Had I been making these just for me, I would have gone with dark.
In all reality I bought a chocolate bar to shave and use as the topping, but "someone" got into the chocolate bar stash and ate it all up. Hence the chopped chocolate chips. Still tasty, just not as pretty. If you have the time, use chocolate shavings instead.
What a great dessert! It caps off Steph's Lentils and Rice recipe perfectly. Don't forget to enter the Planet Rice giveaway too!
Ingredients
4 ounces 1/3 Less Fat Cream Cheese, room temperature
3 tablespoons Granulated Sugar
2 1/2 tablespoons Amaretto
1/2 teaspoon Pure Vanilla Extract
1 1/2 cups Cool Whip Fat Free
24 Lady Finger Cookies
3/4 cup Coffee, strongly brewed
3 tablespoons Milk Chocolate Chips, finely chopped
Directions
Beat cream cheese and sugar until light and fluffy.
Stir in Amaretto and vanilla.
Fold in cool whip.
Place 6 lady fingers into each mug and drizzle with cooled coffee.
Divide whipped mixture into the center of each mug and top with chocolate shavings.
Serve chilled.
Tags: Healthy, Healthy Eating, Healthy Comfort Food, Italian, Desserts, Chocolate, Coffee, Easy