Steak and Crispy Onion Tacos: Grilling Perfection for Kids and Adults Alike
Lisa Grant | Jersey Girl Cooks
Steak taco night gets an upgrade with the addition of crispy onions. Make a taco bar tonight, the kids will love it!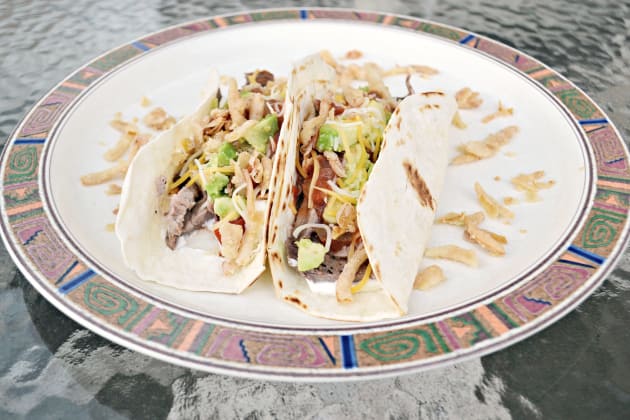 Taco night is popular at our house. My kids adore them, and I love the fact that everyone can make their own. There are no complaints about too many tomatoes or too little cheese. I just set up several bowls of fixings and everyone does their own assembling.
My eleven year old son is a picky eater, but he likes the main staples like grilled steak or chicken. Tacos are something we eat once a week because you can always change what's in them. You can never have too many taco nights.
My family loves a grilled meal in the summer and there is nothing better than the aroma of steak on a grill. Pair it up with some fresh veggies, soft four tortillas and you have one great meal.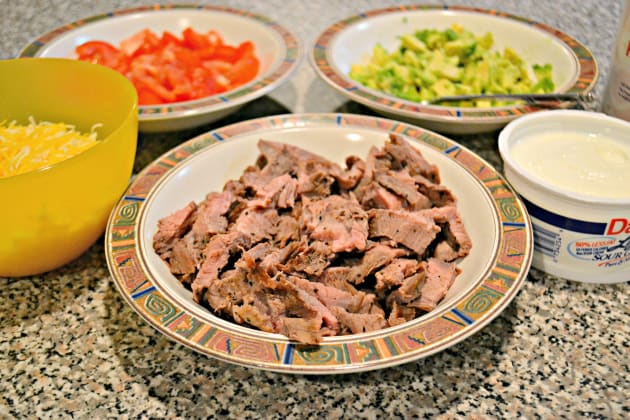 I have been to many steak restaurants where they serve crispy little onions on the steak. I decided to add some canned fried onions to our steak tacos. It took things to a whole new level. The texture was great and it added some extra flavor. My son won't eat them but the three other people in my household gobbled them up.
These steak tacos were made with a sirloin cut, but London Broil would work well too. I served the tacos with store bought salsa but next time, I might make some chicken tacos with pineapple salsa.  Homemade fish sticks are another big taco ingredient at our house. The possibilities are endless.
When is your next taco night?
Ingredients
2 tablespoons Grill Mates Montreal Steak Seasoning
1 1/2 pounds Sirloin Steak, boneless
12 Flour Tortillas, fajita size
1 cup Chopped Tomatoes
1 Avocado, large, peeled and chopped
1 cup Sour Cream
1 cup Salsa
1 cup Shredded Cheddar Cheese
1 cup French Fried Onions
Directions
Rub the seasoning on the steak and marinate in the refrigerator for 4 or more hours. Let the steak sit at room temperature half an hour before grilling. Get a gas grill ready on high heat. Cook the steak for 2 to 3 minutes on each side or until there is nice grill marks. Reduce the heat to medium and cook for another few minutes or until internal temperature reaches 160 degrees for medium doneness.  Slice meat into pieces for tacos.
In a large non- stick frying pan, heat tortillas on medium for 30 seconds on each side or until warm.
Place the steak on each tortilla and top with tomatoes, avocado, sour cream, salsa, cheese and crispy onions.
Recommended
Tags: Easy Dinners, Dinners, Tex Mex, Grilling, Steak, Beef