Old Bay Chex Mix: A Spice Twist on Tradition
Emily Caruso | Jelly Toast
Love Chex Mix? You'll love Emily's fun twist using Old Bay Seasoning.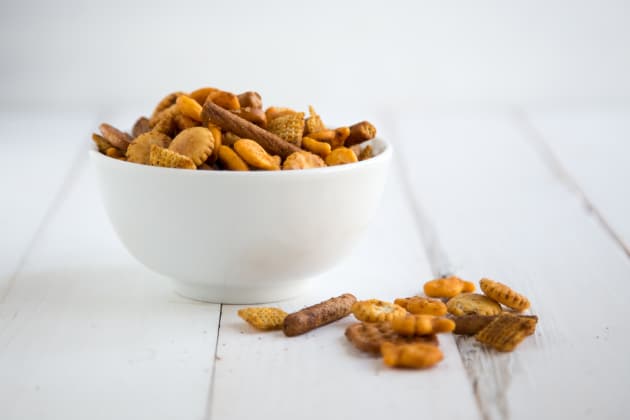 Let's talk about Chex mix for a minute. It isn't just for parties. In fact, it's one of the things my kids love making the most and we often make it on rainy afternoons as an easy but special snack. It's not a hard thing to make and really most of the time, you're simply waiting for it to come out of the oven. And boy, does it smell good while it's baking. 
Now, in our house, we've made all kinds of Chex mix. Sometimes we use Ranch Dressing, other times we do a more traditional Chex mix. But this time, I wanted to try something a little different. 
A bit more sophisticated (although, I'm not sure how sophisticated you can get when you throw Goldfish crackers into the mix). I decided to go with a flavor combination that involved Old Bay Seasoning.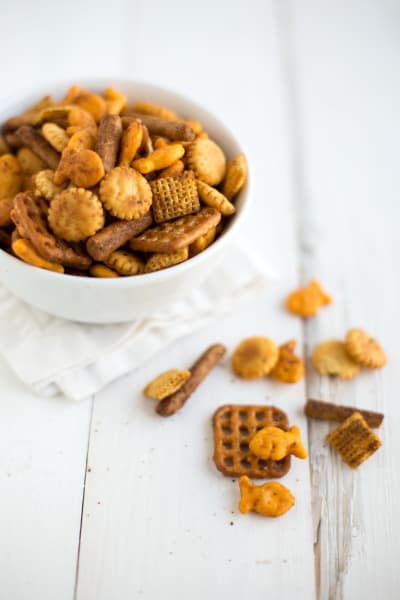 I tend to throw Old Bay on just about anything including baked sweet potato fries and my
Kale Chips Recipe
. It happens to be one of my favorite flavors. Plus, it always reminds me of summer. 
This Old Bay Chex Mix is a little something for the grown ups. It has some spice and heat and complexity of flavor that will keep you and your friends very happy. Serve it at a party or just dig into it yourself while enjoying a beautiful warm summer night - and perhaps a cold beer. Just saying.
Ingredients
4 cups Chex Cereal, any kind or combination that you'd like
2 cups Cracker Sticks, like Wheat Thins Cracker Stix Honey Wheat
2 cups Cheese Crackers, like Pepperidge Farm Goldfish
2 cups Oyster Crackers
2 cups Pretzels
1/2 cup Unsalted Butter, melted
2 tablespoons Worcestershire Sauce
2 1/2 tablespoons Old Bay Seasoning
2 tablespoons Lemon Juice
2 teaspoons Hot Sauce, like Cholula
Directions
Position oven racks to the top and bottom third of your oven. Preheat oven to 300°F.
Spread Chex cereal, cracker sticks, cheese crackers and oyster crackers on two rimmed baking sheets. Bake for 5 minutes or until warm.
In the meantime, mix together melted butter, Worcestershire sauce, Old Bay seasoning, lemon juice and hot sauce in a small bowl.
Remove crackers from oven and toss them with the pretzels in a large mixing bowl.
Drizzle cereal and cracker mixture with the seasoned melted butter and toss to coat well.
Divide the mixture between the two rimmed baking sheets and bake for 20-30 minutes or until cereal and crackers are beginning to brown.
Rotate sheets and stir snack mix halfway through baking time.
Allow mixture to cool completely before serving.
Extra snack mix can be stored in an airtight container for up to 1 week.
Recommended
Tags: Appetizers, Snacks, Party Food, Holidays