Steamed Mussels in Tomato Broth: A Jersey Shore Specialty
Lisa Grant | Jersey Girl Cooks
These Steamed Mussels in Tomato Broth are so quick and easy, you'll wonder why you never made them before. Bring the Jersey Shore home for dinner!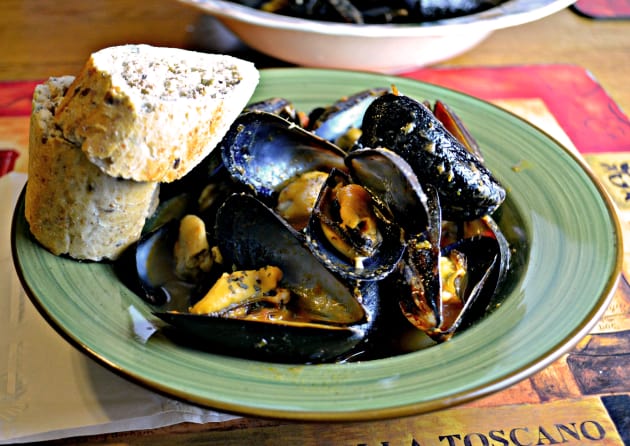 Mussels are another dish that bring me  back to my childhood. Growing up, I lived in northern New Jersey, where the pizza is good and plentiful. You could also order decent mussels from any pizza place. I would stay at my grandmother's house at the Jersey shore in the summer.
It was a Friday night ritual to have pizza and mussels from the local pizza place. The best part was soaking up the wonderful broth with a hearty piece of Italian bread or some extra pizza dough crust.
My nana and grandpa would drink their red table wine while I had some ginger ale. This was a big treat, as soda wasn't seen often on the dinner table. Now that I am an adult, I love enjoying my bowl of mussels with a glass of wine.
These mussels are great served with some sourdough bread and a salad.   But my active children like having some pasta on the side. Ifyou boil up some spaghetti, this feeds plenty of people.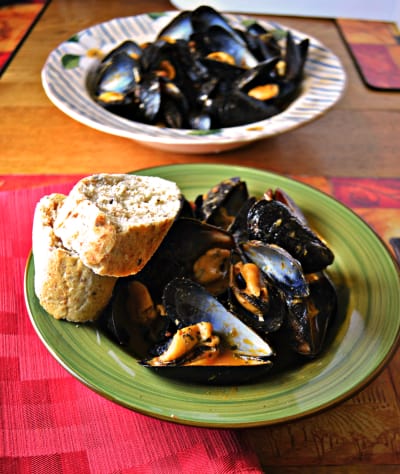 Before I cooked my own mussels, I always thought they were lots of work. But in actuality, they are an easy dinner. I buy PEI mussels and they are so free of sand and grit that all I have to do is rinse them. I make a quick tomato type broth and the mussels get steamed in less than five minutes.
If you eat in restaurants, you might have noticed that mussels are on many menus. They are the latest rage and are served with different sauces. They are also popular served with French fries. Why not make your own? It's the perfect quick weeknight meal for the whole family.
Ingredients
2 pounds Prince Edward Island Grown Mussels
2 tablespoons Olive Oil
1 tablespoon Garlic, crushed
1 cup Crushed Tomatoes
1 cup White Table Wine
1 Lemon, juiced
1 tablespoon Italian Seasoning
1 tablespoon Butter
Salt, to taste
Black Pepper, to taste
Directions
Rinse and drain mussels. In a large pot, heat the oil on medium heat.
Add garlic, crushed tomatoes, wine, lemon juice and Italian seasoning.
Bring the sauce to a simmer and cook for 10 minutes.
Add the butter and mussels. Toss and cook covered for about 5 minutes or until mussels open up. Discard any mussels that did not open.
Season with salt and pepper to taste if needed. Great served with bread or pasta.
Tags: Easy Dinners, Seafood, Mussels, Shellfish, Steamed, Dinners, Tomatoes