Spaghetti Squash with Walnut-Carrot Sauce
Natalie Perry | Perry's Plate Updated
This unique Spaghetti Squash "Pasta" dish is light and meat-free. It's the perfect dinner for a hot summer day.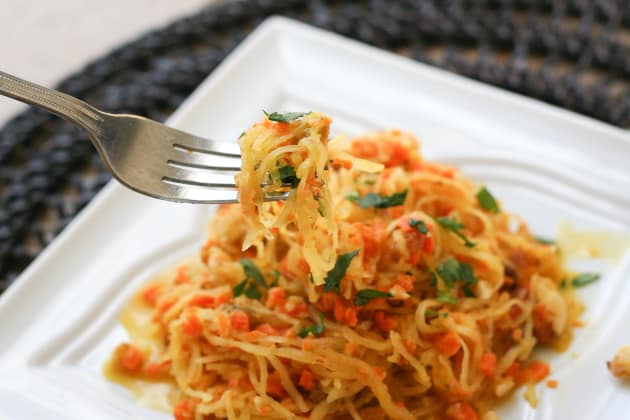 Spaghetti Squash is sometimes the go-to vegetable replacement for pasta, but it doesn't always jive with the recipe. The texture isn't exactly like pasta, nor is the taste. Most often I find that putting the sauce or vegetables in a pasta dish over a bed of cauliflower rice or quinoa works much better.
Spaghetti squash is a strange animal, but in this recipe, which originally called for angel hair pasta, it works beautifully! You can substitute almonds for the walnuts if you like, and the cheese is optional. It's a light, meatless dish that will be a great go-to when the weather warms up!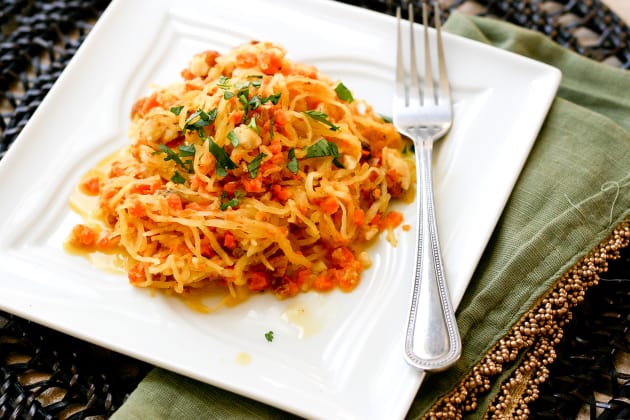 Since spaghetti squash won't be in season for much longer, you can use zucchini "noodles" in the summer when it's abundant. Like in my Pesto Zucchini "Spaghetti" recipe.
That zucchini recipe also has bacon, which would be a great addition to this recipe as well. (Duh. It makes everything better!)
Ingredients
1 whole Spaghetti Squash
3 medium Carrots, roughly chopped
2/3 cup Walnuts
3 cloves Garlic, peeled and quartered
1/2 teaspoon Oregano
1 teaspoon Lemon Zest, grated
dash Crushed Red Pepper
2 tablespoons Coconut Oil
1/2 cup Raisins
1 1/2 cups Vegetable Broth
1/2 cup Grated Parmesan Cheese, optional
1/2 cup Lemon Juice
3 tablespoons Fresh Parsley, chopped
Directions
Place the squash on a baking sheet and bake at 375°F for 30-45 minutes, or until the squash pierces easily with a butter knife and the interior is fully cooked.
Cut the squash in half and let it cool enough to handle. Scrape out the seeds and "goo" with a spoon; discard. Using a fork, scrape out the squash's "noodles" into a bowl; set aside.
Place the carrots, walnuts, garlic, oregano, lemon zest, red pepper flakes, and 1/4 teaspoon salt in a food processor. Pulse until finely chopped.
Heat oil in a large skillet over medium-high heat. Add the carrot-nut mixture and the raisins and cook, stirring frequently, until the carrots soften and begin to turn golden brown, about 5 minutes.
Add the vegetable broth and bring to a simmer.
Add the squash, cheese (if using), lemon juice, parsley, and toss. Adjust salt, to taste. Divide among bowls and top with more cheese (if desired).
Notes
You may use almonds in lieu of walnuts.
Recommended
Source: Food Network Magazine, March 2013

Tags: Paleo, Dinners, Spaghetti Squash, Squash, Healthy, Low Carb, Vegetarian, Vegetables, Gluten Free