KitchenIQ Coarse Grater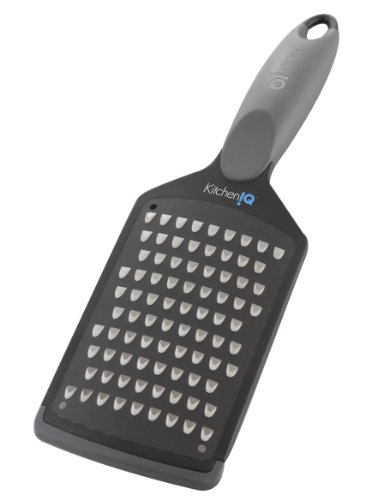 List Price:

$16.99

Your Price:

$16.95

You Save:

$0.04 (0%)
Buy Now

Warranty:

1-Year limited
Customer Reviews:
The Kitchen IQ Coarse Grater is perfect for grating both soft and hard cheeses, chocolate and vegetables. I especially love how it grates...
Product Description
The KitchenIQ Coarse Grater Paddle is an ideal tool for grating a wide variety of items. The sharp V-etched blades will make quick work of chocolate for desserts, cheeses for dips, and more.
The paddle features an ergonomic handle for comfortable grating, and the nonslip rubber edge will ensure your paddle stays where you want it — no more chasing the grater across your surfaces.
It also features a nonstick coating, allowing stickier foods like cheeses to glide effortlessly across the grater's surface, getting a better shred while making less work for you! The size of the blades is perfect for julienned carrots or radishes, making it a salad lover's dream.
The KitchenIQ Coarse Grater Paddle's design allows you to grate however you need: over a bowl, into a pot, or onto a cutting board. It comes with a blade cover to keep errant fingers from being cut. Available in Charcoal and Blue.
Tags:

Related Products:

Model:

50261

GTIN-13 / EAN Code:

0027925502617

Weight:

0.3 lb

Depth:

11.5 in

Width:

3.5 in

Height:

1.5 in

Color:

Charcoal

Brand:

Kitchen IQ

Manufacturer:

Edgeware