Roasted Vegetable Enchiladas
Julia Mueller | The Roasted Root Updated
Roasted Vegetable Enchiladas are a nutritious version of a classic comforting dish. You won't miss the meat, we promise.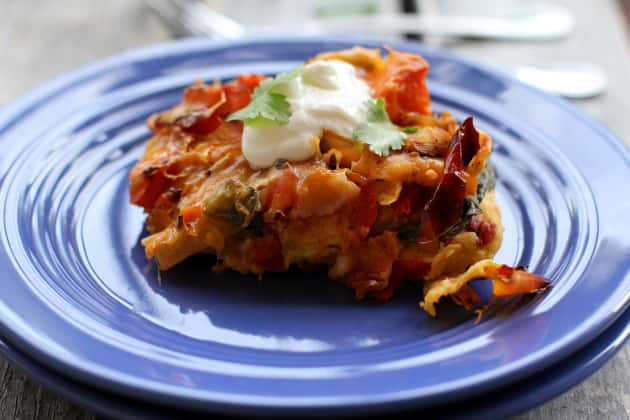 We roast. We layer. We conquer!
Look at how fun vegetables can be!  All bright and cheerful, sandwiched between corn tortillas, salsa, and cheese! The vegetables are out of the crisper and they want to play… In your enchiladas!
One of my favorite ways of preparing vegetables is roasting them. The flavor seems to deepen when they are baked in the oven and the health benefit to roasted veggies is definitely something to write home about!
I adapted this recipe from one of my fellow Food Fanatics, Natalie Perry. The recipe for Stacked Roasted Enchiladas was very well-received by Natalie's followers, so I knew I had to try it. 
The recipe is packed full of nutritious vegetables and is a healthier version of a delicious comforting meal. My changes to Natalie's version were minor – I simply added more cheese, tortillas and salsa. Sticking with the original version is recommended for a less calorie-dense meal.
While baking this dish, your house fills with a most delicious bell pepper scented fiesta. From oven to mouth, the texture and flavor of the Roasted Vegetable Enchiladas is pure bliss to be enjoyed by the whole family.
One square of Roasted Vegetable Enchiladas is enough to fill you right up, so while this can be served as a side dish, it is definitely filling enough to serve as an entrée as well. Of course, you can adapt this meal to include any of your favorite vegetables, or even use this as inspiration to put your leftovers to use. 
If you want to be really slick, you can make your corn tortillas and salsa homemade.  Happy enchilada-ing!
Ingredients
1 Pasilla Pepper, sliced into strips
1 Red Bell Pepper, sliced into strips
1 Yellow Bell Pepper, sliced into strips
1/2 large head Cauliflower, cut into 1/2-inch chunks
1 small Sweet Potato, peeled and cut into 1/2-inch cubes
1 medium Onion, halved and sliced
3 tablespoons Grapeseed Oil
1 1/2 teaspoons Ground Cumin
1/2 teaspoon Paprika
1/2 teaspoon Garlic Powder
Salt
Black Pepper
3 cups Salsa
1 leaf Chard, chopped
12 tortillas Corn Tortillas, halved
8 ounces Cheddar Cheese, shredded
8 ounces Monterey Jack Cheese, shredded
Directions
Preheat the oven to 425°F.
Add all chopped vegetables to a large mixing bowl. Pour the grapeseed oil, cumin, paprika, salt and pepper over them. Using your hands, mix the vegetables so that they are all coated.
Line two baking sheets with parchment paper and spread out the vegetables. Bake them in the oven for 30 minutes or until they are tender and slightly browned. You can stir around the vegetables half-way through to ensure they roast evenly.
Remove vegetables from the oven and reduce the oven heat to 350 degrees F.
Lightly coat a 8x8x2 or 9x9x2-inch square baking pan or casserole dish with olive oil (or cooking spray). In
Spread 1/4 cup of salsa into the bottom of the baking pan. Add a layer of tortilla pieces, to completely cover the salsa. Top with 1/3 of the vegetables, a handful of chard (or spinach), 1/3 of the cheese and 1/3 of the salsa.
Repeat this to make three layers. Your top layer will be roasted veggies with cheese on top.
Bake on the center rack for 25 to 30 minutes. Remove from the oven and allow dish to cool 10 minutes before cutting large portions.
Serve with plain Greek yogurt (or sour cream), cilantro, green onion, and/or avocado.
Notes
Two handfuls of baby spinach may be substituted for the chard leaf.
Recommended
Tags: Vegetarian, Mexican, Roasted, Enchiladas, Dinners, Healthy, Vegetables, Comfort Food
Sign Up for Weekly Personalized Recipes. FREE!