Pineapple Salsa
Jen Schall | My Kitchen Addiction Updated
Pineapple salsa is a refreshing alternative to the tomato-based kinds. It'll put a spring in your step!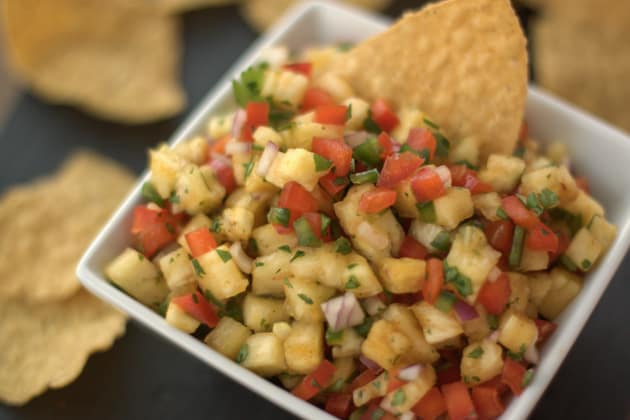 When spring rolls around, I always start craving lots of fresh fruits and veggies. It's a great thing, really (compared to my usual cravings for chocolate and cookies)… And, salsa is at the top of my list. There is nothing better than digging into a bowl of freshly made salsa with a handful of tortilla chips.
Unfortunately, for a lot of people, the abundance of fresh produce that we are craving is not available locally. Sure, I can buy organic tomatoes at the grocery store all year round, but in early April (at least here in the Northeast), they won't taste anything like the fresh, juicy tomatoes that are so abundant at the farmer's markets in late July and August.
Of course, that doesn't mean I can't have fresh salsa… It just means that I have to be a bit more creative!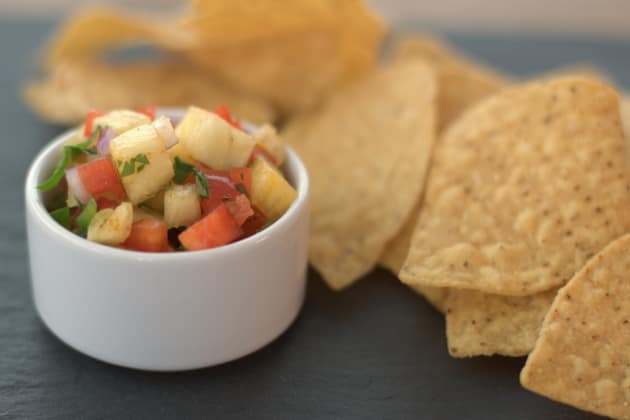 Enter the pineapple. Pineapples are readily available at my local store pretty much year round. They taste pretty good throughout the year, but they are conveniently in season from March to July - right as my fresh fruit cravings begin!
The sweet tangy flavor of pineapple pairs well with some of my favorite traditional salsa ingredients, which also tend to be available pretty much year round. Paired with bell pepper, cilantro, red onion, and jalapeño, the result is a bright and fresh salsa that goes with dishes both sweet and savory.
Of course, I love it with some plain old tortilla chips, but you can mix it up with sweet potato chips or cinnamon sugar chips, too. And, don't just stop with chips. I also love it with fish (think fish tacos!), chicken and pork. The possibilities are limitless!
I like my salsa chunky, so I just chop all of the ingredients by hand. If you like things more saucy, feel free to throw everything in your food processor and give it a few good pulses!
Ingredients
2 cups Pineapple Chunks
1 cup Red Bell Pepper
1/4 cup Jalapeño
1/4 cup Red Onion
1/4 cup Fresh Cilantro, chopped
2 tablespoons Fresh Lime Juice
1/4 teaspoon Ancho Chili Powder
1/4 teaspoon Kosher Salt
Directions
Combine the pineapple, bell pepper, jalapeño, red onion, and cilantro in a large mixing bowl.
Stir together the lime juice, chili powder, and salt in a separate bowl.
Pour the dressing down over the chopped vegetables and toss to combine.
Adjust seasonings to taste.
Notes
If you like your salsa a bit spicier, feel free to try chipotle chili powder in place of the ancho chili powder!

Tags: New Mom in the Kitchen, Salsa, Pineapples, Side Dishes, Healthy, Mexican, Vegan, Vegetarian, Gluten Free