Lemon Meringue Fudge
Aimee Shugarman | Shugary Sweets Updated
Spring is in the air! How about celebrating this beautiful weather with a batch of luscious lemon fudge?!?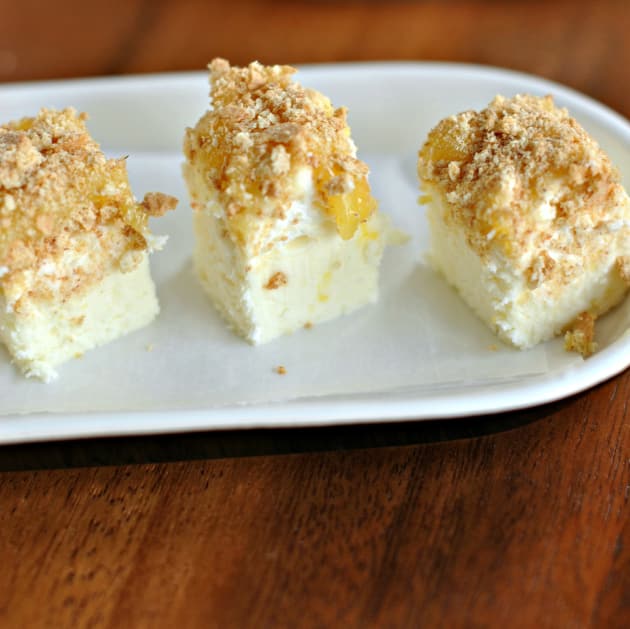 I learned how easy and simple it is to make Lemon Curd a couple months ago and I can't seem to stop making it! This fudge has been on my mind for a few years now. Yes, years! I usually have this master list of fudge ideas (doesn't everyone???) and Lemon Meringue Fudge was added back in 2011 when I first started blogging.
It feels good to be able to cross THAT off my list (even if it took two years to do so)! It feels REALLY good knowing how delicious this fudge tastes!
The creamy fudge base is filled with lemon zest, white chocolate, mini marshmallows and lemon curd. As if that's not enough, I topped it with more lemon curd and some crushed graham crackers. It truly tastes like a bite of lemon meringue pie! I hope you give this recipe a try soon!
Ingredients
Fudge Base:
1 cup Granulated Sugar
3/4 cup Heavy Cream
3/4 cup Unsalted Butter
dash Salt
2 1/2 cups White Chocolate Chips
7 ounces Marshmallow Fluff
2 Lemons, zested
2 tablespoons Lemon Curd
1 1/2 cup of miniatures Marshmallow
Garnish:
1 cup Lemon Curd
1 cup Graham Cracker Crumbs
Directions
In a large saucepan, melt butter with sugar, heavy cream and a pinch of salt. Cook and stir over medium heat until mixture begins to boil. Boil for 5 minutes, stirring continuously. Remove from heat.
In a large bowl (for a stand mixer), add white chocolate morsels, marshmallow crème and lemon zest. Pour hot butter mixture over morsels and using the whisk attachment, beat until smooth (and chocolate has melted, about 1-2 minutes). Gently mix in lemon curd and mini marshmallows.
Pour fudge into a 9-inch square baking dish lined with parchment paper.  Chill in refrigerator for one hour. Top fudge with lemon curd and graham crackers. Chill for an additional 3 hours, until fudge has set completely.
Cut into bite sized pieces and store in a covered container in the refrigerator. Serve cold and ENJOY!
Recommended
Tags: Homemade Candy, Fudge, Lemons, Desserts, Baked, Homemade Gifts