Winter Fruit Salad
Wendy Kirby | La Phemme Phoodie Updated
Winter fruit salad can really hit the spot when the weather turns cold. Read on for our recipe.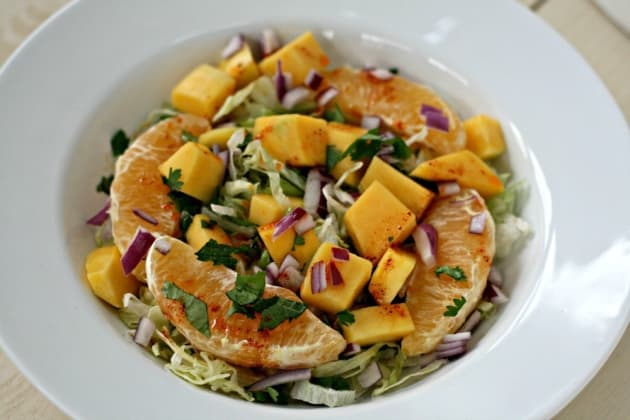 Winter is not typically associated with fresh fruit dishes that are full of vibrant colors. But when the days are short and the weather is brutally cold, I make an effort to brighten up my day by eating a delicious dish, especially something bright like this Winter Fruit Salad.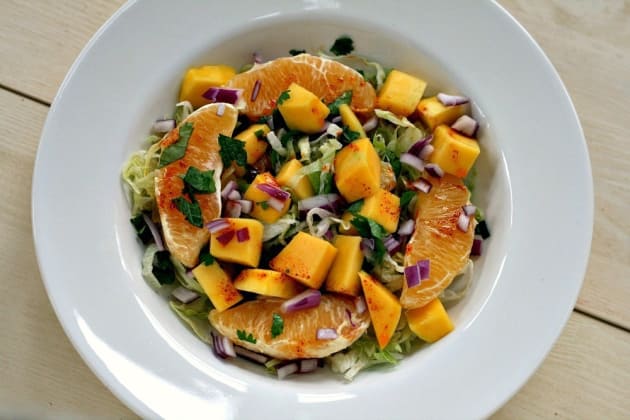 The scent from peeling the oranges will immediately invigorate your senses and the array of fresh mango and mint, blended with the slightly spicy dressing, is a pleasing way to get your daily dose of fruit. Did you know that mango never goes out of season? In terms of fruits to add to your diet, it's a great one, because you never have to think about whether or not it is actually in season.
Come in from the cold and head straight for that kitchen table, readers. A healthy snack is about to be served!
Ingredients
4 Oranges, peeled and separated
1 Mango, peeled and cubed
1/2 cup Red Onion
2 tablespoons Fresh Mint
1/4 cup Fresh Cilantro, chopped
1/4 cup Fresh Lime Juice
1/2 teaspoon Salt
1/2 teaspoon Red Chili Powder
2 tablespoons Olive Oil
Directions
Place the shredded lettuce in a large bowl.
Top the lettuce with the orange slices, mango, red onion, mint and cilantro.
Whisk the lime juice, salt, chili powder and olive oil together until well-blended.
Drizzle the dressing over the salad and toss all ingredients together.
Serve immediately or cover all ingredients and chill.
Tags: Gluten Free, Vegan, Fruit, Healthy, Vegetarian, Salads, Low Carb