Fettuccine Alfredo
Meghan Updated
Two recipes for Fettuccine Alfredo, the classic version and the updated Americanized version...you decide which is best!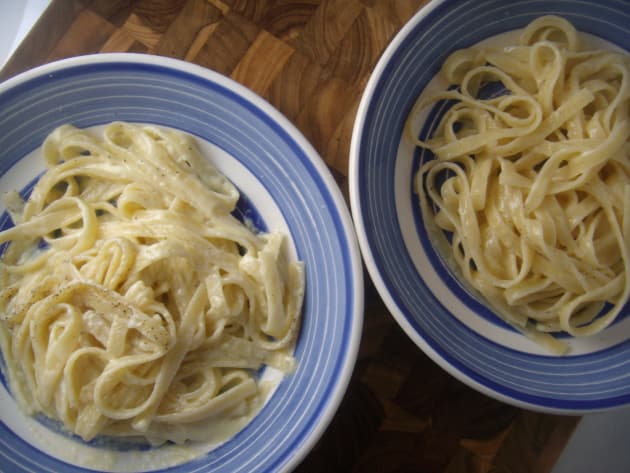 The original Fettuccine Alfredo recipe was created by a gentleman named Alfredo at his restaurant in Rome. He made the dish table side, melting the butter on a warmed platter, adding the pasta and cheese and tossing them all together to create a sauce. He did not add cream. Sounds delightful, but not super practical.
At some point, probably in its travels west, cream was added, which is most likely the version you remember from your childhood. Both these versions of Fettuccine Alfredo are delicious. We will leave it up to you to determine your favorite!
Ingredients
8 ounces Fettuccine
1 stick Unsalted Butter
4 ounces Parmesan Cheese, finely grated (about 1 1/2 cups)
Kosher Salt
Black Pepper
Directions
1. Bring a large pot of heavily salted water to a boil over high heat.
2. Cook the fettuccine to just al dente, about 8 minutes. Reserve a half cup of the pasta cooking water, and drain the pasta.
3. Bring the pasta water and the butter to a boil in a 10" skillet over medium high heat. Add the cooked pasta, reduce the heat to medium-low, and sprinkle the cheese over the top, using kitchen tongs or two spoons to toss the mixture gently, until all the pasta is coated in a smooth sauce. Add black pepper, and taste for salt to add as needed. Serve and enjoy!
Recommended
Ingredients
2 cups Heavy Cream
8 ounces Fettuccine
3 ounces Parmesan Cheese, finely grated
2 tablespoons Unsalted Butter
Black Pepper
Kosher Salt
Directions
1. Bring the cream to a boil in a medium saucepan over high heat. Reduce the heat to medium and simmer until the cream is reduced by half, 20 - 30 minutes.
2. Meanwhile, boil a large pot of heavily salted water. Add the pasta a cook until al dente, about 8 minutes. 
3. Drain the pasta and add to the saucepan with the cream. Add the butter and grated cheese, and stir over the heat to combine. Add pepper (a lot) and salt (very little) to taste Enjoy!
Recommended
Tags: Vegetarian, Entree, Pasta, Italian, Dinners