Our kids love to get soft pretzels in the city because they say they're huge.

Well, we think we've got them beat.

This is the perfect snack for your next party, or just for hanging out at home watching the game.

We're making our own Giant Pretzel at home!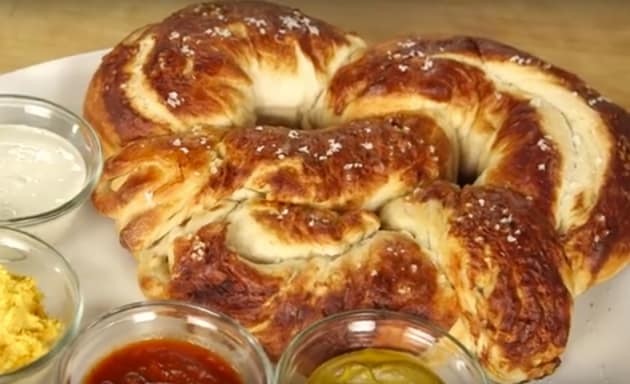 Preheat your oven to 425ºF.

Cover a large baking sheet with parchment paper. Lightly coat with cooking spray and set aside.

Unroll 4 cans of Pillsbury™ refrigerated classic pizza crust, stack the dough, and carefully re-roll into a long rope, stretching the dough evenly until it is approximately 6 feet long.

To make the pretzel shape, form the dough into a U. Twist the ends together twice and press down slightly to seal.

Then pick the end up and fold over so they rest on the bottom of the u shape and press the ends to stick.

Place pretzel onto the baking sheet.

In a small microwave safe bowl, heat 3 tablespoons water for 30 seconds or until hot.

Add 1 tablespoons baking soda and stir until dissolved.

Then gently brush the baking soda mixture over the top of the pretzel and let stand at room temperature for 10 minutes.

Brush pretzel with 1 beaten egg, and sprinkle generously with 1 tablespoon coarse salt.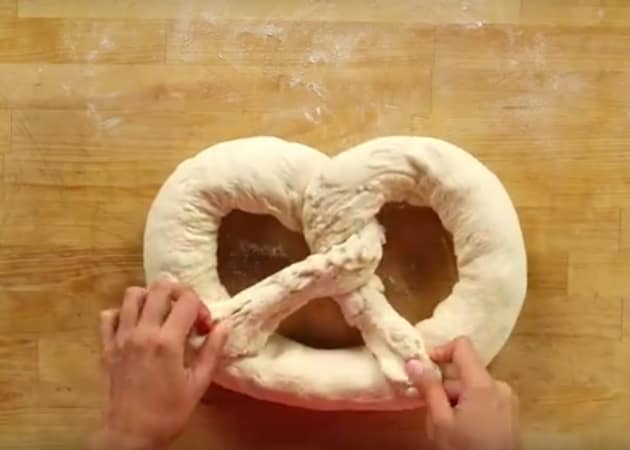 Check out the video below for all of the tasty tips and details.

Bake for 30 to 35 or until the top of the pretzel is golden brown.

Remove from the oven and serve warm with your favorite dipping sauces.

Eat and enjoy!
Tags:

Related Videos:

Pretzels Videos, Party Food Videos, Snacks Videos, Family Meals and Snacks Videos, Kid Friendly Videos

Uploaded by:

Uploaded: