We love lobster rolls, but as delicious as lobster is, it isn't something we can always afford.

So we looked for alternatives.

And this delicious dish fits the bill perfectly.

Let's make simple Shrimp Rolls.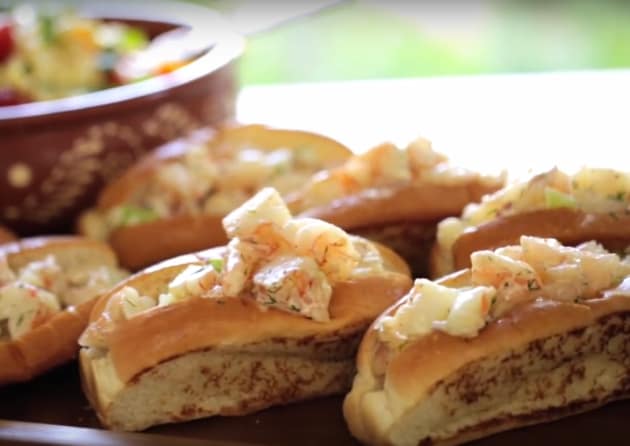 First, preheat your oven to 400F.

You'll need 2 pounds shrimp, shelled and deveined, with tails on.

Butterfly shrimp by slicing shrimp down their backs 3/4 of the way. Shrimp halves should stay intact.

Toss with 1 tablespoon olive oil, salt and pepper to taste.

Roast in the oven for 5 minutes each side, or until pink and opaque. Allow to cool.

Remove tails and roughly chop shrimp into bite-sized pieces.

In a large bowl combine 1/2 cup mayonnaise, 1 teaspoon lemon zest and 2 tablespoons juice, 1/2 cup diced celery, 2 tablespoons minced shallots,1 tablespoon minced dill, and salt and pepper to taste.

Reserve 3 tablespoons of the mixture in a small bowl, and then toss the rest with the shrimp.
Cover and keep refrigerated until ready to serve.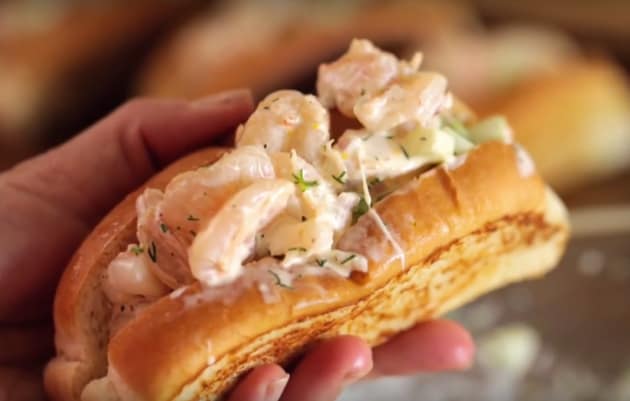 Check out the video below for all of the tasty tips and details.

Moments before serving, brush outsides of split top buns with butter, grill each side until golden brown.

Add reserve dressing to shrimp and toss to re-freshen.

Scoop shrimp salad into buns and serve immediately.

Then eat and enjoy!
Tags:

Related Videos:

Uploaded by:

Uploaded: