Ice cream is always a wonderful dessert all on its own, but we've found a way to make it even better.

Add a bit of crispy, crunchy goodness to your next ice cream treat by adding this something special to your sundae.

It's time to learn how to make Churro Ice Cream Bowls!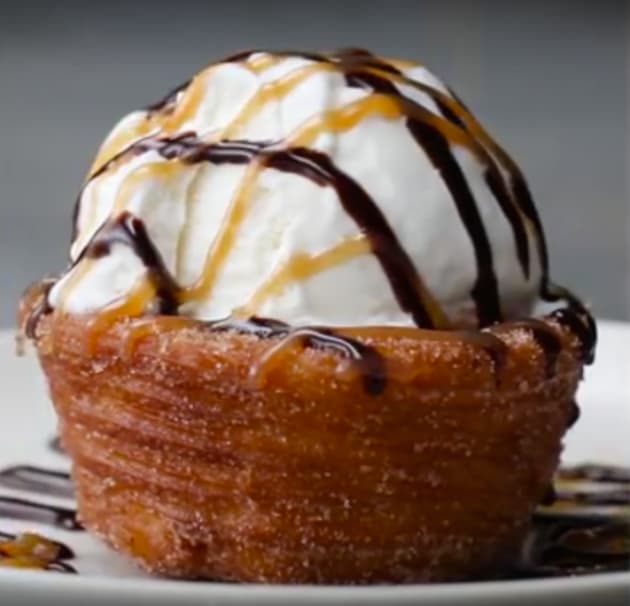 You'll need a 6 or 12 cup muffin tin.

In a medium saucepan over medium to high heat, add 1/4 cup butter, 2 tablespoons brown sugar, 1/2 teaspoon salt, and 1 cups water. Bring the mixture to a boil.

As soon as the butter has fully melted and the mixture begins to boil, reduce the heat to medium/low and add 1 cup flour.

Using a wooden spoon, stir for about a minute or until the dough comes together into a ball. Then remove from heat and let cool for 5 minutes.

(If the mixture isn't cool, you may inadvertently bake your eggs in the next step!)

Mix in 1 teaspoon vanilla extract and add 4 eggs, one at a time. Be sure to fully incorporate each egg before adding the next.

Once all the eggs are incorporated, transfer it to a piping bag with a small star tip.

Invert a muffin tin (that's right, turn it upside down) and spray thoroughly with non-stick cooking spray. Pipe the dough around the inverted cups in spirals to form the bowls. Immediately transfer the tray to the freezer and freeze for about 3 hours, until the cups are solid or leave in freezer overnight.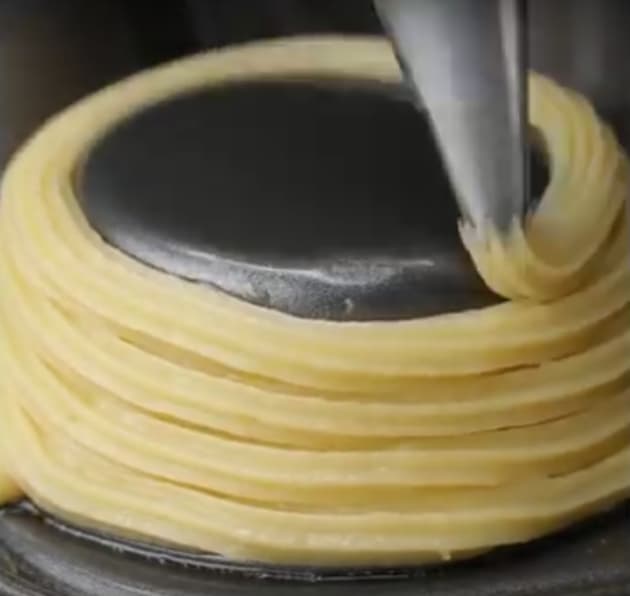 Heat oil in a deep pot to 350˚F. Remove the muffin tin from the freezer and flex it to release the churro bowls. You may need to also use a small knife under the bottom edge to initially release them. Return any extras to the freezer while you wait to fry.

Fry them in batches, until nicely browned. Fry no more than 3 at a time.

Be sure to carefully tip them into the oil so they sink to the bottom. Once desired color is reached remove them from the oil to a paper towel lined plate.

Dab off any excess oil then roll them in a cinnamon sugar mixture. Check out the video below for all the delicious details.

Then fill with you favorite ice cream and toppings. Enjoy!