These are the perfect treat to add to your holiday cookie platter…

And they're also a great addition to pair with your morning coffee.

We're making Chocolate Hazelnut Biscotti!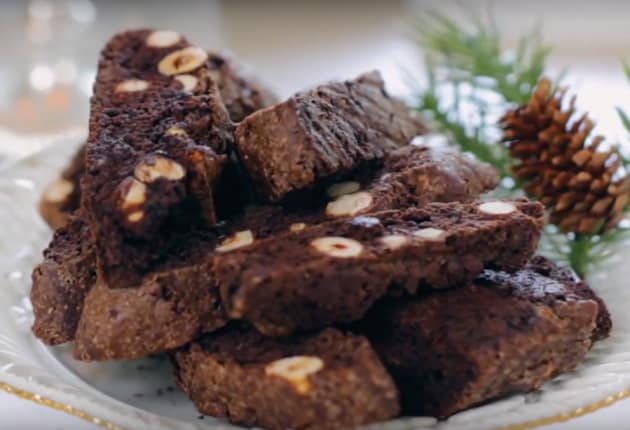 Preheat oven to 350F.

Place 1 cup hazelnuts on a rimmed lined cookie sheet and bake for 10 mins.

Remove from the oven and pour onto a clean kitchen towel, wrap in towel and "steam" for 10 minutes.
This will help to remove the skins. Remove as much skin as you can, and set nuts aside.

Then chop 3 ounces of bittersweet chocolate into very fine pieces, place in a large bowl.

Add 3/4 cup brown sugar, and mix to combine.

Then in a smaller bowl add 1 and 1/2 cups flour, 1/4 cup unsweetened cocoa powder, 1 teaspoon baking soda, and 1/2 teaspoon salt. Whisk to combine.

Add the flour mixture to the sugar and chocolate mixer and mix to combine.

Then ad 2 eggs, 1 teaspoon vanilla and "mixed coffee". See the video below for details.

Beat to combine until a dough forms. Add roasted/skinned hazelnuts.

Sprinkle 1 tablespoon of cocoa powder on a cutting board and form dough into a log about 9" x 4" .

Transfer to a parchment lined cookie sheet.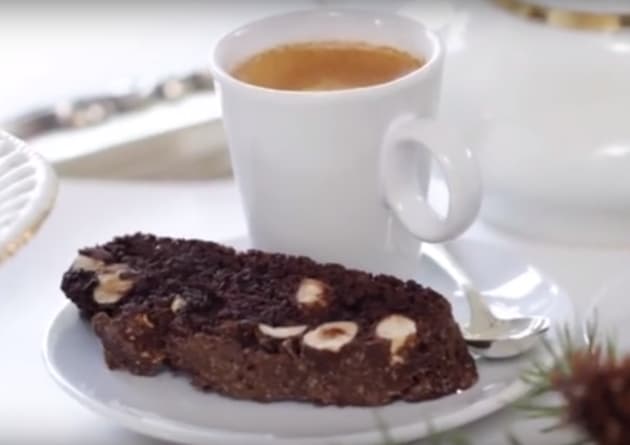 Bake at 300F for 35-40 minutes.

Remove and allow to cool. Transfer baked log to a cutting board. Slice on the bias into 1/2 slices. Place on to clean parchment paper (you can flip previous sheet over to the other side for this) And bake slices 7 minutes each side to dry cookies out.

Then cool, eat, and enjoy!