Whole30 Paleo Orange Turkey Meatballs Recipe
Taylor Kiser | Food. Faith. Fitness.

Whole30 Paleo Orange Turkey Meatballs are one great way to get a healthy dinner on the table. You'll love the sauce!
Lemme introduce you to your newest favorite weeknight dinner:
T-H-E-S-E easy paleo meatballs.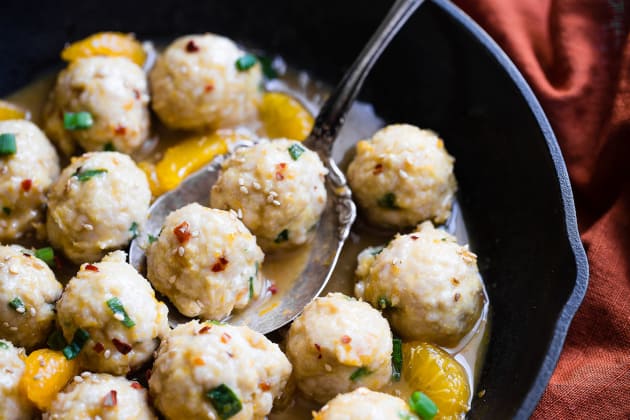 You might have thought your favorite was some gluten free instant pot meatballs or easy sweet and sour meatballs. But, not to be super harsh and mean or anything…
YOU WERE WRONG.
This paleo turkey meatballs recipe is:
Simple to make. <--Busy-after-work-you likes this VRY VRY much
SPEEDY on-the-table-in-30-mins kinda goodness. The sauce happens while the meatballs cook and then – MAGIC – everything is ready at the same time for starving-hungry-feed-me-now-you-and-family.
TASTES LIKE YOUR FAVORITE TAKEOUT FOOD.
But in healthy, weeknight dinner, no-frying-but-still-SO-DELICIOUS form.
Yep. These whole30 paleo orange turkey meatballs are here to STAY.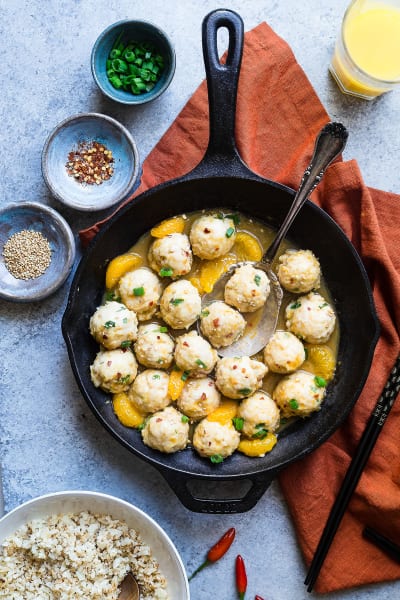 Liiike, make-them-every-week-kind STAY.
This saucy little skillet of protein-packed, sweet and tangy, vibrantly-orange goodness is the love child of my chicken easy paleo Italian meatballs and paleo orange chicken. When the orange chicken recipe came into the world, you guys basically flipped out and it broke the internet.
I hear you. I understand your need for healthy orange chicken because I HAVE THE NEED TOO.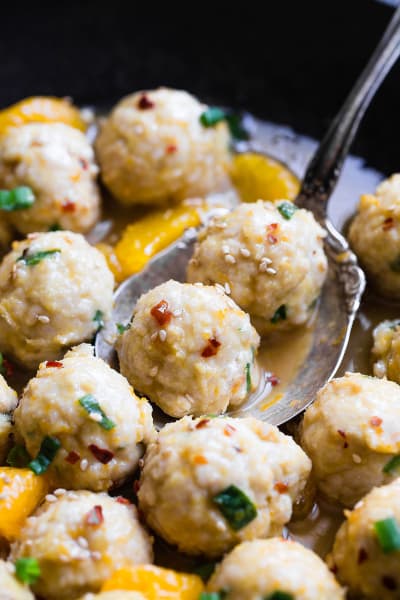 The crispy, golden-brown CRUNCH of fried chicken that ends in juicy-tenderness and a wave of orangey-sticky-sweet sensations riding along your taste buds and into your hungry belly, is just one that needs to happen on a regular basis.
Internet friends. Orange chicken recipe numero uno was easy, but these gluten free turkey meatballs are SUPER EASY.
Sidenote: I realize that we are using turkey to make orange "chicken." But, it gives ALL the same flavory goodness that you expect when you hear "orange + chicken" together. However, you could use ground chicken if you wish.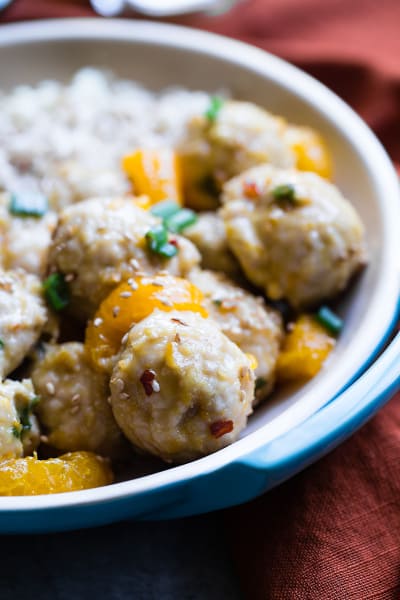 Sidenote, the sequel: that is really just me pretending that I meant to use ground turkey and that it doesn't just really come down to the fact that I just had ground turkey in the freezer and was too lazy to go buy chicken. #REALLIFE.
You guys. These meatballs are SRSLY juicy like WHOA.
If you've eaten a meatball or two in your life (which I feel like you are meatball connoisseurs, so you HAVE) then you've probably had some PRETTY bad turkey ones. I am usually a meatball elitist, and typically think that juicy, tender ground beef is used to create the MECCA of meatballs recipes.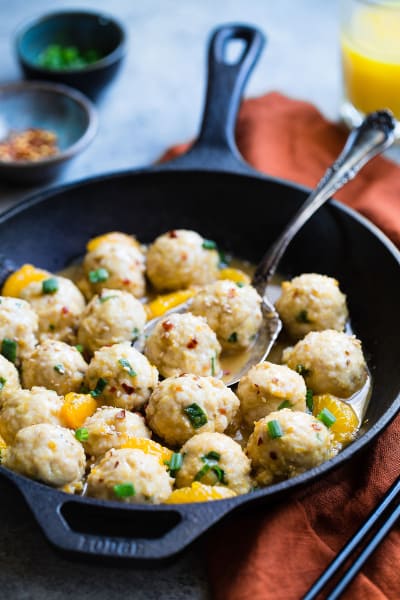 Until leftover ground turkey entered my life and changed EVERYTHING I THOUGHT I KNEW.
Which might be an exaggeration since we're just talking about meatballs here. But, really, IT'S NOT.
And then the SAUCE. OH, the glorious, THICK, glossy and sticky-sweet perfectly orange sauce that coats your mouth with takeout-vibes and general-happy-food-bliss.
But, SPOILER ALERT, these are WHOLE30 MEATBALLS which means that sticky-sweet-glossy-sauce that tastes exactly like your favorite Asian restaurants down the street?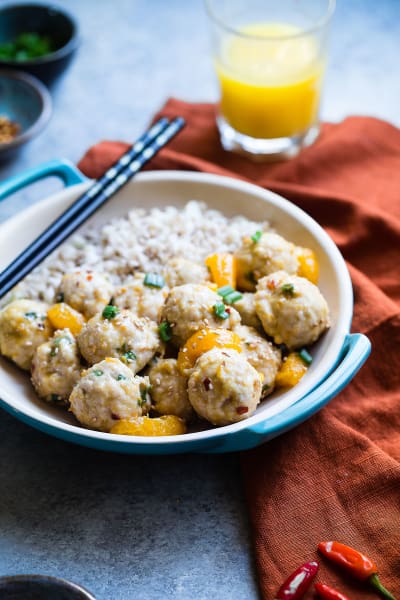 Sugar free! Gluten free! Grain free! Dairy free! NO WEIRD FLAVORINGS OR COLORS.
Just PURE, real-life oranges and tangy, zesty yumminess for your orange-chicken-loving face.
Before you ask, you won't even MISS the deep fried-ness in these whole30 paleo turkey meatballs. <--Even Mr. FFF said he didn't miss it and that this might have been in his top 3 favorite recipes of ALL TIME.
3 cheers for takeout Friday that doesn't end in real-life-you being stomach-ache-sad on the couch!
Are you tired of the dinner routine?
Stuck in a rut or looking for fun new recipes to try?
Our Facebook Group is growing every day! If you haven't joined yet, we invite you to come check it out and join the fun.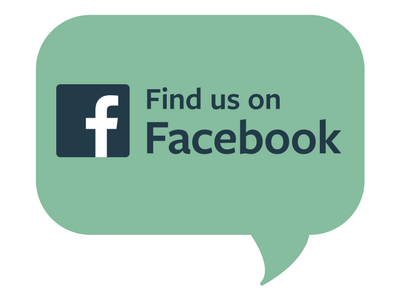 You can ask for recipe ideas, talk about cooking techniques, or get help figuring out the right new pan set for you. If you've already joined, invite a friend along!
Whole30 Paleo Orange Turkey Meatballs Recipe
Ingredients
For the Meatballs:
1 pound Ground Turkey, I used 97% lean
1 large Egg
1/4 cup Green Onion, diced plus additional for garnish
1/2 teaspoon Sea Salt
2 tablespoons Coconut Flour
For the Sauce:
1 tablespoon Avocado Oil
1 tablespoon Fresh Ginger, minced
2 teaspoons Minced Fresh Garlic
1 1/2 cups Fresh Orange Juice, not from concentrate
zest of one Orange, large
2 tablespoons Coconut Aminos
2 teaspoons Rice Vinegar
pinch of Crushed Red Pepper Flakes
Salt and Pepper
2 teaspoons Tapioca Starch
For Serving:
Orange Segments, from the orange you zested
Sesame Seeds
Cauliflower Rice, or cooked rice
Directions
Preheat your oven to 400°F and rub a cookie sheet with avocado oil.
In a large bowl, stir together the turkey, egg, green onion and salt until well mixed. Add in the coconut flour and stir until well mixed – I find it easiest to use your hands.
Drop by heaping 1 Tbsp balls onto the prepared cookie sheet – you should get about 20 meatballs.
Bake until no longer pink inside, about 15 minutes.
While the meatballs bake, heat the avocado oil up in a medium pot on medium/high heat. Add in the garlic and onion and cook, stirring frequently, until browned, or about 2 minutes.
While the ginger/garlic cook, whisk together the orange juice, orange zest, coconut aminos, rice vinegar, red pepper flakes and a pinch of salt and pepper into a bowl.
Add the orange juice mixture into the garlic/ginger mixture. Turn the heat up to high and bring to a boil. Additionally, place the tapioca starch in a medium bowl.
Once the mixture boils, add 4 tsp of the hot liquid into the tapioca starch bowl and whisk until smooth. While constantly whisking, pour the tapioca starch mixture back into the pot of sauce and whisk until smooth and combined. Boil, stirring frequently, until the sauce begins to thicken and reduce, about 5 minutes.
Reduce the heat to medium/low and continue cooking the sauce, stirring occasionally, until thick, glossy and reduced by about 1/3 – about 7-8 minutes. Remove from heat and let stand for 5 minutes to thicken up a little bit more.
Toss the cooked meatballs into the sauce and stir to coat.
Serve over rice of choice, garnish with more green onions and sesame seeds, as well as the orange segments.
DEVOUR!
Recommended
Nutrition Facts
Servings Per Recipe 4
---
Amount Per Serving
Calories from Fat 114
Calories
306
---
% Daily Value*
6%
Total Carbohydrate
17g
---
* Percent Daily Value are based on a 2,000 calorie diet. Your daily values may be higher or lower depending on your calorie needs.
** Nutrition Facts are estimated based on ingredients and data provided by
Fat Secret
. Please consult a doctor if you have special dietary needs.