Mulled Wine Cake Recipe
Taylor Kiser | Food. Faith. Fitness.

This Mulled Wine Cake is an elegant dessert for your holiday party. It's the rum glaze that takes it next level.
I did a thing.
I made cake batter with wine. Then I baked it. THEN I SOAKED IT IN A RUM AND WINE GLAZE.
Because cookies are good, but BOOZY CAKE? It IS BETTER.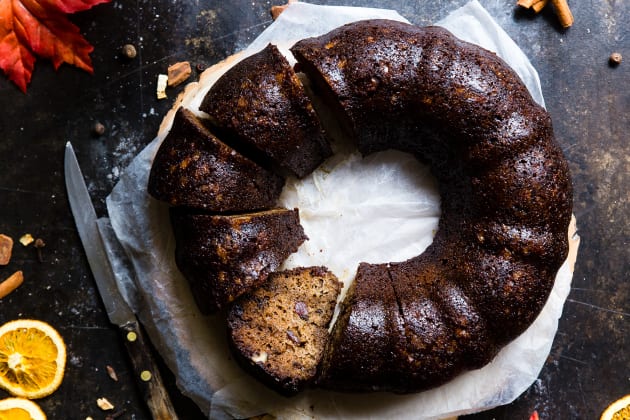 I also added spiced mulled wine flavors to make it ULTRA festive and totally appropriate for any holiday where they may be a lot of family-antics, and you might just need a little extra somethin' somethin' to make everyone calm down.
Don't lie. You already know what relative you're going to be serving an EXTRA big slice of this wine cake recipe to.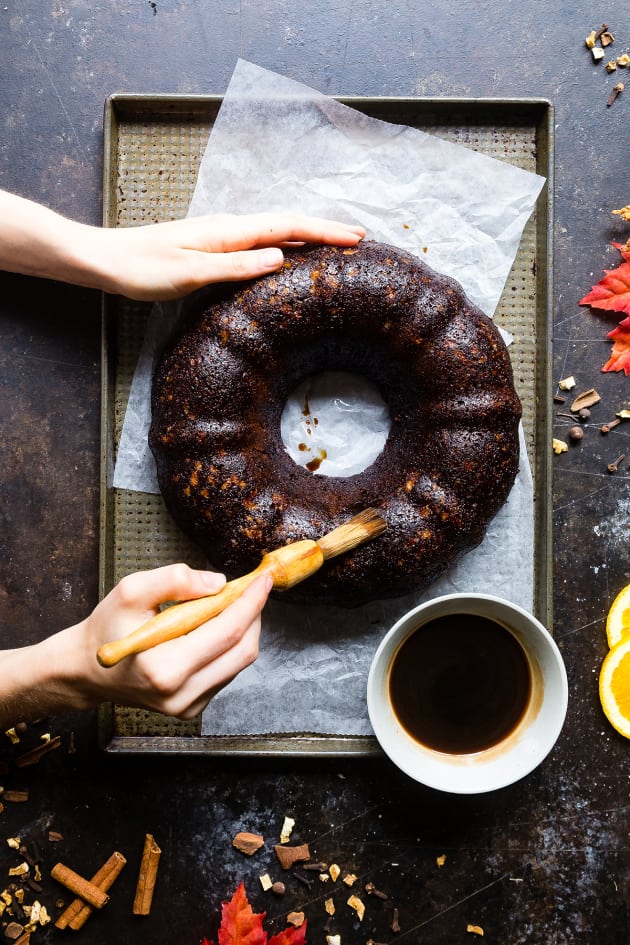 There are times in life that you just feel really awesome about who you are, what you've become as an adult and where this crazy thing called life is taking you. Making this rum-and-wine-soaked cake, in all its SPICED and zesty-orange-y glory, IS YOUR MOMENT.
It's like you're being a master-baker AND mixologist all at the same time which, I think we can all agree on, is just the epitome of winning at adulting.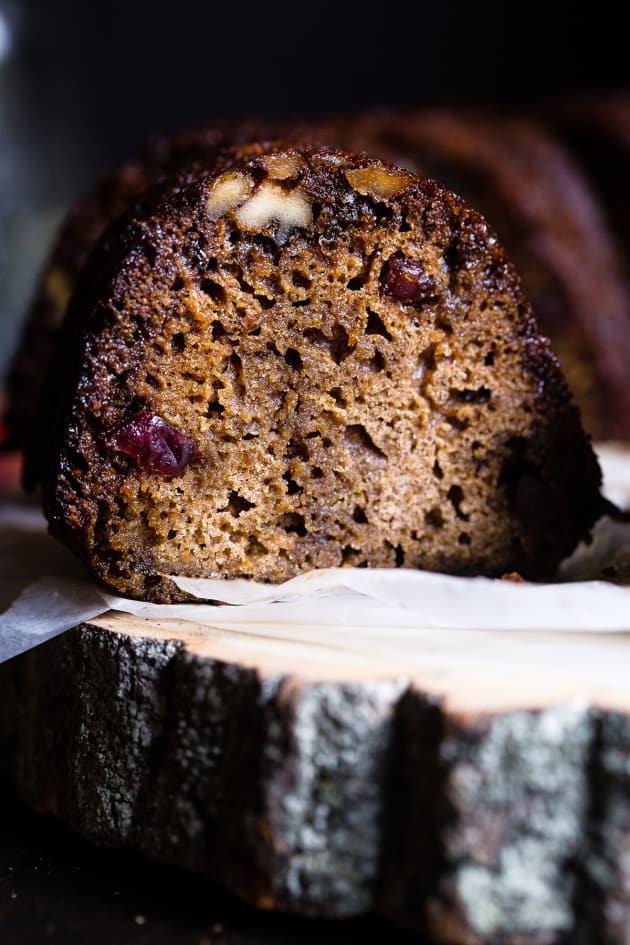 What is mulled wine?
Mulled wine is typically red wine (but can be white) that is infused with yummy, fall spices like cinnamon, cloves and star anise (this is key) and served warm. Typically, oranges are also simmered into the wine, to give it some sweetness and sometimes a sweetener is added. Sometimes you add brandy too!
Of course, we did that. I only had your annoying aunt Margaret in mind and it totally was NOT because I just wanted an extra boozy cake, I pinky promise.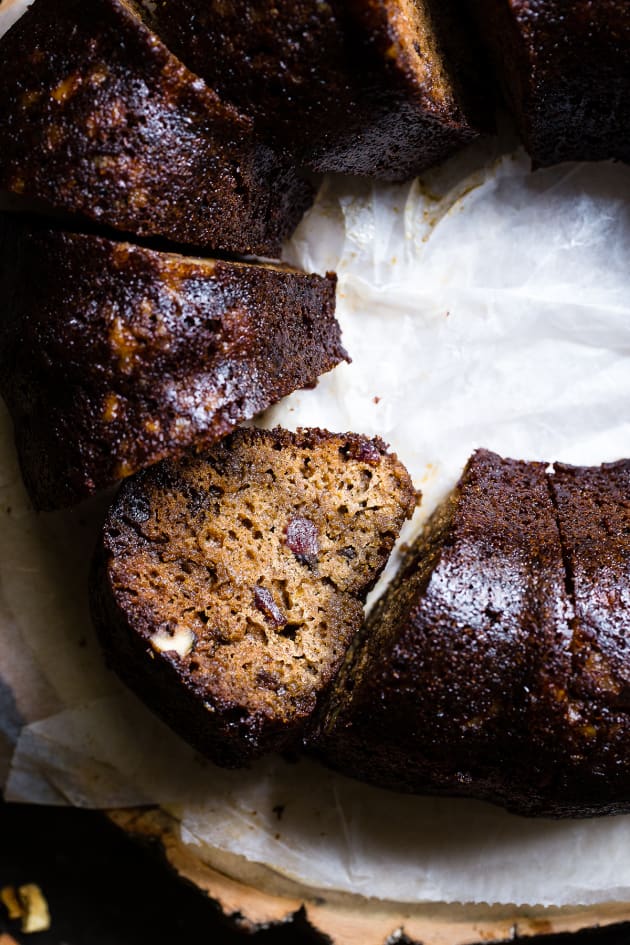 But, I might have my toes crossed so that promise doesn't count.
Before I take all the credit for making you the MVP of the adult world, I have to 'fess up and tell you that this mulled red wine cake was actually not my idea. It was Mr. FFF's.
When he isn't too busy giving me very boring ideas OR ideas that are ONLY Cajun (Instant Pot Cajun Chili I am looking at you) he sometimes has this moment of clarity where I realize that his taste buds, liiike, actually work and are not totally and asleep, or are hibernating for the winter or something like that.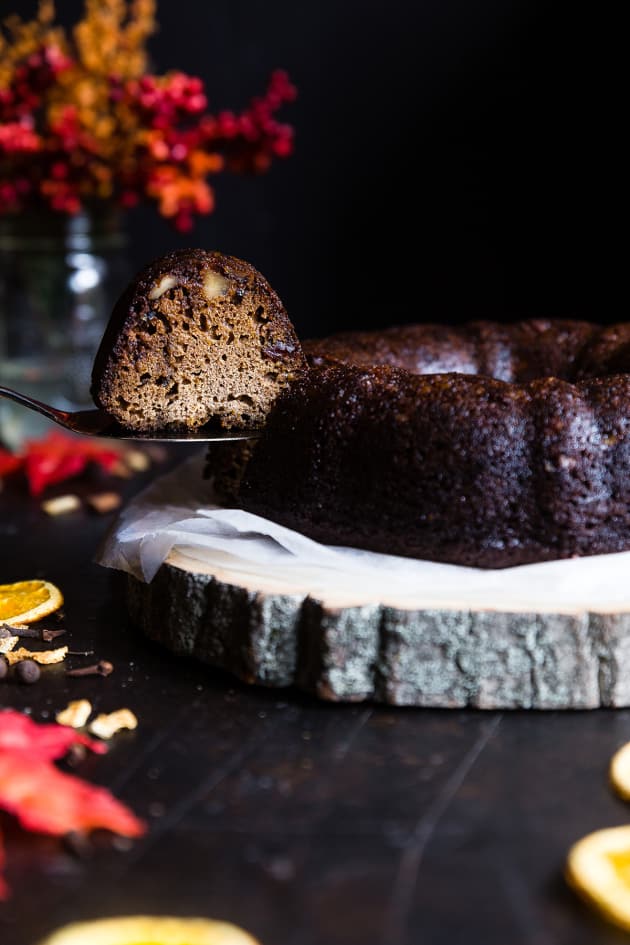 Mulled wine is sort of a special dealio to us, because we first tried it in Leavenworth (GOOGLE IT! SO cute) which is a little German town in Washington that we used to go to every Christmas before we moved.
We drank it on a horse-drawn carriage ride through the snowy forest and it was kinda-totally-completely MAGICAL.
And now, we love it and will drink it as soon as the temps drop below 75.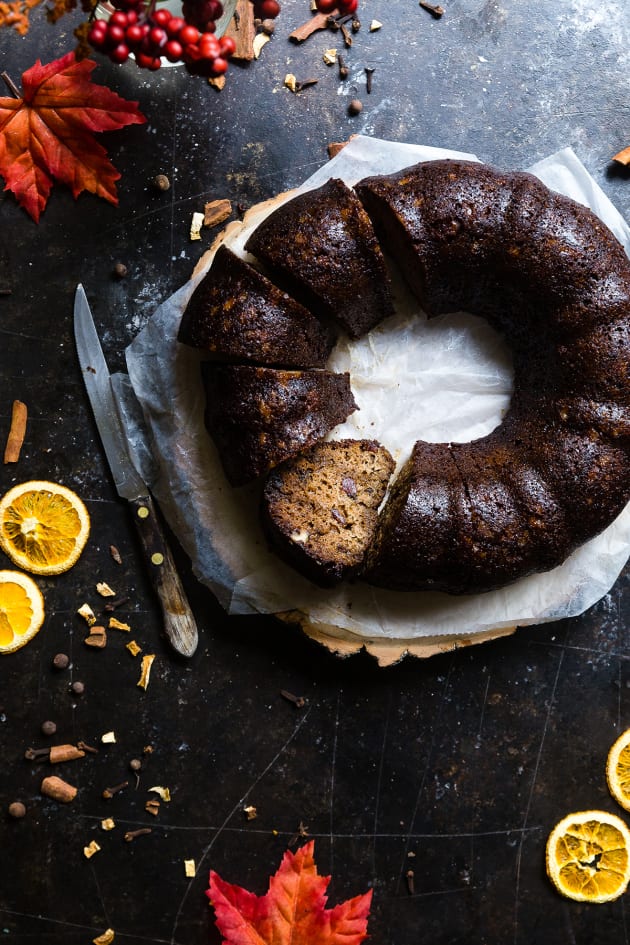 When he gave me this mulled wine cake, I immediately was a. excited because cake with booze and cake with my favorite mulled wine? I AM SO IN. but b. did not think that it would actually work because it would just be too amazing to exist on this world, and I didn't want to get my hopes up.
But, liiike, you've had rum cake right? (please say yes, or I am SAD 4 U) It's kinda exactly like that. BUT WITH WINE.
And brandy. And zesty orange sweetness and spicy-cinnamon, cloves and Chinese 5 spice! Which I actually didn't add because I like to be creative and make things like vegan zucchini read with five spice or healthy gluten free sweet potato muffins.
I added it because Star Anise is the KEY player of this spice blend AND the KEY player of mulled wine.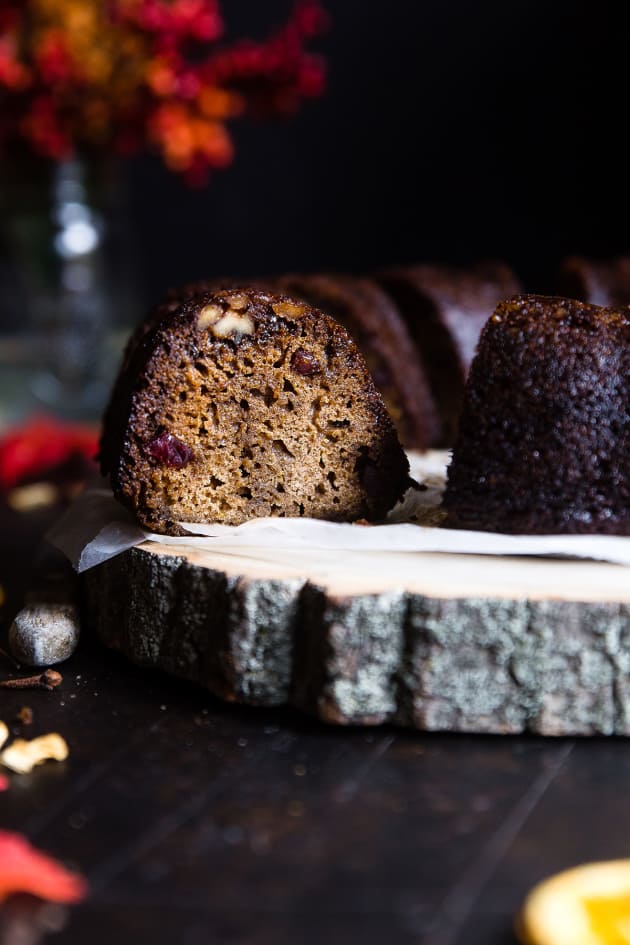 So, this time? It makes sense because have you ever tried to find pre-ground solo-Star Anise? TOO HARD.
Other things that make sense: having a slice of cake WITH a glass of mulled wine. Extra slice for crazy Aunt Margaret.
We're going to get through the holidays one boozy bite at a time.
Are you tired of the dinner routine?
Stuck in a rut or looking for fun new recipes to try?
Our Facebook Group is growing every day! If you haven't joined yet, we invite you to come check it out and join the fun.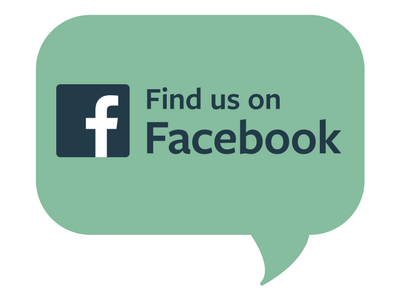 You can ask for recipe ideas, talk about cooking techniques, or get help figuring out the right new pan set for you. If you've already joined, invite a friend along!
Mulled Wine Cake Recipe
Ingredients
For the Cake:
1/2 cup Walnuts, (50g)
1/4 cup Coconut Oil, melted + additional for the pan
1/4 cup Coconut Sugar
1/2 cup Honey
6 Eggs, separated (at room temperature)
2 1/2 teaspoons Orange Zest, packed (about 1 large orange)
7 tablespoons Cabernet Sauvignon, at room temperature
3/4 cup Tapioca Starch, (90g)
3/4 cup Coconut Flour, sifted (66g)
4 teaspoons Baking Soda
1 1/4 teaspoons Chinese Five Spice
1 teaspoon Cinnamon
3/4 teaspoon Salt
1/4 teaspoon Ground Cloves
1/3 cup Dried Cranberries, diced (47g)
For the Glaze:
3/4 cup Coconut Sugar
6 tablespoons Cabernet Sauvignon
3 tablespoons Butter
2 Cinnamon Sticks
6 Whole Cloves
3 tablespoons Good Quality Rum
1/4 cup Fresh Orange Juice, (about 1 large orange)
Directions
Preheat your oven to 350°F and place the walnuts on a small baking pan. Cook until golden brown and nutty smelling, about 10-12 minutes. Set aside.
In a large bowl, using an electric hand mixer, beat together the coconut oil and coconut sugar until mixed. Add in the honey, egg yolks (placing the egg whites in a separate large bowl) orange zest and wine and beat until well combined.
In a separate medium bowl, whisk together the tapioca starch, coconut flour, baking soda, five spice, cinnamon, salt and cloves. Once mixed, stir in the craisins.
Add the dry ingredients into the wet ingredients and beat with the mixer until well combined.
Clean the beaters off VERY well and beat the egg whites until stiff peaks form, about 4 minutes. Fold them in a little at a time, VERY gently into the batter until no white streaks remain. You want to be nice and gentle, so you don't deflate the egg whites.
Generously grease a Bundt Pan and sprinkle the chopped walnuts evenly over the bottom. Gently spoon the cake batter over top, spreading it out smoothly and evenly.
Bake until a toothpick inserted in the center comes out clean, about 34-35 minutes. Once removed from the oven, let it sit for 10 minutes before you begin glazing.
Once the cake has 10 minutes left in the oven, it's time to make the glaze! Combine the coconut sugar, wine, butter, cinnamon sticks and cloves in a medium saucepan over medium heat, whisking frequently. Once the mixture comes to a boil, cook, stirring CONSTANTLY, until it begins to thicken and coat the back of a spoon, about 6-7 minutes.
Remove from heat and stir in the brandy and orange juice until combined. Let sit while the cake rests for 10 minutes out of the oven
Pour the glaze into a measuring cup and remove the cloves and cinnamon sticks (you should have about 8.5oz of glaze.) Use a long wooden skewer to poke holes ALL OVER the cake – you want to poke a lot of them! Pour all but 3 oz of the glaze over top of the cake. If it pools anywhere, just poke some more holes in that spot! Let the cake stand for 10 minutes to absorb the glaze.
After 10 minutes, gently flip the cake out of the pan. Use a toothpick to poke mole holes all over the top of the cake. Using a basing brush, brush the top of the cake with all the remaining glaze.
Cover the cake and refrigerate for at least 6 hours, up to overnight, so all the glaze gets absorbed.
When ready to serve, let the cake come to room temperature and then slice and DEVOUR!
Notes
As with all gluten free baking, please weigh your flours to ensure results.
Recommended
Published:

Author:

Cooking Method:

Baking

Cuisine:

Gluten Free

Category:

Healthy Eating

Tags:

Healthy Eating, Healthy Comfort Food, Bundt Cakes, Cakes, Holidays, Wine, Baking, Baked, Gluten Free Desserts, Gluten Free Baking, Gluten Free

Related Recipes:

Healthy Eating Recipes, Healthy Comfort Food Recipes, Bundt Cake Recipes, Cake Recipes, Holiday Recipes, Wine Recipes, Baking Recipes, Baked Recipes, Gluten Free Dessert Recipes, Gluten Free Baking Recipes, Gluten Free Recipes

Recipe Yields:

12 slices

Prep Time:

Cook Time:

Chilling Time:

Total Time:

Related Post:
Published:
Author: Taylor Kiser
Recipe Yields: 12 slices
Prep Time: 35 minutes
Cook Time: 35 minutes
Total Time: 190 minutes

Nutrition Facts
Servings Per Recipe 12
---
Amount Per Serving
Calories from Fat 112
Calories
306
---
% Daily Value*
14%
Total Carbohydrate
42g
---
* Percent Daily Value are based on a 2,000 calorie diet. Your daily values may be higher or lower depending on your calorie needs.
** Nutrition Facts are estimated based on ingredients and data provided by
Fat Secret
. Please consult a doctor if you have special dietary needs.