Grapefruit Campari Rose Water Cocktail
Brandy O'Neill | Nutmeg Nanny
This grapefruit Campari rose water cocktail is your new summertime jam! Light and refreshing with soft subtle floral notes — you'll love all the flavor packed in this cocktail!
The contributor was compensated by Nielsen-Massey Vanillas for her time in developing this recipe and post. All opinions are her own.
If there is one thing about summer I love it's the ability to sit outside sipping a cocktail. During the winter I stare aimlessly outside the window craving sunlight and warmth. However, then summer shows up and I crave cool breezes and fall leaves.
I seriously can never be happy. But to be fair I really just hate humidity so if it's warm with no humidity I can 100% get behind on it.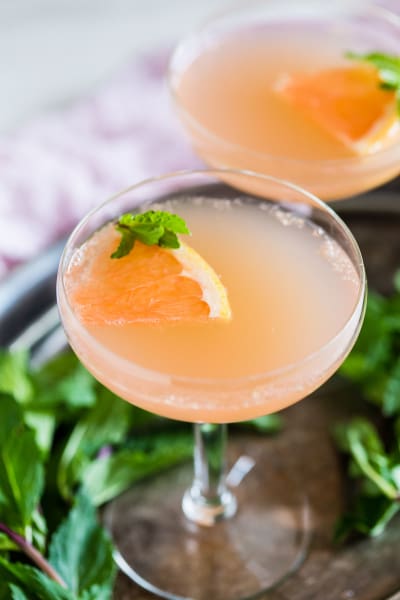 Who is with me? I'm going to just assume everyone agreed because who likes humidity? Again, going to assume no one. 
If you know anything about my blog (or me) you would know that I'm a huge Nielsen-Massey fan. I first learned about their vanilla via Ina (man I love Ina) and have continued to use all their extracts and my most favorite ingredient ever — vanilla bean paste.
Now, I know I just talked about how much I love their vanilla bean paste BUT I also have a real sweet love for their rose water.
Have you ever used rose water before? Well, if you know what roses smell like that is pretty much what rose water tastes like. Ok, I know you're thinking "ummmm why am I eating roses?"
Because it's delicious, that's why.
I mean, I wouldn't want to drink it straight from the bottle but it's ahhhhhhmazing in cocktails, perfect in pastry glazes and used heavily in Indian, Greek, and Middle Eastern cooking. The best part is that it's perfect in sweet, savory and cocktail recipes! Hello, delicious!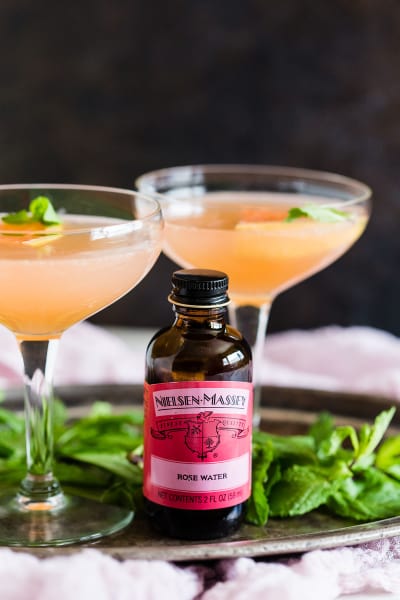 This grapefruit Campari rose water cocktail isn't just delicious but it's the perfect way to celebrate summer. It's crisp, slightly sour with just a hint of floral flavors.
Now, for this post, I served it up all pretty in this little coupe glass BUT it's also crazy delicious served up on ice in a mason jar. I know this from personal experience.
TRUST ME!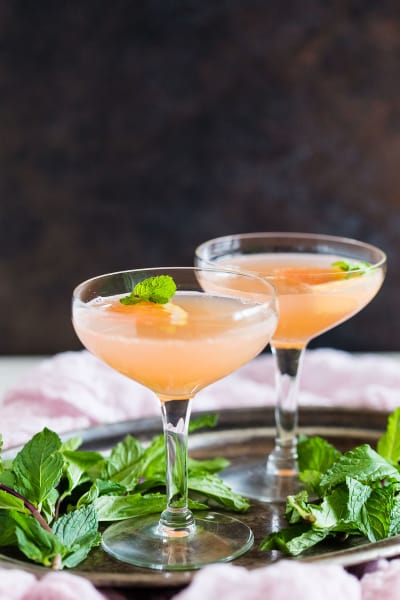 Plusssssssss who doesn't love drinking out of mason jars? It's so rustic/hipster/half not cool/half kinda cool/half outplayed/
Ingredients
1 cup Fresh Ruby Red Grapefruit Juice
2 tablespoons Campari
2 teaspoons Granulated Sugar
1/2 teaspoon Nielsen-Massey Rose Water
Sparkling Water
Grapefruit Slices, for garnish (optional)
Fresh Mint, for garnish (optional)
Directions
In a measuring glass add grapefruit juice, Campari, sugar and rose water. Mix until combined. I like to stir until the sugar is totally dissolved.
Place out four glasses, add in equal amount of grapefruit mixture, top off with seltzer water and garnish with grapefruit slices and fresh mint.
Recommended
Tags: Cocktails, Drinks, Grapefruit, Citrus, Mint, Party Food, Nielsen-Massey