Cranberry Walnut Coffee Cake
Nora Rušev | Savory Nothings
This Cranberry Walnut Coffee Cake is a delicious homemade treat for the holiday season. It's impressive enough for a Christmas party but still so easy to make to add some simple festive cheer to any day of the week.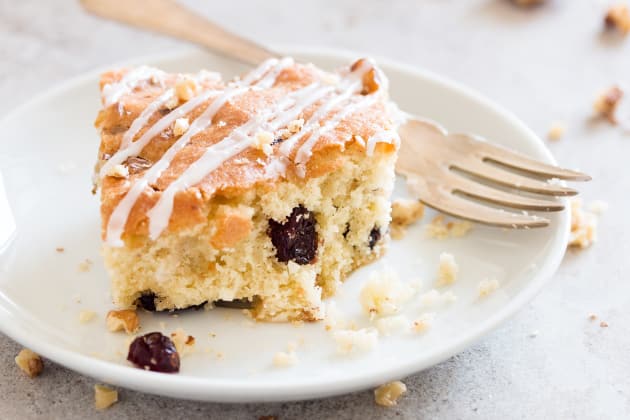 Is it just me or does the holiday craze increase year upon year?
I feel like Christmas decorations are pushed at me as soon as the word "pumpkin" has lost its glitz. Coffee to-go cups turn jolly while a dusting of nutmeg still lingers in the air.
And Christmas sales. Don't even get me started.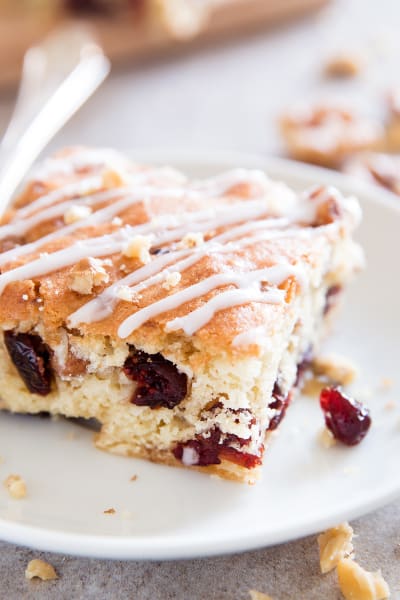 I avoid leaving the house as much as possible on those Super Sale Sundays, which is really a synonym for Absolutely Crazy Madness.
I feel like this is as good a time as any to confess: I'm not a huge fan of the commercial "Red Truck X-Mas" shenanigans.
There, I said it. Loud and proud, while the Internet is exploding under candy cane covered fairy dust.
Now don't get me wrong. It's not that I dislike advent and Christmas. It is, in fact, my favorite holiday to celebrate.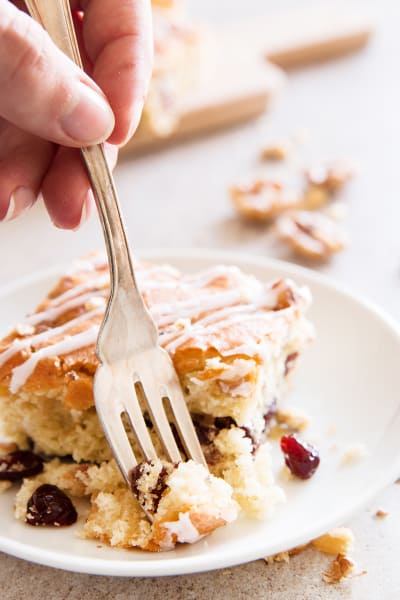 We just celebrate it a little differently.
By honoring the tradition of an advent wreath, which is four candles on a pretty plate in our house. (Hey, at least it was up in time this year. I consider this a win.)
Or by hanging garlands of stars in our windows, cut from old newspapers and put up with my exciting little lady. Who, by the way, snuck the scissors off the table while I was busy calming the baby for a second and attempted to cut out her own star.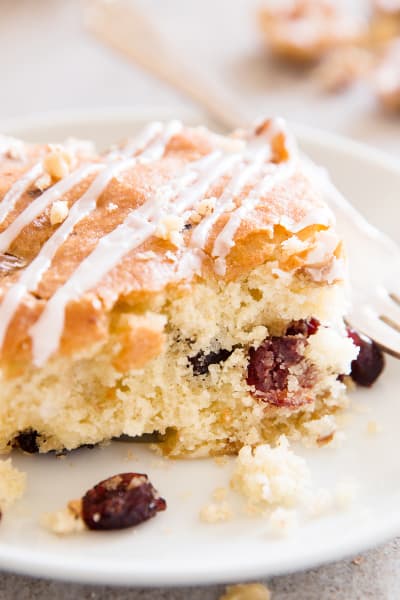 And also by baking traditional gingerbread spiced bread, cinnamon stars and Linzer cookies. By hanging an advent calendar that doesn't rely on chocolate, but vintage Christmas illustrations.
And by limiting the presents our kids get. Not because we're trying to be terrible parents, but because I remember it being really awful when you're a kid and get into this kind of present rush. There was nothing waiting for me at the end but disappointment.
And I want my girls to experience the magic of Christmas. Not the tears underneath the tree.
This is my way to celebrate though. And while I do advocate for less buying and more loving, I can't force the world to scale down on the ridiculous amount of Christmas lights et al.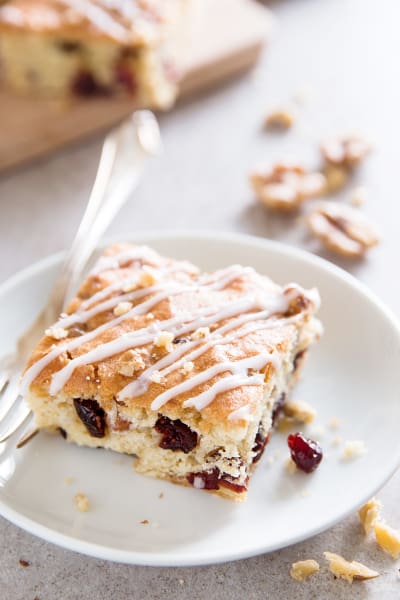 Though you have to admit, dear neighbor: Four glowing reindeers? Maybe a little overkill, no?
What I CAN do though is asking you to step back from the holiday rush for a minute. Stop feeling guilty because you think you put the decor up a day late. Don't worry about the fact that Lisa next door has the better wreath on her front door.
And make yourself some seasonal coffee cake to enjoy, quietly or loudly depending on the age of your kids. Because, you know, that coffee in the jolly to-go cup gets lonely otherwise.
Ingredients
6 tablespoons Butter
2/3 cup Granulated Sugar
2 tablespoons Canola Oil
2 tablespoons Pure Vanilla Extract
2 large Eggs
1 1/2 cups White Whole Wheat Flour
1 teaspoon Baking Powder
1/4 teaspoon Salt
1 cup Dried Cranberries
1/4 cup Chopped Walnuts, Plus extra for sprinkling
Directions
Preheat the oven to 350°F. Line a 7x11 inch baking pan with foil or parchment paper, leaving a slight overhang.
In a medium pot, melt 6 tablespoons butter over medium heat. Pour the butte into a large bowl and whisk in the sugar. Set aside to cool for 5 minutes.
Once the mix has cooled to room temperature, whisk in the oil, vanilla extract and the eggs. Evenly sprinkle the flour on top, then the baking powder and salt. Carefully mix into the egg mixture until a batter forms. Fold in the cranberries and chopped walnuts.
Pour the batter into the prepared baking pan and sprinkle the top with more chopped walnuts, if you like.
Bake at 350°F for 30-35 minutes or until the top turns golden brown and a toothpick inserted comes out clean.
Cool in the pan on a wire rack before slicing into 12 squares.
Recommended
Tags: Farm to Table, Breakfasts, Brunches, Cakes, Quick Bread, Easy, Baking, Baked, Cranberries, Walnuts, Holidays, Christmas