Piña Colada Bread
Kate Donahue | Food Babbles
Piña colada bread brings the tropics right to your kitchen! Pineapple and coconut lovers will rejoice over this simple quick bread.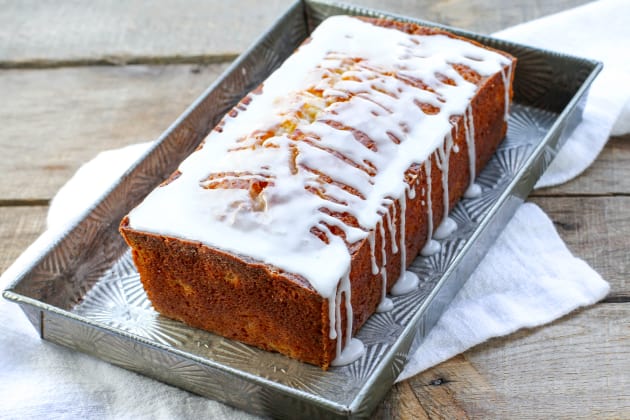 "If you like piña coladas…" I can't NOT sing that song when I think about this Piña Colada Bread! Piña coladas are such a fun, tropical cocktail that instantaneously transport me to a warm, tropical island with plenty of white sandy beaches, crashing waves and sun. I can practically taste them as I lounge on a comfy chair, soaking up the rays.
Then I come back to reality and realize I'm just on the deck in the backyard and in serious need of a vacation. Sadly, I have no immediate plans for jetting off anywhere wonderful so I have to settle for a stand in. I love making quick breads when I'm in the mood for bread but not in the mood to really spend all day waiting around for it.
My Cherry Cream Crumb Cake has always been a household favorite. Moist, dense loaf cake is topped with dollops of sweetened cream cheese, sweet fresh cherries and a hearty sprinkle of crumb topping. Sadly, cherries have still been pretty pricey around here so while we wait for plump sweet cherries to be a little more affordable, my girls and I have been making other summery quick breads. This Piña Colada Bread recipe is just the thing for a quick, tropical fix.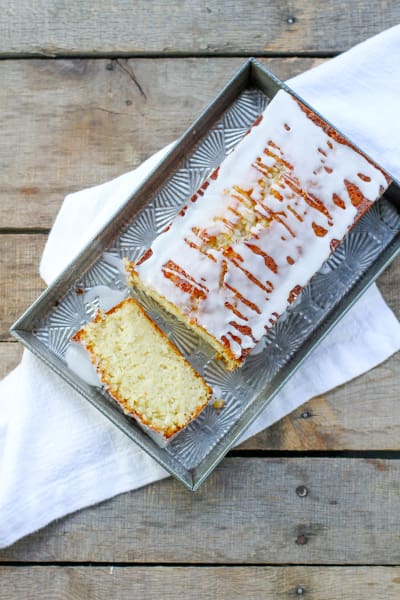 This quick bread recipe has all the makings of an easy summer recipe perfect for taking to picnics and potlucks. Moist vanilla bean flecked bread is filled with crushed pineapple and flaked coconut with just a hint of lime. The bread is drizzled with a rum-laced coconut glaze that really takes this bread up a notch and instantly will remind you of a chilled piña colada.
Because it's a quick bread, it's super quick to throw together. This bread screams "summer" and it's sure to be a crowd pleasure for anyone who loves coconut. 
Ingredients
1 3/4 cups Flour
1 1/4 teaspoons Baking Powder
1/2 teaspoon Salt
1 teaspoon Lime Zest
8 tablespoons Butter, Softened
3/4 cup Sugar
2 Eggs
2 teaspoons Vanilla Bean Paste
1/2 cup Milk
1/2 cup Unsweetened Coconut Milk, Divided
1 8 ounce can Crushed Pineapple, Drained
1/2 cup Unsweetened Coconut Flakes
1/2 cup Confectioners Sugar
3 tablespoons Rum
Directions
Preheat oven to 350°F. Spray a 9x5 inch loaf pan with nonstick baking spray containing flour. Set aside.
In a large bowl, whisk together flour, baking powder, salt, and lime zest. Set aside.
In the bowl of a stand mixer, beat together butter and sugar until light and fluffy. Add in eggs, beating after each addition. Add vanilla bean paste, milk, and 1/4 cup coconut milk. Beat again to incorporate. Fold in crushed pineapple and flaked coconut.
Scrape batter into prepared loaf pan and bake in preheated oven for 60-70 minutes, until a tester inserted in the center of the bread comes out clean. If top begins to brown too quickly, cover lightly with foil.
Remove from oven and cool on wire rack in pan for one hour. Turn out bread onto wire rack to cool completely.
In a small bowl, mix together remaining 1/4 cup coconut milk, confectioners' sugar and rum until no lumps remain. If needed, add more confectioners' sugar to thicken or add more rum to thin until desired consistency is reached. Drizzle glaze over cooled cake.
Recommended
Tags: Bread, Quick Bread, Baked, Baking, Pineapples, Limes, Coconut, Rum, Snacks, Breakfasts, Family Meals and Snacks, Desserts, Summer