Chocolate Sugar Cookie Pops
Meaghan Mountford | The Decorated Cookie
These chocolate sugar cookie pops topped with orange-kissed buttercream frosting are delicious! They're rich and flavorful, just like Valentine's Day should be.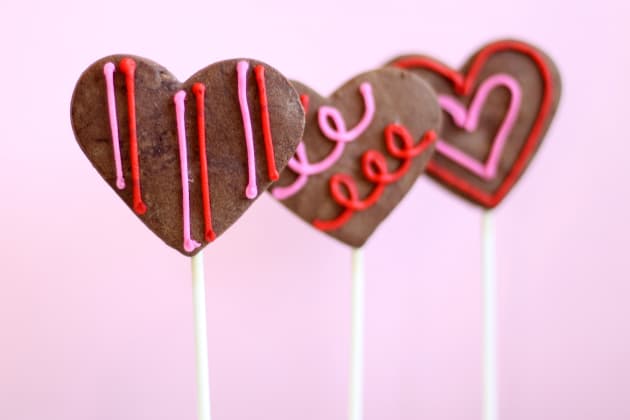 I was compensated by Nielsen-Massey Vanillas for my time in developing this recipe and post. All opinions are my own.
Valentine's Day is pretty much the perfect time to infuse life with flavor, right? I have no idea what that means in my human interactions, but I do know what that means for cookies. Rich, delicate, complicated flavor.
Hence why I use three different pure extracts from Nielsen-Massey: Vanilla, chocolate and orange. You can skip the orange extract in the frosting of these cookies if you like, but oh-my-gosh-it's-so-good-so-please-don't.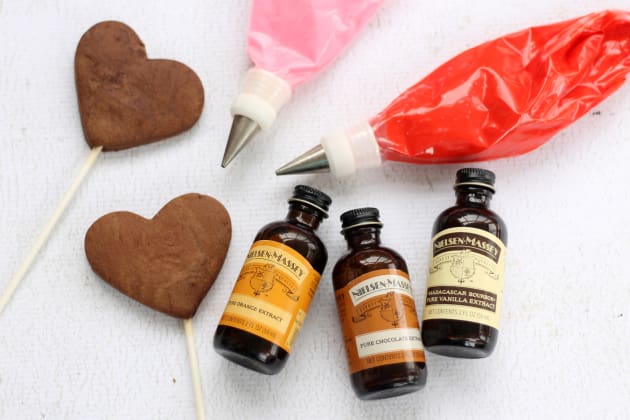 Nielsen-Massey uses a cold extraction process, which takes 2 to 3 weeks, instead of the more common heat process, which takes 2 to 3 days, to preserve the delicate flavors of the beans. Ergo, that aforementioned "rich, delicate, complicated flavor" I was going for? Success.
For this recipe, I used Nielsen-Massey's Madagascar Bourbon Pure Vanilla Extract, as it's best for baking. You can learn more about which vanilla product to use when at the Nielsen-Massey site. The vanilla extract in the cookies, combined with Nielsen-Massey's Pure Chocolate Extract, results in a smooth, chocolatey cookie.
The cookies are not very sweet, so they pair best with the buttercream frosting. And I had to add Nielsen-Massey's Pure Orange Extract to the frosting since I love the chocolate-orange combination. Next time, instead of orange I may try the coffee, peppermint or rose water.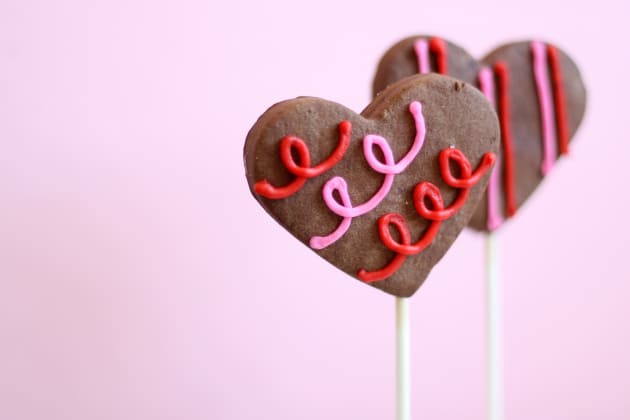 This cookie recipe holds its shape very well—freakishly well--which is important since we're rolling the dough thickly enough to accommodate the sticks (available in the craft store). If you wish, you can skip the sticks and roll them to any thickness. Here, I used a three-inch heart cookie cutter, also available in the craft store, but you can use any shape or size cookie cutter you like. Just be sure to adjust the cooking time if your shapes are thicker, thinner or a different size.
There are no rules for decorating the cookies with the frosting. You can simply spread the frosting on the cookies with a spatula, toss some sprinkles on there, and call it a day. I used a disposable decorating bag and size "3" decorating tips, both available at the craft store. Feel free to use any decorating tip you want and pipe any design you can imagine.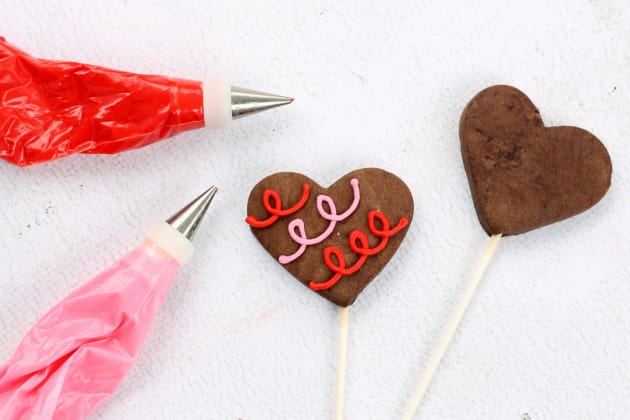 If you'd like to add color to the frosting, in order to maintain the unique flavor of these cookies, I suggest a high quality food coloring that won't alter the taste. I used my favorite food coloring, Americolor Soft Gel Pastes, in red and electric pink, available in specialty stores and online. It's tasteless, so that vanilla-orange-chocolate flavor combination comes through beautifully.
And now, to resist eating every single one of these double chocolate cookie pops before I give them to my loves…
Need more flavor inspiration? Check out the Nielsen-Massey Instagram page.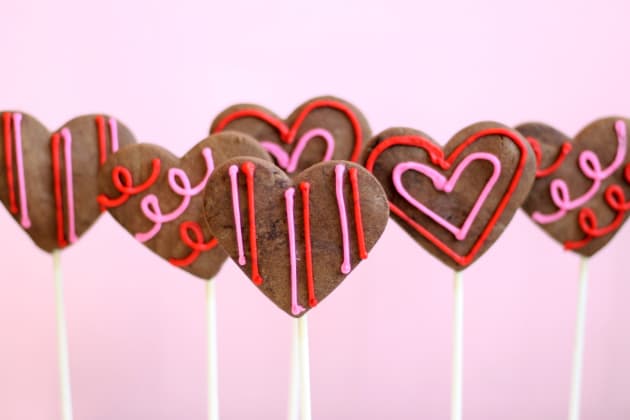 Ingredients
For the Cookies:
2 1/4 cups All-Purpose Flour
1/2 cup Natural Cocoa Powder
1/2 teaspoon Salt
2 sticks Unsalted Butter, softened (1 cup)
1 cup Confectioners Sugar
1 Egg
1 teaspoon Nielsen-Massey Pure Vanilla Extract
1 teaspoon Nielsen-Massey Pure Chocolate Extract
For the Frosting:
1 stick Unsalted Butter, softened (1/2 cup)
3 1/2 cups Confectioners Sugar
3-6 tablespoons Milk
1 teaspoon Nielsen-Massey Pure Vanilla Extract
1 teaspoon Nielsen Massey Pure Orange Extract
pinch of Salt
Directions
For the Cookies:
Place the dry ingredients in a bowl and gently stir with a whisk. Set aside.
In the bowl of a standing mixer fitted with a flat beater, or in a large bowl with an electric hand mixer, place the butter and confectioner's sugar. Blend well until fluffy.
Blend in the egg and extracts.
Gradually blend in the flour mixture.
Cover and refrigerate the dough for two hours.
Preheat oven to 375 degrees F.
On a lightly floured surface, roll out the cookie dough to 3/8-inch thickness. Cut out your desired shapes and place on a baking tray lined with parchment paper.
Gently insert lollipop sticks into the bottom of the cookies. Make sure the stick is securely in the cookie and that the sticks do not touch each other or other cookies. Keep any dough or trays of cookies in the refrigerator while other cookies bake.
Bake for 17 to 22 minutes, or until cookies are firm in the center. Cookies of a different size or thickness may need less or more cooking time.
Let the cookies cool and frost.
For the Frosting:
In the bowl of a standing mixer fitted with a wire whip, or in a large bowl with an electric hand mixer, place the butter, confectioner's sugar, 3 tablespoons of milk, the extracts and salt. Beat on low until the ingredients are mixed, then increase speed to medium until the frosting is well blended.
Add additional milk until desired consistency is reached.
If preferred, divide and tint the frosting with food coloring. Prepare decorating bags with decorating tips, fill with frosting and pipe to decorate the cookies.
Let the frosting set for several hours.
Recommended
Tags: Chocolate Loves Vanilla, Chocolate, Vanilla, Oranges, Nielsen-Massey, Cookies, Baking, Baked, Desserts, Valentine's Day, Snacks, Family Meals and Snacks, Frosting, Party Food