How to Freeze Spinach
Katie Goodman | Good Life {eats}

Learning how to freeze spinach is a great way to gear up for the healthy new year. Use it in everything from smoothies to soups!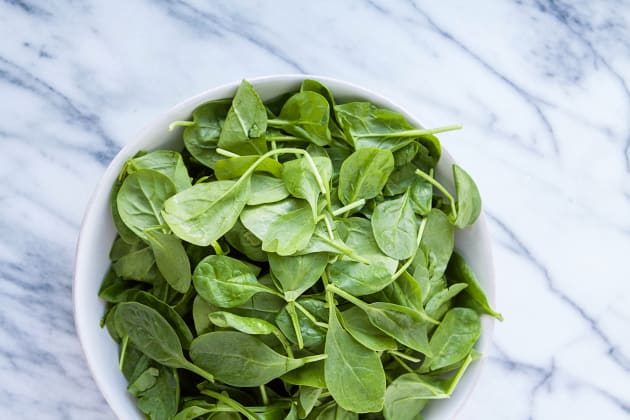 If you've ever been wondering how to freeze spinach, or why you might want to do that, look no further! I often buy those extra large tubs of fresh baby spinach because they're usually the same price as the smaller containers but we don't always eat through the whole container fast enough. Pretty quickly I learned about freezing spinach so I could benefit from the better price without ending up with wasted food.
Using any of these 4 methods you can freeze spinach for later use – I'll give you some recipe examples to go along with each method as well. Note: Just like most frozen vegetables, the vegetable is changed in the freezing process. Don't expect to freeze spinach and be able to thaw it for a fresh salad. The best ways to use frozen spinach later on involve using it in recipes where it is cooked or blended so the consistency and texture doesn't matter.
1. Make freezer smoothies
Frozen spinach works great for freezer smoothies. You don't have to worry about the post-freezing texture when it is blended with other ingredients.
What is a freezer smoothie? It is basically a pre-assembled baggie that contains all of the necessary ingredients for your favorite smoothie recipe.
Place your favorite fruits and veggies in individual sized freezer baggies. Label the bag the contents, date, and then freeze it.
Next time you want a smoothie, open the bag and transfer the contents to the blender along with any liquids or protein powders and blend.
For more detailed freeze smoothie preparation instructions visit this post full of freezer smoothie how-to tips and smoothie recipe ideas.
Recipe Ideas: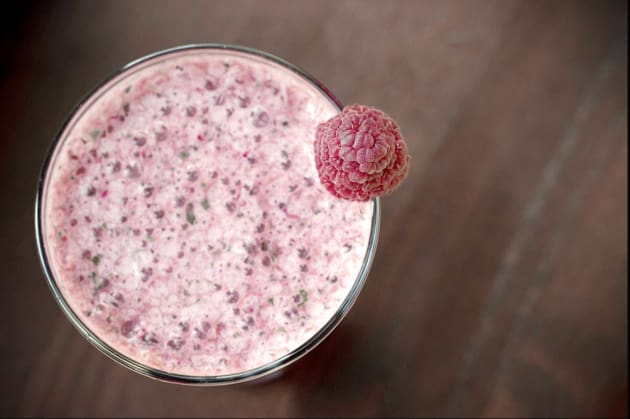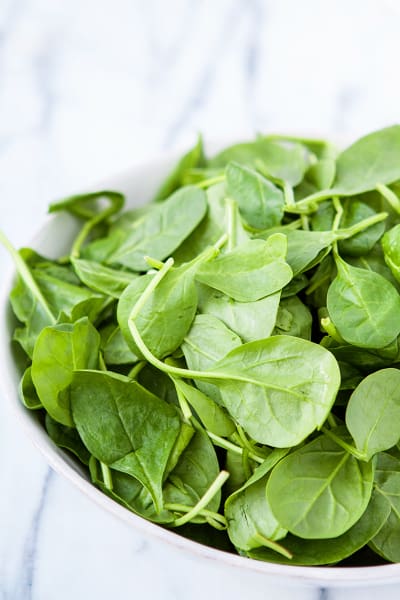 2. Freeze pureed spinach in ice cube trays.
For this method, I like to puree 3 – 4 cups of packed spinach with 1 cup of water. I find that the "juice" cycle on my blender works best. After pureeing, I pour the juice into ice cube trays and then freeze the spinach cubes.
After the cubes are frozen, pop them out of the tray and into a freezer bag. Label the bag with contents and date before stashing it in your freezer.
This method is perfect when you just want to add small amounts of spinach puree to smooth, chunk-free recipes like smoothies, soups or sauces.  Add frozen, pureed spinach into your favorite spaghetti sauce recipe for an extra boost of vegetables.
3. Freeze chopped spinach in baggies.
Freeze pre-portioned of chopped spinach in small freezer baggies. You'll want to think about what amount and size you typically would use in a recipe. Really it will depend on how you want to use the spinach and what recipes you make most frequently. I like amounts ranging from 1/2 – 1 cup best.
This option is great for anything you would want to add pre-chopped spinach to.
If the recipe is something that is already pretty liquid (like soups) and thus won't be affected by adding a little extra moisture to the recipe, you can pretty safely just add the spinach directly to the recipe according to the recipe's instructions.
If you're making something where extra moisture won't go unnoticed, like a spinach lasagna, you'd want to thaw the spinach and squeeze it dry.
I think the easiest way is to place thawed spinach inside a paper towel and squeeze that over the sink. Sautéing the spinach for a minute or two will also dry them out a little more.
Recipe Ideas: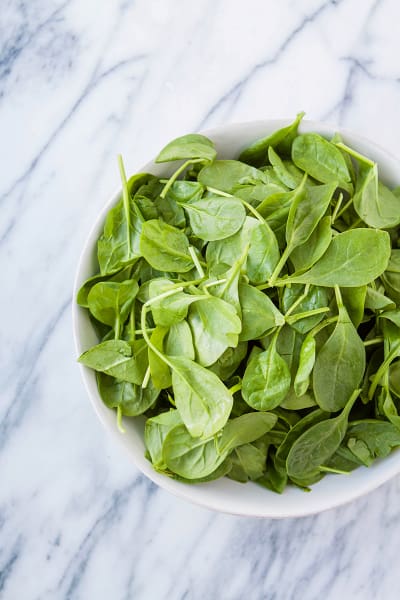 4. Freeze spinach in a baggie - minus the chopping.
Freezing whole spinach leaves is ideal when you know you'd like to add spinach to various smoothies, but you don't want to be boxed into anything in particular the way you would if you pre-assemble smoothie bags. Or if, like me, you're feeling a little too lazy to do any extra prep work.
I've been known to stick a full tub of baby spinach directly into the freezer, but it is probably best to transfer it to something a little more air-tight, like a gallon sized freezer bag.
You can then pull out a handful or two of spinach as you need it.
Are you tired of the dinner routine?
Stuck in a rut or looking for fun new recipes to try?
Our Facebook Group is growing every day! If you haven't joined yet, we invite you to come check it out and join the fun.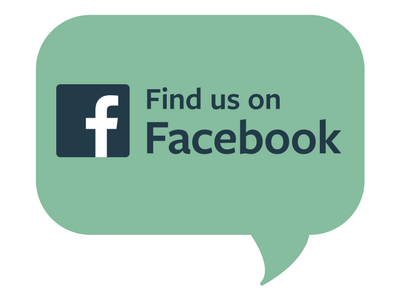 You can ask for recipe ideas, talk about cooking techniques, or get help figuring out the right new pan set for you. If you've already joined, invite a friend along!
Recipe Ideas:
How To Guides, Spinach, Easy, Frozen, Make Ahead