Seven Seas Martini
Dan George | Mantitlement
This Seven Seas martini is a truly tropical treat. Serve them up at the first summer barbecue for a big hit!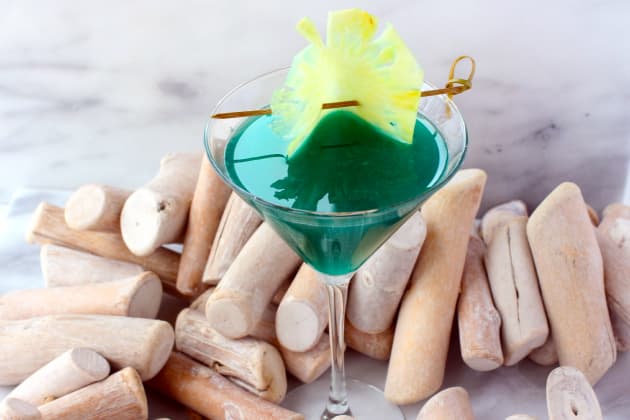 One of my favorite ingredients to use when making fun, warm weather martinis is blue curacao. It makes any cocktail seems more fun and festive, not to mention pretty darn tasty too. This Seven Seas martini is a little stronger than your average "festive" cocktail with the addition of amaretto and rum so it will definitely keep you in the partying spirit!
And one of my favorite things to do when the weather warms up is grilling. There's something about grilling chicken (this beer butt chicken is a favorite) or steak that just makes everything taste better. I mean, you can make a hamburger in a frying pan and it's good. But make the same hamburger on a grill and it's 10 times better.
I've been experimenting with grilling a lot more these days, I'm no expert BBQ guy by any means, not even close. I'm definitely an amateur as far as grilling goes. Just the basics – but I keep seeing new recipes that are a little more difficult that I'd love to try. And grilling season is here so try I will.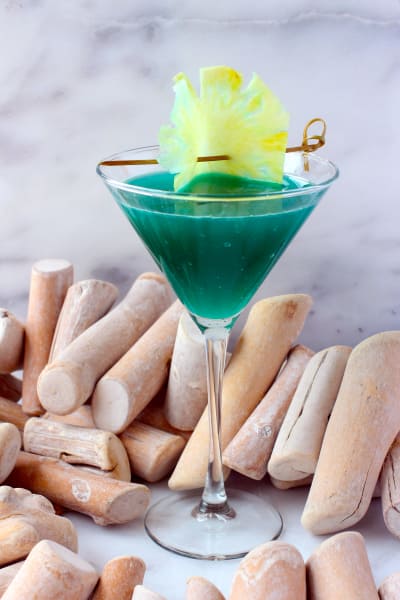 But what I do know how to do good is make a drink. I'm always the guy in the kitchen shaking up different drinks to try when we have people over and that's how this Seven Seas martini was made.

I don't really use amaretto a lot except for when my wife wants a pear martini. And good amaretto aren't necessarily inexpensive, so I wanted to come up with another drink that uses the spirit.

The almond and fruity flavor in amaretto mixed really well with the orange flavors in blue curacao – and top it off with Malibu Rum and a splash of pineapple juice and you're in the tropics!

Grab yourself a shaker and start mixing up a batch of these Seven Seas martinis - if you've got friends coming over, you're going to need a lot!

Tags: Cocktails, Rum, Easy, No Cook, Party Food, Drinks