Whole Wheat Pumpkin Muffins
Steph S. | ::steph chows::
Whole wheat pumpkin muffins are a healthier way to get your pumpkin fix. Go on, indulge!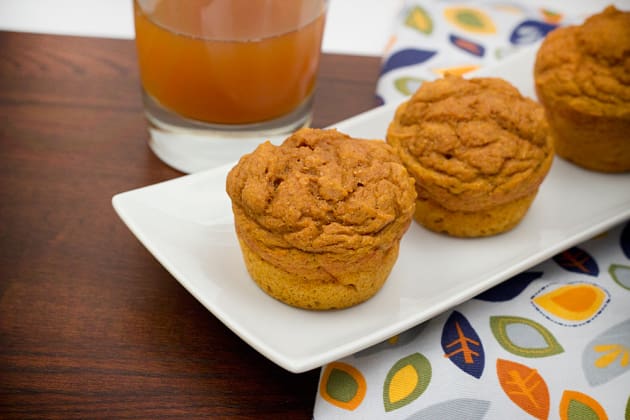 Some may say pumpkin gets too much of the spotlight this time of year.
I am not one of those people.
Sure, it's true some go a little overboard, I'll admit, I've even tried making pumpkin gnocchi before (they were amazing) and this ridiculous layered pumpkin cheesecake pie is on my short list.
But you won't be thinking overboard when you try these muffins. You'll be thinking, how on earth does this fat free muffin taste so amazingly good?! Not fibbing here people, it's true.
In all reality I make these muffins no matter the temperature outside. Delicious with a cup of coffee for an on the go breakfast, or packed up for a work snack, these things will not last too long in your house.
Don't be fooled by the lack of butter or oil in these guys, they are fantastic and you won't even miss the fat. And seriously, with an entire can of pumpkin, you won't be wondering if these things are just colored orange by dye. What is it with those coffee shops that sell bright orange muffins? Adding food coloring does not substitute for the real thing people!
Speaking of food coloring, what's the deal with red velvet cake? I mean it's basically chocolate cake with a whole lot of red dye in it right? Why has this cake become so popular?? Seriously, I don't get it!
Sorry for the tangent, I'm good at those. Back to the muffins. Whip up a batch and bring them to work, and then watch in amazement how they disappear. Then, the BEST part, tell them all they are fat free and watch their jaws drop! So fun!
Looking for some variations? Add in a handful of chocolate chips for those chocoholics out there, or sprinkle with a mixture of agave and oats for a streusel-like topping. Or you can just sprinkle them with a little cinnamon sugar mixture.
Chow!
Ingredients
1 cup Whole Wheat Flour
3/4 cup All-Purpose Flour
2 teaspoons Baking Powder
pinch of Salt
2 teaspoons Ground Cinnamon
1 15 ounce can Pumpkin
2/3 cup Granulated Sugar
1/4 cup Light Brown Sugar
2 Eggs
1/2 cup Skim Milk
Directions
Preheat oven to 350°F.
In a medium bowl mix together flours, baking powder, salt, and cinnamon. Set aside.
In a large bowl whisk together pumpkin, granulated sugar, brown sugar, and eggs.
Gradually add flour mixture to wet ingredients, alternating with 1/2 cup skim milk.
Pour into greased muffin tins and bake for 23 minutes or until tester comes out clean.
Recommended
Tags: Healthy, Healthy Eating, Whole Grain, Baking, Baked, Muffins, Breakfasts, Brunches, Pumpkin, Fall