Jicama Fries: Spiced Just Right
Allison Ruth | Some the Wiser
Jicama fries are a great twist on the traditional side dish. Lime juice and plenty of spices make them a perfect pairing with fajitas or a torta.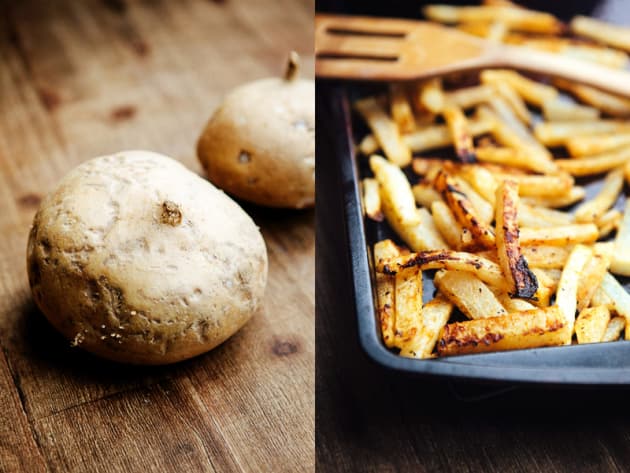 Jicama, or Mexican Turnip as it is sometimes called, is an edible root that has always baffled me just a little bit. How, I wonder, did anyone ever think to taste the very ugly looking root of a poisonous plant in the first place? I'm glad, however, that some brave soul was willing to take the risk because Jicama, despite its gnarly appearance and proximity to poison, is incredibly delicious!
In the Southwestern state that I call home, Jicama is a very common food. Inside, it looks like a potato, is crispy and juicy like a firm pear, but it tastes sweet and starchy like an apple. It is delicious raw and makes a crunchy, flavorful addition to salads. In my corner of the world, it is normally used a garnish to a variety of cooked Mexican dishes.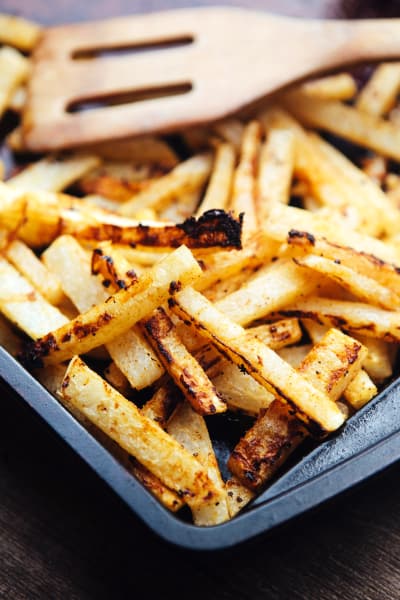 Jicama is so tasty though, that it really does deserve a recipe of its own! Jicama Fries are a perfect way to enjoy this unique food. Best of all, Jicama Fries make a really simple and delicious snack with only half of the calories and carbohydrates of potatoes.
I can't say Jicama Fries taste like French fried potatoes because they really don't. They stay crispy on the inside and they retain their juicy, sweet flavor through the baking process. However, they will satisfy your crunch cravings, meet yummy flavor requirements, and provide you with a healthy, guilt-free snack experience.
My spice mix of chipotle, onion powder, paprika, salt, and lime juice makes them a perfect side dish for any Mexican torta or fajitas. I think they'd be fantastic next to slow cooker shredded chicken tacos, and dipping them in homemade taco sauce might be the best thing ever!
Whichever way you enjoy your jicama fries, just make sure you do. They're not to be missed!
Ingredients
16 ounces Jicama, peeled and cut into medium sized fries (1 pound)
1 tablespoon Olive Oil
1 tablespoon Fresh Lime Juice
1/4 teaspoon Salt
1/8 teaspoon Chipotle Chili Powder
1/8 teaspoon Onion Powder
1/8 teaspoon Paprika
Directions
Preheat oven to 400°F.
In a small bowl, combine spices. Gently toss the jicama fries with the oil and lime juice, then sprinkle with the spice blend.
Spread fries evenly on a baking sheet and bake for 25 to 30 minutes, or until fries are golden.
Serve immediately – they taste best hot out of the oven. 
Recommended
Tags: Family Meals and Snacks, Side Dishes, Vegetarian, Vegetables, Jicama, French Fries, Baking