Coconut Truffles: Easy for Easter
Aimee Shugarman | Shugary Sweets
Coconut truffles are the perfect addition to your Easter table. You're only a couple ingredients away too!
Once upon a time I didn't like coconut. Can you imagine?
It's fun to think how far I've come in my food loving world. Now if only I can get my husband to get on the coconut train.
These truffles were definitely my attempt to convince him how delicious coconut can be! But, I had a backup plan in case he decided not to help me eat 2 1/2 dozen truffles. They made the perfect get well gift for a friend!
To start making these truffles you need to toast your coconut. I always start with the sweetened shredded coconut. I mean, why not use sweet coconut!? I spread them in an even layer on my stoneware baking sheet. You can use any 15x10x1inch pan though. Preheat your oven to 350 degrees and cook for about 10 minutes, giving them a stir halfway through. Keep your eye on it though, because ovens vary in cooking and these can get brown pretty fast.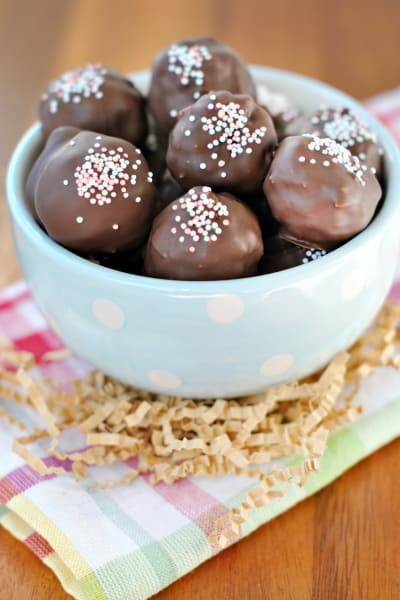 Let your coconut cool completely before making the truffles.
This is actually the hardest part for me, keeping my hands off the toasted coconut! Toasted coconut is like candy in my eyes. How did I not love coconut??
Anyways, once your coconut is toasted, mix it with your marshmallow cream and vanilla. Refrigerate this for about 30 minutes. It will begin to harden slightly so that you can form balls. I used a one tablespoon scoop to form the balls, placed them on a parchment paper lined baking sheet, and refrigerated this for another hour.
For dipping truffles, I almost always use Candiquik. It comes in vanilla and chocolate. It's perfect for dipping because it sets up very quickly, melts easily and there's no tempering. Oh yeah, it tastes pretty delicious too! I used the chocolate candiquik, but the vanilla would have been fabulous too! Top it with some festive sprinkles and serve in a bowl for your next Spring brunch or Easter dessert! I'm pretty sure you won't have any leftovers!
Need more truffle inspiration? Don't miss Aimee's Payday Truffles and Root Beer Float Truffles too. 
Ingredients
7 ounces Sweetened Shredded Coconut, 1 bag
7 ounces Marshmallow Fluff, 1 jar
1 teaspoon Pure Vanilla Extract
6 ounces Chocolate Candiquik, melted
Sprinkles
Directions
To toast coconut, lay coconut on a 15x10x1inch baking sheet. Bake in a 350°F oven for 10 minutes, stirring halfway. Cool completely.
In a large bowl, combine marshmallow cream with vanilla and toasted coconut. Stir gently until combined. Refrigerate for 30 minutes.
Using a 1 tablespoon scoop, drop onto a parchment paper lined baking sheet. Refrigerate an additional hour or two.
Using a toothpick, dip each truffle into the melted Candiquik, tapping the side of the bowl until the excess drips off. Drop onto the parchment paper and add sprinkles immediately. Repeat until all truffles have been dipped.
Store truffles for up to two weeks in an airtight container at room temperature. ENJOY.
Recommended
Tags: Truffles, Homemade Candy, Coconut, Chocolate, Easter, Spring