Smoked Salmon Deviled Eggs: Perfect for Easter
Emily Caruso | Jelly Toast
Smoked Salmon Deviled Eggs are a savory twist on the classic deviled egg. They're perfect for your Easter celebration, or anytime!
Why are deviled eggs reserved for spring time and Easter? Every once in a while I see an elegant dinner party or summer time picnic menu that features deviled eggs and I always think it's the coolest thing that deviled eggs are being served outside of a two month window in the spring.
I'm just as guilty as most, hardly ever making them (and by hardly, I truly mean never) before or after Easter, but this year, I want to change that. While I love my go-to deviled egg recipe I wanted to mix things up and try something new, and luckily, I was presented with opportunity to do just that.
A couple of weeks ago, the kiddos and I had been practicing some egg dying techniques and as a result we had a huge amount of hard boiled eggs ready to be used in any way we could think of. We obviously made a few egg salad sandwiches - just because they're awesome, but I had another dozen eggs calling to be made into deviled eggs.
It seemed like the perfect opportunity to try some of my new deviled egg ideas. I had some of the ingredients in my fridge to make a bowl of my smoked salmon dip, but it got me thinking. Those same flavors from that smoked salmon dip recipe would be fantastic mixed into deviled egg filling. And they totally were!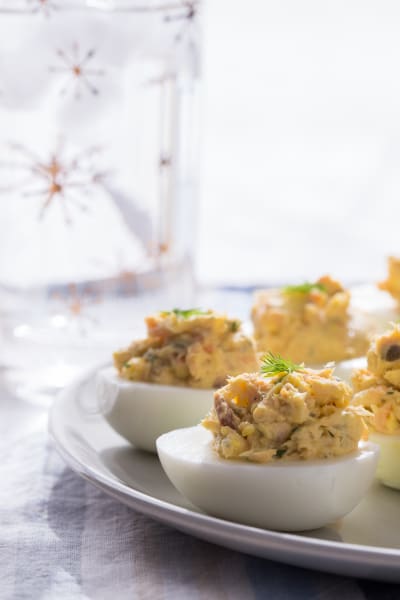 These smoked salmon deviled eggs came together in just minutes. They are full of smoked salmon, dill, capers and horseradish and have an incredible savory flavor and fabulous texture.
This recipe makes 24 deviled eggs, but my ornery 4 year old got a hold of the spoon and ate a good amount of the filling, so I ended up with only 21 filled. Yeah, that kind of thing happens a lot around here. The good news is she loved them, as did the rest of my crew, so I consider it a win!
So, if you're looking for a new spin on an Easter classic or are like me and just want to make deviled eggs any time of year, give these a whirl. You'll love them!
Looking for more of Emily's Eggcellent recipes for Easter? Don't miss her Mini Quiches with Spinach. 
Ingredients
12 Hard-Boiled Eggs
4 ounces Smoked Salmon, finely chopped
3 tablespoons Light Mayonnaise
3 tablespoons Light Sour Cream
2 teaspoons Capers, chopped
1 teaspoon Dill, fresh and chopped
2 teaspoons Dijon Mustard
1/2 teaspoon Horseradish
Kosher Salt, to taste
Black Pepper, to taste
Directions
Cut eggs in half lengthwise and remove yolks to a large bowl.
Arrange egg whites on a platter.
To the bowl of yolks, add remaining ingredients and stir to combine.
Scoop yolk mixture back into egg whites, garnish with dill and serve.
Tags: Appetizers, Snacks, Family Meals and Snacks, Party Food, Easy, Eggs, Easter