Mini Quiches with Spinach, Bacon and Parmesan: Perfect for Brunch
Emily Caruso | Jelly Toast
Savory mini quiches with spinach, bacon and parmesan are the perfect start to your Mother's Day Brunch.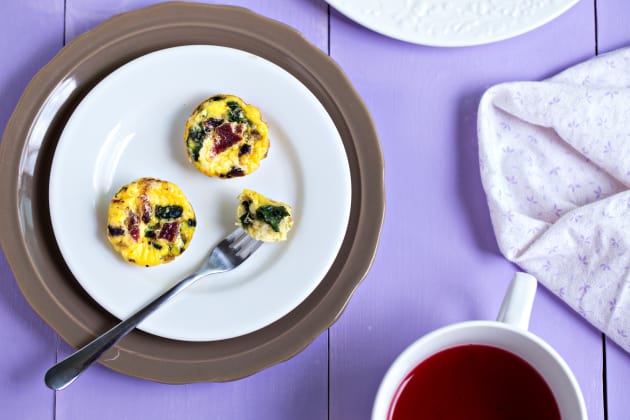 I love brunch. Who doesn't? I'm not sure I've ever come across a person who doesn't enjoy a smattering of both breakfast and lunch favorites all together on one glorious buffet. Perhaps I failed to mention the buffet part of brunch, but that is my favorite brunch style.
My ideal brunch buffet would include lovely pastries, jams and jellies, vases of flowers, a selection of teas and coffees, and of course, eggs. I love eggs. Love them, love them. I'm not sure there is a way that to prepare eggs that I don't like. Whether they're baked, fried, scrambled, poached, deviled - you name it and I like it. They're egg-cellent.
Bad joke, I know, but I couldn't help myself.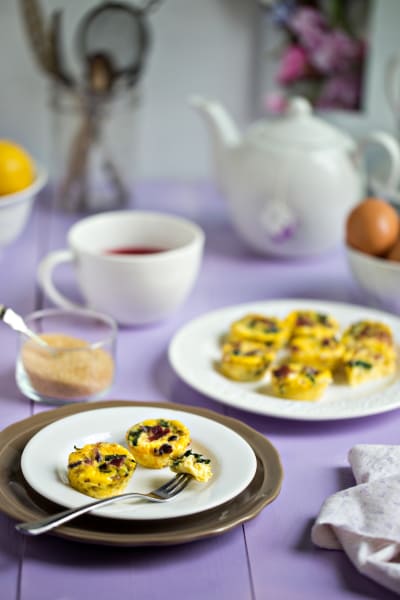 I think my love of eggs comes from my Great Grandma, because she, too, was an egg fanatic. She lived to be 94 years old and ate an egg every day of her life. I think it's safe to say she would definitely approve of these Mini Quiches with Spinach, Bacon and Parmesan.
These little quiches are so simple to make and they're absolutely perfect for your Mother's Day brunch. Or any brunch, really. They're fluffy egg bites filled with nutty parmesan, sweet caramelized shallots and sautéed spinach all topped off with a touch of salty bacon.
Plus, the fact that you can make them ahead of time and reheat them right before the party means you have more time to put your finishing touches (aka: glitter) on your Mother's Day gifts. Every finishing touch should include glitter. Just like every brunch should contain Mini Quiches.
So, when you're planning your big Mother's Day brunch, don't forget to whip up a batch of these Mini Quiches with Spinach, Bacon and Parmesan for all of those wonderful Moms in your life. Trust me, they'll love them. Oh, and don't forget to give them a lot of hugs. They'll love those, too.
Happy Mother's Day!
NOTE: For other great ideas from Emily, consider this Goat Cheese Asparagus Tart Recipe!
Ingredients
2 thick slices Bacon
3 cups Baby Spinach, torn into small pieces
2 shallots Shallots, thinly sliced
1 teaspoon Extra Virgin Olive Oil
5 large Eggs
1/3 cup Skim Milk
Salt
Black Pepper
2/3 cup Grated Parmesan Cheese
Directions
Cook bacon in a skillet until crisp. Drain bacon on paper towel and crumble into small pieces. Set aside.
In a large skillet, heat olive oil over medium heat. Add shallots and saute until they begin to soften and become translucent. Add spinach to the skillet and gently toss to coat spinach in oil and shallot mixture. Continue to stir and flip spinach until it is wilted. If spinach is sticking to the pan, add a couple of tablespoons of water to the bottom of the pan while stirring the spinach. Season with salt and pepper. Remove from heat.
Preheat oven to 350°F. Generously grease (I used non stick cooking spray) a mini muffin tin and set aside.
In a large bowl (with a spout if possible) whisk together eggs, milk, salt and pepper.
Divide parmesan cheese among the bottom of the greased mini muffin tins. Top each muffin cup with a small amount of the spinach and shallot mixture, dividing it evenly among all 24 cups.
Carefully pour egg mixture over the spinach mixture, filling up each muffin cup about 3/4 of the way full. Top each quiche with a few pieces of crumbled bacon.
Bake the mini quiches for about 12-13 minutes or until the quiches are puffed and cooked through.
Serve quiches warm or at room temp.
Enjoy!
Recommended
Tags: Appetizers, Mother's Day, Healthy, Brunches, Quiche, Eggs, Easy