Herbed Buttermilk Bread for Dinner Tonight
Kate Donahue | Food Babbles
Savory buttermilk bread full of cheese and fresh Thyme. Where's the soup, because we're ready to dig in!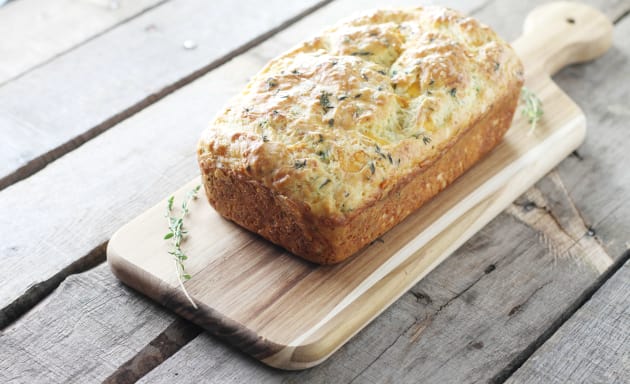 Sweet or savory, quick breads are amazing. They come together in no time at all. A few ingredients all in one bowl usually, a quick stir and mere moments later you're ready to rock. I absolutely love that they're a blank canvas for just about any ingredient you'd like to enjoy in a loaf of bread.
How about fruit and vegetables in your quick bread? It sounds like spiced cranberry sweet potato quick bread is what you're craving. I love tossing in things like almonds, chocolate, even marshmallows and coming away with a creation like chocolate chip bread that reminds me of rocky road ice cream. But if savory is more your speed, then what you desire is this herbed buttermilk cheese bread.
Buttermilk tops my list as one of my all time favorite ingredients. I adore the gently tang it lends to everything it encounters. Pancakes? A classic. Cakes? Works there too. Muffins? Absolutely! Sweet or savory, buttermilk adds incredible flavor to muffins. My favorite muffins are caramelized onion cornmeal buttermilk muffins with goat cheese and sage scattered throughout. These are amazing with a bowl of soup or as an afternoon snack. In my book, buttermilk is a superfood.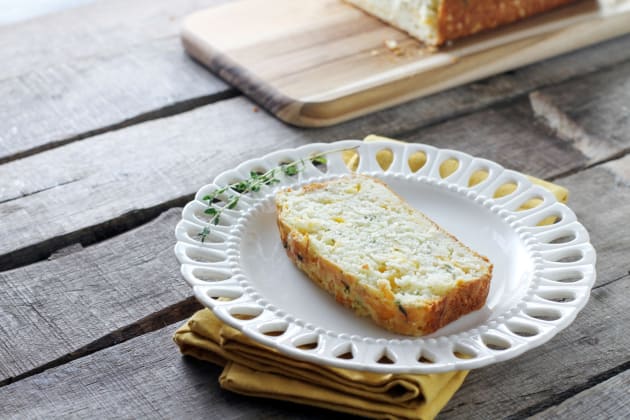 Naturally, it was only a matter of time before I "buttermilked" a quick bread. You'll be so glad that I did. What we have here is a fluffy, tender bread filled with three wonderfully different cheeses. Those cheeses and that buttermilk batter are accented by fragrant thyme and a sprinkling of sea salt.
As if all that weren't tantalizing enough, this bread is done from start to finish in an hour. You can quickly toss together the ingredients required to make the batter and pop it into the oven before you make dinner. An hour later, your meal is prepared with fresh bread to go along side for a special, fresh baked surprise. 
Ingredients
2 1/4 cups All-Purpose Flour
2 teaspoons Baking Powder
1/2 teaspoon Baking Soda
1 teaspoon Kosher Salt
1 teaspoon Black Pepper, ground
1/2 teaspoon Dry Mustard
1/4 cup Flat-leaf Parsley, finely chopped
1 tablespoon Fresh Thyme, plus 1 teaspoon, divided
1/2 cup Sharp Cheddar Cheese, grated
1/2 cup Kerrygold Dubliner Cheese, grated
1/4 cup Grated Parmesan Cheese
1 1/4 cups Buttermilk
2 Eggs
2 1/2 tablespoons Olive Oil
Sea Salt, for sprinkling
Egg Wash:
1 large Egg Yolk
teaspoon Boiling Water
Directions
Preheat oven to 350°F. Spray a 9x5-inch loaf pan with nonstick cooking spray. Set aside.
In a large bowl, whisk together flour, baking powder, baking soda, salt, pepper and mustard. Add the parsley, 1 tablespoon thyme and cheeses. Stir.
In a medium bowl, whisk together buttermilk, 2 whole eggs and olive oil. Add wet ingredients to dry ingredients and stir just until combined and evenly moistened. Do not overmix. Scrape batter into prepared loaf pan.
In a small bowl, mix together egg yolk and 1 teaspoon water. Brush top of batter with egg wash. Sprinkle top of batter with remaining teaspoon thyme leaves and sprinkle with sea salt.
Bake in preheated oven for 45-50 minutes or until a skewer inserted in center comes out clean. Cool in loaf pan 5 minutes then turn out onto a wire rack. Serve warm or room temperature.
Recommended
Tags: Quick Bread, Bread, Baking, Side Dishes, Cheese