Italian Chili with a Crazy Twist
David Dial | Spiced Blog
Italian chili - it warms you up on a cold winter's night! We think you'll love the unique recipe.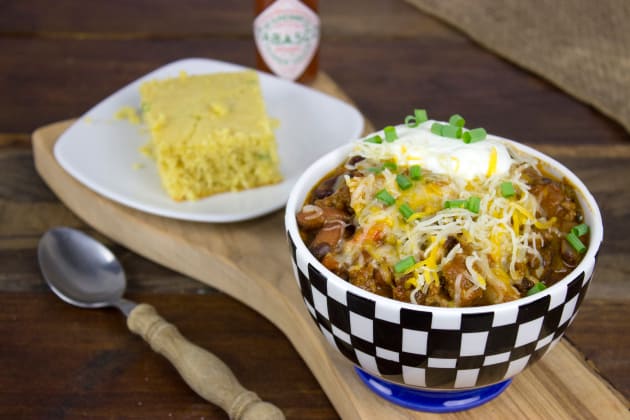 One of my favorite things about winter is the delicious comfort food that shows up at this time of the year. Nothing warms you up faster than a steaming mug of soup or a spicy bowl of homemade chili. My wife has a mean chili recipe that has been passed down through her family for years, and it's absolutely delicious! But get this…the secret ingredient is a jar of marinara sauce. Yup, marinara sauce!
After all, my wife's family is Italian, and Italian food isn't the same unless it includes marinara sauce, right? I was born in Texas, so my definition of chili definitely does not include marinara sauce! Heck, my version barely includes tomatoes. So you can imagine the look on my face the first time my wife made her chili. "Wait, I thought we decided to make chili tonight, not spaghetti." She just told me to trust her, and honestly it was some of the best advice she's ever given. This chili is delicious, and I now crave it every year as soon as the weather turns cold!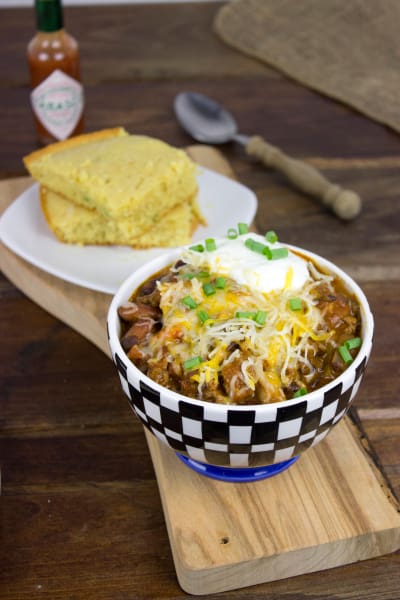 The best part about making homemade chili is how easy it is to adjust the recipe to your personal tastes. For instance, I used 1 green bell pepper and 1 red bell pepper when I made this batch, but you could just as easily use 2 green, or 2 red, or 2 yellow.
The same rule applies for the canned beans, too. I chose a to go with light red kidney beans, dark red kidney beans, white beans, and black beans this time. But you can easily substitute in your favorite beans. (I will say that kidney beans are awesome in this recipe because they provide a bit heartier texture to the chili.) Finally, chili just isn't the same without a side of cornbread, and this Homemade Jalapeno Cornbread is the perfect accompaniment to Italian Chili!
As a side note, I love using an enameled cast iron Dutch oven when making this recipe. The cast iron holds heat very well, which makes it perfect for simmering a chili or stew, and the enameled coating makes clean-up an absolute cinch. Check out my review of the Le Creuset 5.5 quart French Oven for more information.
We think David's Italian chili would also be amazing with our Red Lobster biscuit recipe too.
Ingredients
1 pound Ground Beef
2 medium Onions, diced
2 medium Bell Peppers, diced
4 15 ounce cans Red Kidney Beans, drained and rinsed (use a mixture of beans - I like a mix of red kidney beans and black beans)
1 28-ounce can Diced Tomatoes
1 24 ounce jar Marinara Sauce
1 cup Boiling Water
2 tablespoons Red Chili Powder
2 teaspoons Salt
Hot Sauce, like tobasco, for garnish
Shredded Cheddar Cheese, for garnish
Sour Cream, for garnish
Green Onions, chopped, for garnish
Directions
Cook the ground beef in a large Dutch oven over medium heat until browned. Drain off any excess fat and move the cooked beef to one side of the pot.
Add the diced onions and peppers and cook until onions begin to turn soft and translucent (about 8-10 minutes).
Add the drained and rinsed beans, diced tomatoes, marinara sauce, water, chili powder, and salt. Stir well, cover, and let simmer on low heat for 30-60 minutes, stirring occasionally.
Garnish with hot sauce, cheddar cheese, sour cream, and green onions. Serve hot.
Recommended
Tags: Chili, Soups, Winter, Easy Dinners, Dinners, Le Creuset