Top Chef Recap: Po' Boy Smackdown!
Emily Caruso | Jelly Toast
Ready for a po' boy smackdown! Check out our latest recap of Top Chef now!
Top Chef is all about cooking from the heart this week - it turns out that Nicholas' heart is angry. Especially when you touch his pots. But we'll get to that in a bit.
Quickfire Challenge
First, it's a Po'Boy Smackdown! Po' Boys are the iconic sandwiches found all over New Orleans that are often filled with deep fried seafood. But other than being served on a baguette style bread, there are truly no hard-and-fast rules when it comes to making a Po' Boy. The chefs are challenged to create one that tells their personal life stories.
Cranky guest judge Roy Choi is here to judge their offerings and he is less than impressed with the chefs' stories. Nicholas' story is too salty, Brian's is boring and, apparently, Carlos doesn't know Mexican food.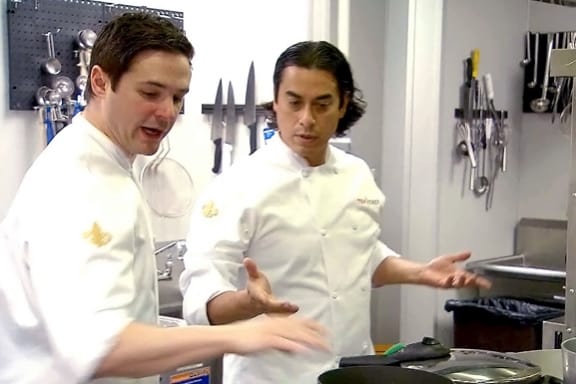 While it's clear he's just trying to kick the chefs into gear and help them discover their own personal styles, he needs to ease up a bit. After bashing them all senseless, he settles on Shirley for having the least offensive Po' Boy and awards her immunity. Again with the immunity!

Enough with it already. Let's just start handing out Toyotas for Quickfire wins like in Top Chef Seattle.

Elimination Challenge
The chefs are clearly relieved when Padma announces that there is a different guest judge, Jon Favreau, for the Elimination Challenge and they'll be free of Roy Choi's wrath.

Jon's making a movie about a chef who has lost his voice, and it's this movie that will serve as inspiration for the next challenge. Jon challenges the chefs to create a dish that represents a major turning point in their own career. They'll be cooking at Cafe Reconcile, which works with at risk youths, teaching them cooking and restaurant skills.

Many of the chefs that come onto the show work as Executive Chefs in other chefs' restaurants. Shirley even notes that as passionate as she is about cooking, after many years of executing another chef's vision, it has put a damper on her love of cooking.

Now, on to the Nicholas-centric drama of the night: Carlos looks at Nicholas the wrong way and sets Nicholas into an irate, screaming outburst where he warns all the chefs (particularly Carlos) not to touch his pots. DON'T TOUCH HIS POTS, PEOPLE! He's serious. Seriously.

Saying Nicholas is uptight is an understatement, and while his intensity can be admirable in some cases, he mostly is a self-induced heart attack waiting to happen. Perhaps he needs to take up yoga to relax himself. Or possibly back off his caffeine consumption.

As if the pot drama wasn't enough, Nicholas burns his quinoa into oblivion which starts him in on some very thinly veiled accusations that a certain fellow chef deliberately messed with his oven. I think we all know who he's suggesting.

Good for Carlos for not begin rattled by Nicholas' tantrum; he simply keeps his head down and cooks from his heart.

Here is a rundown of the chefs' turning point dishes and their feedback from the judges:

Shirley: Seared Snapper with Crustacean Broth, Silken Tofu & Nappa Cabbage - The judges rave about the crispy skin and fantastic broth. Gail admits to drooling on herself.

Nina: Fettuccine with Charred Calamari, Pine Nut Gremolata & Crab Meat - Tom is thrilled with Nina's perfect execution and seasoning saying, "at this stage in the competition, this is the way they should be cooking!"

Brian: Chicken Anticucho with Twice Cooked Potatoes & Feta Walnut Pesto - All of the judges' noses simultaneously turn up at the mention of "chicken breasts".  There's no coming back from the dreaded, boring chicken breast. Plus, his twice cooked potatoes were raw. Not good, Brian. Not good.

Carlos: Braised Pork Belly with Sweet Potato Puree & Chipotle Tamarind Glaze - the flavors are perfectly balanced and clear and the judges are impressed with it's refinement.

Nicholas: Yellowfin Tuna, Several Preparations of Carrot & Fennel Pollen Dust - The judges feel his tuna lacks seasoning and after burning his quinoa to a crisp, his dish lacks texture. This all adds up to bad news for Nicholas.

Shirley, true to her form, does not rest on her immunity, and gets the win for her crispy skinned snapper recipe. The judges are in awe of her broth.

The judges put Nicholas and his missing, burnt quinoa in the bottom along with Brian's ghastly chicken breasts. Brian goes home for choosing to use boneless skinless chicken breast, which is a total rookie mistake on this show. Nicholas is shocked it's not him going home.

If he doesn't step up his game, next week he will go home.

Tags: Top Chef, Cooking Shows