Red Velvet Cookies: Favorite Cake Turned Cookies
Rachel Gurk | Rachel Cooks
These Red Velvet Cookies are so simple to make and are the perfect chewy cookie with all the red velvet flavor you love. Perfect for cookie swaps!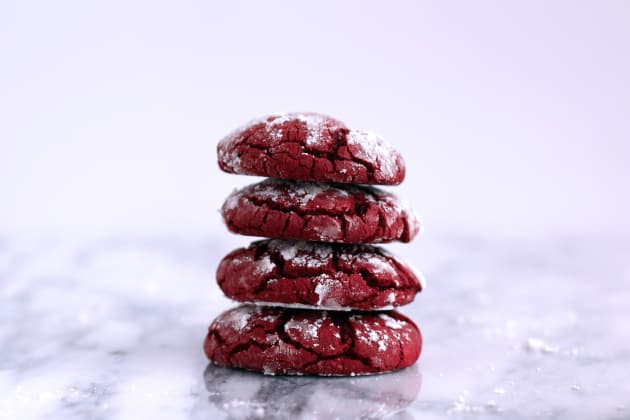 Red Velvet Cookies. Red Velvet Cake. Red velvet cupcakes. Red velvet cheese balls, dips, hot cocoas, or even this red velvet cheesecake brownies recipe. The possibilities are endless. Red Velvet POPCORN? Why… yes please! Red velvet is delicious, fun and so festive, no matter the season. Although red velvet is traditionally associated with Valentine's Day, I think these cookies would be great during the winter holidays too, with their deep, rich red color. 
Who am I kidding; these would be great any day of the year. Thursdays should be festive too, no?  And we don't want to leave Mondays out. Goodness knows Mondays could use a little festivity.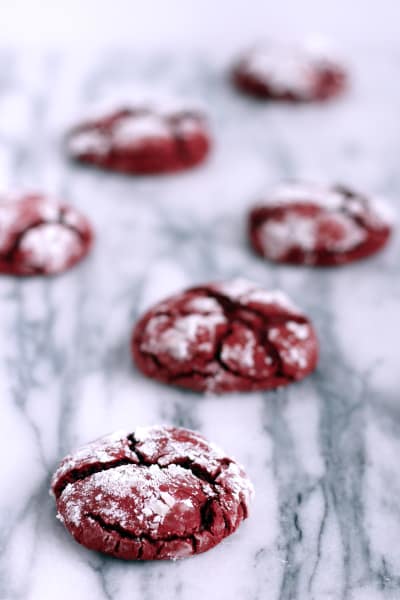 The biggest bonus about these cookies is that they are insanely easy to make. As a busy mom, easy recipes are of utmost importance. These red velvet cookies start with a box of red velvet cake. With a few additional ingredients, you have cookies. Soft, chewy, pillowy cookies.  I had to give most of these away so that I wouldn't eat them all. 
And aren't they pretty? I think they would look great in a clear cellophane bag wrapped up as a present for someone. Or offered up at a bake sale. Who could resist these gorgeous cookies? You'd be the numero uno fund raiser. 
Craving more cookies? Don't miss this funfetti cookies recipe or these chewy M&M Cookies. And everyone should have breakfast cookies at least once in their life.  
Ingredients
1 cup Powdered Sugar
1 teaspoon Cornstarch
6 tablespoons Unsalted Butter, melted and cooled
1 box Red Velvet Cake Mix, 18.25 ounces
2 Eggs, beaten, large
Directions
Preheat oven to 375°F.
In a shallow bowl, mix together powdered sugar and cornstarch with a fork or small whisk. Set aside.
In a mixing bowl, combine butter, cake mix, and eggs by hand using a sturdy spoon. When combined, roll into balls about 1-inch in diameter. Roll balls in powdered sugar mixture and transfer to a baking sheet, about 12 per sheet.
Bake for 10-11 minutes or until set. Cool for 1-2 minutes on baking sheet before moving to a  cooking rack. Store in airtight container.
Source: Adapted from Duncan Hines

Tags: Cookies, Baking, Desserts, Snacks, Family Meals and Snacks, Christmas, Party Food, Cake Mix, Red Velvet