MasterChef Junior Review: Talented Tykes
Megan Myers | Stetted

We're back with a new episode of MasterChef Junior. What did the talented tykes cook up this week?
Welcome back to Master Chef Junior, where all the competitors are better than you despite being one-third your age.
They chat a bit about the prizes, which includes $100,000. These kids don't really need culinary school, but that's about how much it costs these days, right? At least they wouldn't need to worry about debt with poor post-graduate wages.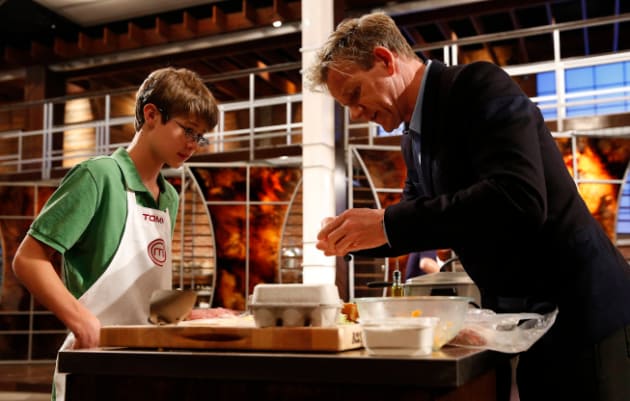 The first mystery box challenge reveals some lovely looking steaks, shrimp, berries and accompanying ingredients. Mmm, steak. My husband only recently started cooking steaks properly. Maybe I just need a small child to instruct him?

Anyway, they get cooking, and as they do on Master Chef, the judges taste as the kids cook to determine who to bring down as the top 3. This week it's all boys: Alexander, Jack, and Troy. These kids have really got their plating down, especially Troy, who admits to studying it. I haven't even figured out pretty plating yet, but I suppose I'm not cooking for internationally known chefs.

Jack wins the challenge, and he gets to peek at the next challenge. The judges reveal adorable photos of themselves when they were kids, and their favorite foods from that age: chicken wings, burgers, and fish sticks. Jack is safe and doesn't have to cook, but he gets to choose what the rest of the kids need to make. Plus, two of them will be going home!

He chooses hamburgers. No, man! You should have gone with the chicken wings! Especially if they would have had to cut the wings apart. Those things are annoying to prep.

The kids raid the pantry and then adorably struggle to carry them. Jack is counting on the kids to be really crazy with the ingredients, and I do have to wonder about putting a rice patty on top of a burger that already has a bun, but people eat the ramen burger, so what do I know.

Alexander is making lots of components, which Jack should be happy about. I'm not sure about the fried kale, and I'm hoping it's to go on the side and not on top of the burgers, which he's already topping with onions, pepper jack cheese, and black garlic aioli. Luckily his greens are an arugula salad for the burger.

Tommy missteps with his "breakfast burger," which is made with turkey instead of beef. He's not old enough to know about the joys of a hangover burger, so I'm giving him a pass on the turkey. I'm not giving him a pass on the American cheese, though.

We rush through the rest to get to Molly, she of the rice patty. It looks like she didn't put the rice on, but the flavor is all uneven due to the kimchi and other flavors.

Pretty easy to figure out who is going home, right? They put Jewels in the bottom three as well, but she's safe.

Good luck Tommy and Molly! I like that the judges are so encouraging when the kids leave. They should remember their empathy when the adults come back around.

Next week: What looks like a skill-off, including whipping cream by hand, and Beef Wellington! I'm sensing a cow-heavy season. I hope we mix it up with some geoduck later on, though I'm sure Alexander would be able to tackle that challenge blindfolded.

Tags: MasterChef Junior, Cooking Shows