Chopped Review: "Sports Stars"
Stephie Predmore | Stephie Cooks
Chopped featured a number of very famous faces this week. Which celebrity was crowned the champion?
After taking a several-week hiatus, Chopped returned this week with a special episode featuring four sports stars competing for their favorite charities.

The Contestants:
Danica Patrick, Auto-racing driver
Tiki Barber, former NFL running back for the New York Giants
Chuck Zito, Boxer and mixed martial arts fighter
Natalie Coughlin, Swimmer and 12-time Olympic medalist
This Week's Judges: Marcus Samuelson, Alex Guarnaschelli, and Chris Santos.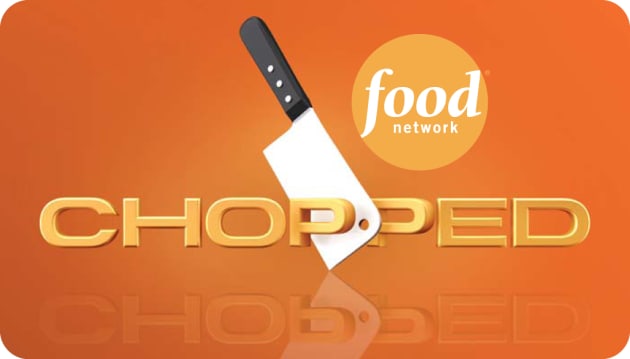 The Appetizer Round: The chefs had 20 minutes to create an appetizer using salmon filets, candy-coated peanuts, redbor kale and lemon-lime sports drink.

While these athletes are used to tough competition, the level of competition in the Chopped kitchen seemed to really throw some of them for a loop. Natalie even admitted that cooking in this kitchen was more terrifying than swimming with great white sharks (personally, I think I will stick to cooking), though she still put forth a plate that generally pleased the judges.

Danica's time at culinary school served her well in this round, as she put forth the most sophisticated salmon recipe. The men, however, seemed to struggle with transforming their ingredients, instead serving two somewhat boring kale salad dishes.  Chuck's salmon salad did more to impress the judges than Tiki's somewhat disjointed plate, doing just enough to keep Chuck in the competition and sending Tiki to the chopping block.

The Dinner Round: The contestants had 30 minutes to create an entrée containing spinach, filet mignon, almonds, and chocolate-covered marshmallows.\

Natalie was the athlete that really shone in this round; her decision to turn the almonds into almond milk, which she then used in her creamed spinach, and her approach to cooking the beef were both moves that we would expect to see out of a professional chef. Danica attempted to jazz up the traditional "steak and potatoes" by making mashed sweet potatoes, which received mixed reviews from the judges, though they raved about her spinach.

Chuck, on the other hand, struggled quite a bit, ultimately producing a well-cooked, well-seasoned steak, but not having enough time to transform all of the ingredients. The judges were not exactly impressed with his decision to simply place the chocolate-covered marshmallow on the plate (which, admittedly, did not look very appetizing…) and chose to send him packing.

The Dessert Round: The two remaining contestants had 30 minutes to create a dessert recipe using protein powder, caramel popcorn, tangelos, and olive oil cake.

These two female athletes really were at the top of their game in this dessert round, showing a passion and a desire to win that outshone even the first two rounds. Natalie put up a good fight with her olive oil cake bread pudding, but Danica brought just enough more finesse to her dessert sandwich that it put her over the edge to win - fitting, seeing as she admitted to having watched the show for years.

While the title of Chopped champion may be quite different from her many other awards and titles, it is surely an impressive one for this home cook who managed to compete like a trained chef.

Thanks for reading and remember to bookmark our section of Food Network recipes!

Tags: Chopped, Cooking Shows, Food Network