Peanut Butter Banana Ice Cream: Quick and Easy, and Healthy Too!
Steph S. | ::steph chows::
Peanut Butter and Banana Ice Cream has just two ingredients, TWO! So easy, so good, and the kids can have as much as they want. Mom too.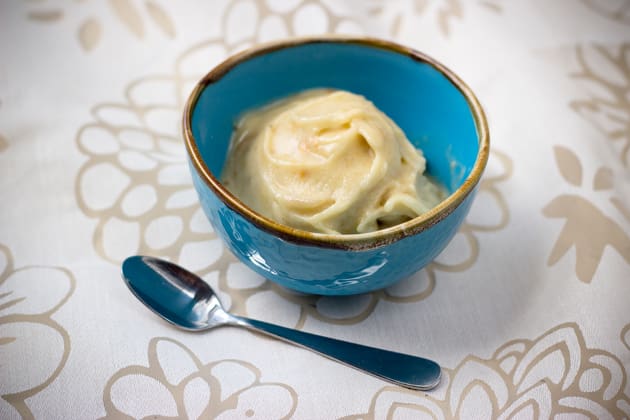 For years I didn't have an ice cream maker and I'd lament every recipe I'd see for the stuff...
"So simple, just takes minute."
"Just toss into your ice cream maker!"
*bonk* I didn't have an ice-cream maker. Even now that I have said coveted item, I hardly every find myself using it! Freezer space is a premium around here and the space that machine takes up is too much precious real-estate.
In a similar situation or don't have an ice-cream maker? This recipe = Problem solved. I find myself making all different kinds of banana combos with it.
I promise, this stuff is creamy, just like ice cream, without the dairy! Don't believe me? More for me :)
My go to favorite is peanut butter and banana ice cream. If you're feeling a little feisty, feel free to toss in a handful of chocolate chips too. Seriously good.
And did I mention guilt free? No dairy, the only fat is from healthy nuts, and no added sugar. It's like a dessert dream come true!
I will say that if you don't like bananas, then this isn't a recipe for you. But all the rest of you banana loving fools out there, grab some and toss them in the freezer, and then get mixing.
I'm thinking my next combo may be a chocolate banana raspberry version. What do you think?
What would your first combo be?
We love it when Steph gets all healthy and dessert-y with peanut butter. Have you seen her No Bake Peanut Butter Balls Recipe too?
Directions
Peel bananas and place in a freezer bag in the freezer.
Once frozen, toss into a food processor and spin until it forms into a smooth soft serve like consistency.
Add nut butter and twirl until incorporated.
Serve immediately. 
Notes
You may use any nut butter you like in place of peanut butter.
Recommended
Tags: Healthy Eating, Healthy, Peanut Butter, Bananas, Desserts, Snacks, Frozen Treats