Southwestern Wheat Thins: Same Taste, New Spice
Rachel Gurk | Rachel Cooks
These southwestern wheat thin crackers taste even better than the store-bought variety. Plus they have a great southwestern flair, thanks to the addition of taco seasoning.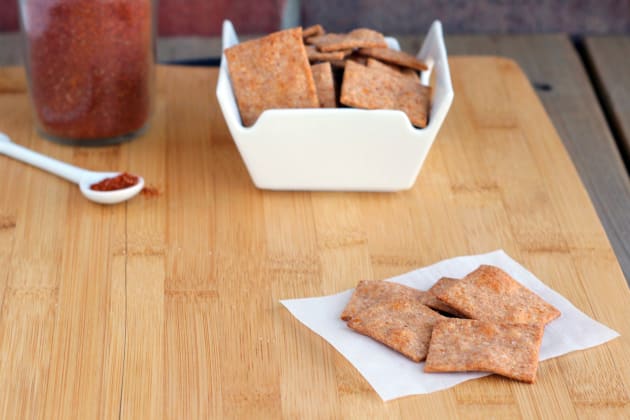 Our family is a huge fan of Wheat Thin crackers. Reduced-fat, to be exact. You know, to make up for the brownies and the cookies. However, when I was dreaming up these crackers, I came to my trusty taco seasoning. I use the stuff in everything, and it was so perfect in these southwestern wheat thin crackers.
These are really fun and easy to make at home. If you love Wheat Thins, you will love these crackers. They have a slightly different crunch unless you can get them paper thin, but the taste is spot on.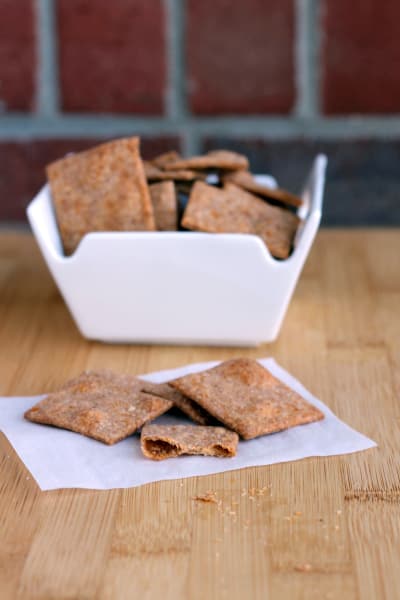 I was making these with the "assistance" of a toddler and was hurrying to finish before my 4-month-old woke up, so mine aren't quite paper thin. You gotta do what you gotta do, you know? They still tasted terrific. The taco seasoning added a perfect southwestern flair and just enough spice to keep things interesting.
I love taking a product that I'd typically buy at the store and trying to make it myself. It's a fun challenge and I always feel great knowing exactly what goes into my food and what my kids are eating.  I've done homemade cheez-its (that dang "z" drives me bonkers), and I definitely need to try these copycat Velveeta shells. What should I take on next?
Ingredients
1 1/4 cups Whole Wheat Flour
1 1/2 tablespoons Granulated Sugar
1 teaspoon Taco Seasoning
4 tablespoons Unsalted Butter
1/4-1/3 cup Boiling Water
1/4 teaspoon Pure Vanilla Extract
Salt, for topping
Directions
Preheat oven to 400°F.  Line two baking sheets with parchment paper or Silpat baking sheet.

Add the flour, sugar and taco seasoning to the bowl of a food processor and pulse to combine.  Cut the butter into small pieces and add it to the food processor.  Pulse until the mixture resembles coarse sand. Add the water and vanilla and pulse until a smooth dough forms. Add more water if needed for dough to come together. Do not over-process.

Divide the dough into 4 pieces. Move one piece of dough to your work surface and keep  the others covered with a towel to prevent them from dying out. Lightly flour your work surface and rolling pin and roll the dough into a large rectangle.  
Roll as thin as possible. Use a pizza cutter to cut the rectangle into squares about 1 to 1 1/2 inches wide. 
Transfer the dough squares to the prepared baking sheets. They won't spread so they can be placed close together.  Sprinkle the squares with salt.  Repeat the rolling and cutting process with the other 3 pieces of dough. Stick your scraps under the towel and roll them out last for one last batch.
Bake the crackers until crisp and brown or about 5-10 minutes. Watch closely to prevent burning. Once baked, transfer to a plate to cool.  Store the crackers in an airtight container.
Notes
Have additional flour on hand for for rolling out crackers.
Your number of crackers may vary depending on how thin or thick you roll the dough.
Tags: Snacks, Crackers, Tex Mex, Baking, Whole Grain