Homemade Velveeta Shells and Cheese
Stephie Predmore | Stephie Cooks Updated
This homemade Velveeta Shells and Cheese recipe is an easy twist on a classic favorite. Enjoy!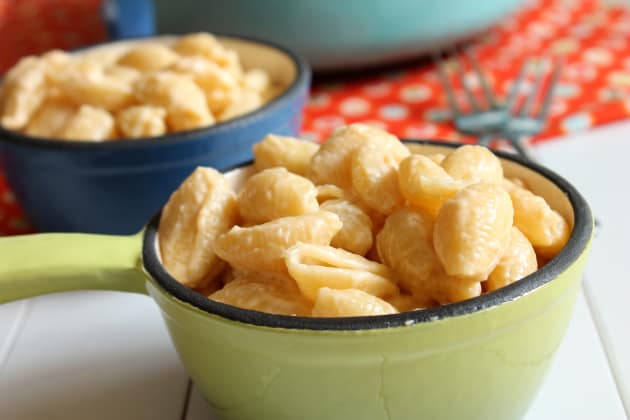 When I was in middle school and high school, many a night was spent with my best friend, Amy.
Now, Amy's family didn't do a lot of cooking, so when we were at her house, I could usually count on one of two things for dinner: pizza, or Velveeta Shells and Cheese. (To be fair, when we were at my house, my mom almost always cooked dinner, so things balanced out in the end.)
I cannot tell a lie: I really enjoyed those dinners of Velveeta Shells and Cheese. I've always loved mac and cheese, and, primarily due to a lactose-intolerant father, didn't get it much at my own house. But, in retrospect, I think what I really loved about those meals was the experience: eating off of paper plates in the living room, flipping through crazy reality TV shows while Amy's dog, Penny, looked on, praying for us to drop a noodle (or two).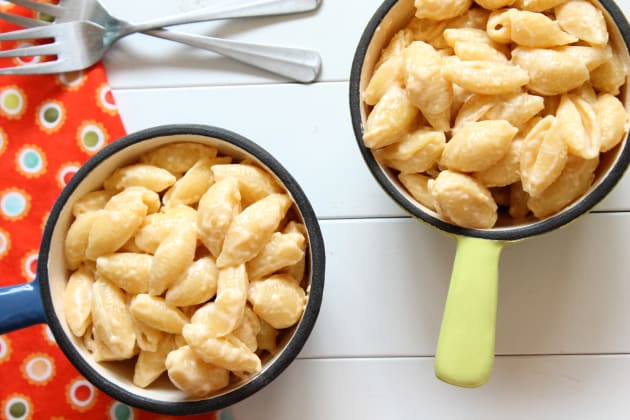 But let's face it: who really knows what is in Velveeta Shells and Cheese? I mean, a block of Velveeta can sit in your fridge for a year without ever going bad. If that's not a red flag, I don't know what is. But I was also skeptical: could I really recreate this childhood favorite without use of sketchy ingredients, make it just as quick and easy, and still end up with a dish that lived up to my memories?
As it turns out, I absolutely could. I'm not exaggerating when I tell you that this version tastes just like this original. And, to make things even better, you only need 4 ingredients, as much time as it takes to cook your pasta, and a hearty appetite.
Now that's a quick and easy dish that I can get behind.
Ingredients
1 pound Pasta Shells
4 ounces Cream Cheese
1/2 cup Evaporated Milk
2 cups Cheddar Cheese
Salt, to taste
Directions
Cook pasta according to package directions in a large pot of boiling, salted water.
Once cooked, drain and return to the pot over low heat.
Add the cream cheese and evaporated milk, stirring to combine.
Once the cream cheese is melted, add the cheddar cheese and stir until melted and well combined.
Add salt to taste. Serve immediately.
Tags: Copycat, Macaroni and Cheese, Cheese, Lunches, Dinners, Pasta, Boiled