Peanut Butter Pretzel Bars: Rice Krispie Treats with a Salty Twist
Jen Schall | My Kitchen Addiction
Don't be fooled. These salty sweet snacks are really for mom. Of course, the kids will like them, too!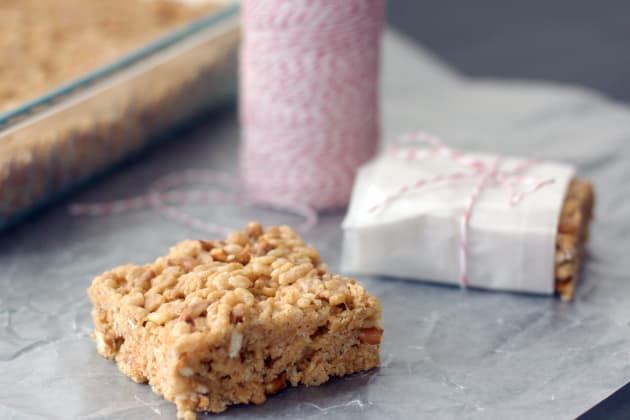 Let's talk about afternoon snacks. I used to think snacks were for kids. Now that I have one (even if she's not old enough to eat real food yet), I realize that the snacks are really for mom.
By the middle of the afternoon, I am usually craving a sweet snack. Between rounding up the kiddo (who is just starting to scoot around and learn to crawl… oh my!), running errands, and trying to keep up with the chores around the house (not to mention trying to develop and photograph recipes), I find that I really need a bit of a pick-me-up in the afternoon to hold me over until dinner.
Sure, if the kiddo was old enough to eat a snack (other than mashed up peas…), I'd offer her some of mine. But there's no disputing the fact that it was my snack to start off with. I'm convinced this is the case for a lot of moms out there. Sure, we can all call it an "after school" snack, but it's really a "get mom through the afternoon snack" if we're being honest.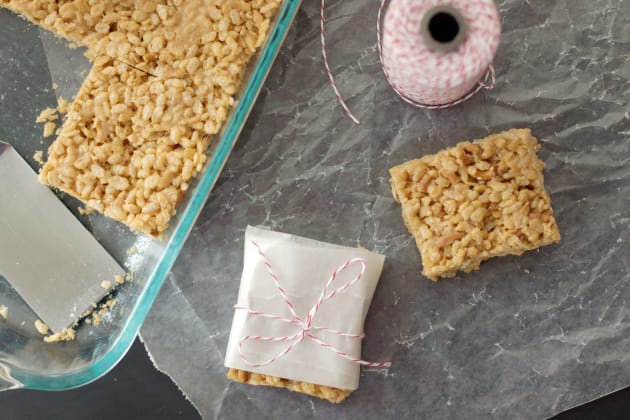 These Crispy Peanut Butter Pretzel Bars are what got me through a particularly busy afternoon at my house last week. They are basically Rice Krispies bars, but with a salty twist. In addition to stirring some peanut butter into the gooey marshmallow goodness, I've added some crushed up pretzels to the mix. 
I threw them together quickly during nap time and then set them out on the counter so that I could cut myself a square (or two) later in the afternoon.

And, of course, since the recipe uses crispy brown rice cereal, they are whole grain. I'm pretty sure that means you can eat two.
For another delicious way to combine these flavors, consider this Chocolate Peanut Butter Pretzel Bars Recipe!
Ingredients
5 cups Rice Krispies
2 cups Crushed Pretzels
2 tablespoons Unsalted Butter
10 ounces Marshmallow
1 cup Peanut Butter
Directions
Lightly grease a 9 by 13-inch pan or baking dish and set aside.
Combine the cereal and pretzels in a large mixing bowl and set aside.
Melt the butter in a large saucepan over medium-low heat.
Add the marshmallows and peanut butter, stirring constantly until the mixture is smooth.
Pour the marshmallow mixture over the cereal and pretzels in the large mixing bowl.  Stir to combine.
Transfer the mixture to the prepared pan and press it evenly into the pan.
Let cool completely before cutting into squares
Notes
If you prefer to use the microwave, you can combine the butter, marshmallows, and peanut butter in a large microwave safe dish. Be sure to stir frequently! I prefer the stove top method because I have memories of exploding marshmallow peeps in my microwave as a kid. I also have memories of cleaning the microwave afterwards.
You may substitute any crispy brown rice cereal for Rice Krispies.
Tags: New Mom in the Kitchen, Desserts, Peanut Butter, Whole Grain, Chocolate, Pretzels, Snacks