Chicken Pesto Gnocchi: A Gourmet Meal in Minutes
Lisa Grant | Jersey Girl Cooks
This chicken pesto gnocchi is perfect for a small family meal or a large gathering. It only takes minutes to whip up.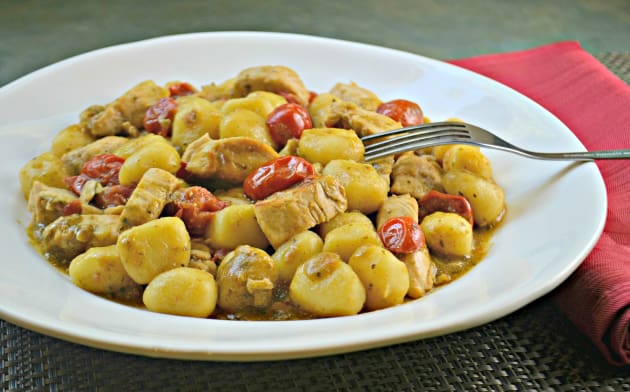 I've always loved gnocchi. This dish reminds me of my grandparents and staying at their summer home.  My Italian grandfather loved gnocchi. But back in those days, you couldn't buy prepackaged ones in a grocery store. You had to make them yourself. My grandmother spent hours making large batches of them.
As much as my grandfather loved them, he always advised the family to eat them in moderation. Why? Because he would tell us a story of his beloved dog the family had for years. One day he set a bowl of gnocchi on the table and their golden retriever got to it. It did not last for long as the dog enjoyed it.
I'm sure my grandmother was not happy as the gnocchi took up a lot of her time to make. Later that afternoon, my grandparents took the family along with the dog swimming in the lake near their house. Their dog jumped in the water and could not swim because of all the gnocchi he had eaten. My grandfather had to jump in and save the dog.  I am not sure how much of this story is an exaggeration, but every time I make gnocchi it brings a smile to my face.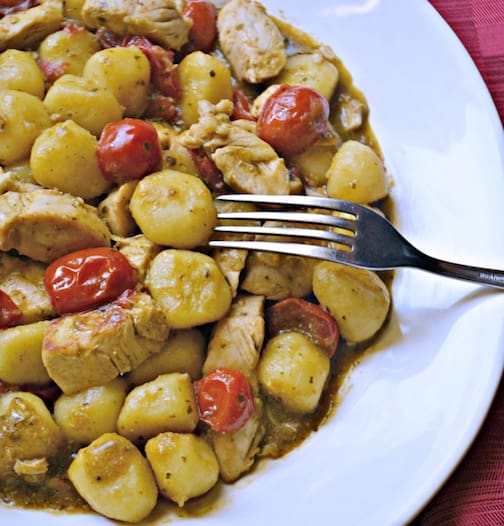 Nowadays, you can buy wonderful prepackaged gnocchi and dinner can be on the table in less than half an hour. When I have time, I make homemade gnocchi, but lately getting dinner on the table is a race against the clock.
One of my favorite pantry ingredients is jarred pesto. I love making some in the midst of the summer and freezing it but when I run out, there are so many good brands to choose from and my family has no idea it comes from a jar.
This dinner is great for a fast weeknight meal, but try it on the weekends when you have company over too. You won't be disappointed and the recipe can easily be doubled for a larger crowd.
For other great pesto ideas, consider this kale pesto recipe today!
Ingredients
16 ounces Potato Gnocchi
2 tablespoons Olive Oil
1 pound Chicken Breast, boneless, cut in bite size pieces
1 teaspoon Garlic Powder
1 cup Grape Tomatoes
3 tablespoons Pesto, jarred
1 cup Chicken Broth
Salt, to taste
Black Pepper, to taste
Directions
Cook the gnocchi in a large pot of water according to package directions. (After the water boils, they usually cook for about 3 to 5 minutes.) Cook until a la dente and keep warm.
While the gnocchi is cooking, heat the oil on medium heat in a large frying pan. Sprinkle chicken with garlic powder and cook for about 5 to 7 minutes or until chicken starts to brown. Add tomatoes and cook for another 2 minutes.
When tomatoes start to wilt, add pesto sauce and chicken broth to the pan. Mix well and cook on low for a few minutes until the chicken comes to a simmer.
Add cooked gnocchi to the pan and cook for a few more minutes or until sauce starts to thicken. 
Add salt and pepper to taste.
Notes
One package of potato gnocchi is typically comprised of 16 ounces.

Tags: Easy Dinners, Dinners, Italian, Gnocchi, Chicken, Pesto, Pasta