Slow Cooker Chicken Enchilada Stuffed Peppers: Super for Cinco de Mayo
Katie Jasiewicz | Katie's Cucina
Looking for an easy Cinco de Mayo recipe? Utilize leftover rotisserie chicken, rice and homemade enchilada sauce to create the easiest Slow Cooker Chicken Enchilada Stuffed Peppers.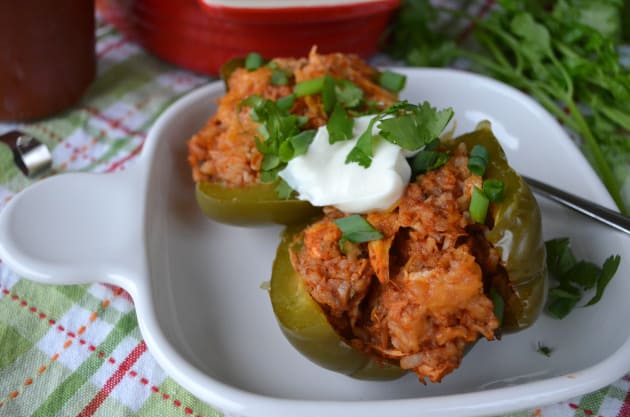 Who loves stuffed peppers? I do! I
grew up eating these on a bi-weekly basis (or at least it felt like that). I've never steered away from my traditional stuffed peppers with ground beef and rice before last month. I also always pre-cooked the bell pepper and then baked them off in the oven. No more of that after these Slow Cooker Chicken Enchilada Stuffed Peppers!
For years now, I've seen people cook their stuffed peppers in the slow cooker... why I haven't tried this until now is beyond me.
I also don't understand why I have yet to branch out from the standard stuffed bell pepper with newer variations of filling. Seriously, this is a super easy recipe and the best way to utilize leftover rotisserie chicken, rice and, of course, use up that homemade spicy enchilada sauce!
This is an ideal weekend meal or a meal that you can put together quickly and have three hours to go run errands! I've only ever cooked these on high for three hours, so I can't guarantee that a low setting for double the amount of time would work.
Whether you're throwing a Mexican Fiesta brunch or simply want an easy dinner to put together to commemorate Cinco de Mayo this recipe will rock your socks!
Ingredients
2 cups Cooked Shredded Chicken
2 cups Cooked White Rice
1 cup Enchilada Sauce
1/2 cup Cheddar Cheese
3 tablespoons Red Onion, minced
3 tablespoons Fresh Cilantro
6 large Bell Peppers
1/4 cup Cheddar Cheese
Green Onions, diced, for garnish
Sour Cream, for garnish
Directions
In a large bowl, mix together the shredded chicken, rice, enchilada sauce, 1/2 cup shredded cheddar cheese, red onion, and 3 tablespoons cilantro. Set aside.
Fill the slow cooker with 1/3 cup water.
Rinse bell peppers, and then cut around the tops of the bell peppers removing the seeds and stem. Carefully begin filling the bell peppers with the chicken-rice mixture. Place stuffed bell peppers in the slow cooker. Top with remaining 1/4 cup shredded cheddar cheese. Cook on high for 3 hours.
Serve immediately and top with diced green onions, cilantro, and sour cream.
Tags: One Pot Meals, Slow Cooker, Dinners, Cinco de Mayo, Mexican, Easy Dinners, Easy, Chicken