Gumbo For Two
Christina Lane | Dessert for Two Updated
Gumbo for two you can have any night of the week.This gumbo recipe calls for sausage, shrimp, chicken and more. It's quick, easy and tasty.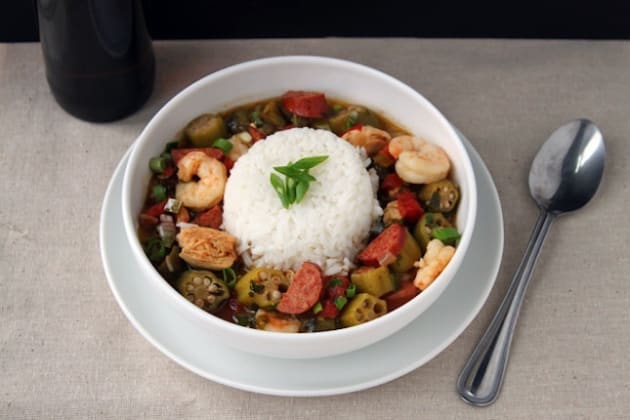 Sundays call for stews. The kind of stew that simmers all day on the back burner while you tidy up the house, do a few loads of laundry, clip coupons, and pay bills. Stews taste best after a long successful day of errand-running and task managing. If all of your laundry is folded and put away, the stew is transcendent.
Wait, who has time to accomplish that many errands in a day? Who crosses off everything on their to-do list and has a delicious dinner on the table?
You! That's who!
The trick to this speedy gumbo is pre-toasting the flour. Think of your oven as a tanning bed. The flour tans in the warm oven and turns a nice shade of Spring Break bronze.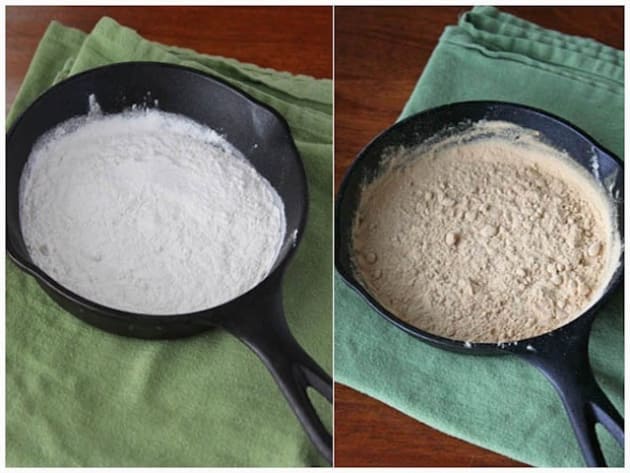 I recommend making at least 1 cup of browned flour to keep on hand. Use leftover toasted flour in other stews, gravies, and Béchamel sauces.
Another perk of this gumbo is that it doesn't feed an army. Everyone knows gumbo get spicier with age, so leftovers are sometimes precarious. This speedy small pot of gumbo lets you have a taste of New Orleans on your plate in two hours. Most of that time is hands-off, letting the sausage and vegetables cook in the broth.
A couple that eats spicy food together, stays together.
Ingredients
1/4 cup Flour
1/4 cup Vegetable Oil
1/2 cup Onion
1/2 cup chopped Celery
1/2 cup Green Peppers
6 ounces Smoked Sausage
3 cups Boiling Water
2 tablespoons Powdered Beef Base
1/8 teaspoon Cayenne Pepper
1/4 teaspoon Black Pepper
1/2 teaspoon Dried Thyme
1 tablespoon Worcestershire Sauce
8 ounces Diced Tomatoes
1 Bay Leaf
1 Chicken Breast
1 cup Okra, frozen, sliced
1/3 cup Fresh Parsley, chopped
5 ounces Shrimp, cleaned and tailless
White Rice, hot and cooked, for serving
Directions
Preheat the oven to 400 °F.
Add the flour to a small cast iron skillet (or regular skillet) and toast in the oven for 20-25 minutes, stirring every 5 minutes. It will change in color (see photo). Let it cool completely before using.
In a medium stock pot, heat the oil over medium-high heat. Add the flour and stir constantly. The mixture should be a copper penny color before moving to the next step. Don't take it too far or it can burn.
Add the onion, celery, bell pepper, and sausage.
Saute for 5-7 minutes, stirring occasionally. The onions should soften and the sausage should brown a bit. Next, add the water and next 7 ingredients. Bring to a simmer and let cook covered for 45 minutes.
Add the chicken breast whole and cook uncovered 20 minutes. When the chicken is done, remove it from the pot, shred the meat, then add it back to the pan. Next, add the okra and parsley and cook uncovered for 5 minutes.
Right before serving, add the shrimp and cook for 4-5 minutes, until the shrimp are done.  Serve over white rice.
Tags: Cooking for Couples, Simmering, Dinners, Chicken, Shrimp, Sausage, Gumbo