Gluten Free Chocolate Cookies
Wendy Kirby | La Phemme Phoodie Updated
Gluten free chocolate cookies you're gonna love, whether you're gluten free or not. These chocolate espresso cookies rely on hazelnut flour and are the perfect way to end a tough day!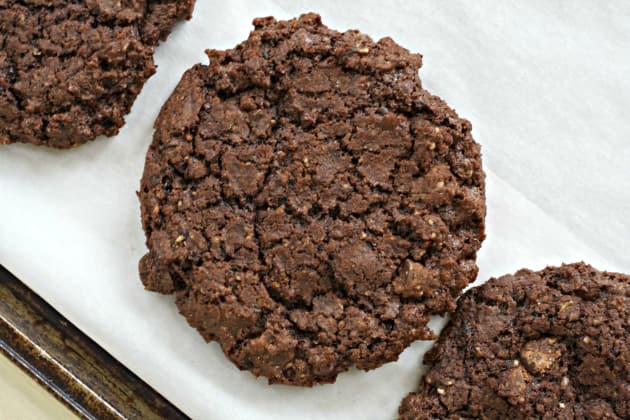 Playing around with flour while creating recipes is something that I never did before going gluten free. When I made something I almost always used regular all-purpose flour. Occasionally I might find a need for cake flour but for the most part I was always stocked and ready to go with a cup or two of all-purpose flour.
Once I went gluten free, the world of flour became mind-blowing to me. I had no idea that gluten free baking could involve so many variables that in turn can involve a number of different types of flour. The wonderful part about going gluten free is finding ways to adapt "regular" recipes to be gluten free.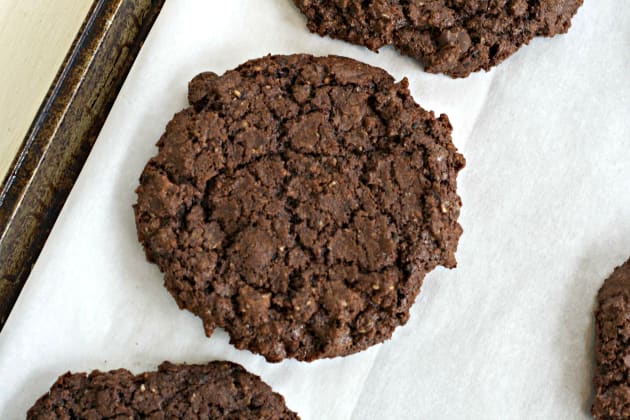 The list of flour you can use to create a gluten free recipe is endless: brown rice, potato, tapioca and coconut flour are just a few of the many types of flours available. When a friend suggested I try to adapt this Food Network recipe to be gluten free using hazelnut flour, I was excited to give it a whirl.
Hazelnut flour is made from pure, ground hazelnuts. It adds a great rich flavor to many baked goods. You can substitute up to a 1/3 of the recommended flour in a recipe.
It took a few different tries to find the right amount of dry versus wet ingredients as I also needed to find the right balance using two flax eggs instead of regular eggs. The cookies have the perfect combination of chocolate, infused with the nutty flavor of the hazelnut flour and are complimented by the hint of coffee flavor from the espresso beans. They certainly satisfied my chocolate craving!
Ingredients
6 ounces Semisweet Chocolate, chopped into .5 inch pieces
2 tablespoons Unsalted Butter, at room temperature
1/3 cup Dark Chocolate Covered Espresso Beans
1/3 cup Hazelnut Flour
2/3 cup All-Purpose Gluten Free Flour
2 tablespoons Unsweetened Cocoa Powder, unsweetened
1 teaspoon Baking Powder
1/4 teaspoon Sea Salt
1/2 cup Sugar
2 large Flax Eggs
2 tablespoons Boiling Water
1 teaspoon Pure Vanilla Extract
1 cup Chocolate
1-2 tablespoons Unsweetened Coconut Milk
Directions
Place an oven rack in the center of the oven. Preheat the oven to 300 degrees Fahrenheit. Line 2 baking sheets with parchment paper or silicone mats. Set aside.
In a small bowl, combine the chocolate and butter. Place the bowl over a pan of barely simmering water and stir occasionally until the chocolate has melted and the mixture is smooth.
In the bowl of a food processor, finely chop the chocolate covered espresso beans. In a medium bowl, whisk together the chopped espresso beans, hazelnut flour, all-purpose gluten free flour, cocoa powder, baking powder and sea salt.
In another medium bowl, whisk together the sugar, flax eggs, water, and vanilla extract. Gradually add the dry ingredients and stir until thick and smooth. Fold in the melted chocolate. Stir in the chocolate chips. If the mixture is too dry, add 1 tablespoon of milk at a time until mixture becomes wet. Depending on the brand of flour you use, you may need more than one tablespoon of milk.
Using a cookie or ice cream scoop, scoop level ¼ cupful of the batter onto the prepared baking sheets. Bake until slightly puffed and the tops begin to crack, 18 to 20 minutes. Allow the cookies to cool completely on the baking sheets and serve.
Always read the label to make sure all ingredients are gluten free. If you are not sure the product is safe, check with the manufacturer.
Notes
Flax eggs = 2 tablespoons ground flax seed mixed with 4 tablespoons water.

Tags: Gluten Free, Cookies, Desserts, Chocolate, Baked