Guy Fieri Restaurant Review: As Bad as Advertised?
Shelly Jaronsky | Cookies & Cups

Guy's American Kitchen & Bar is now open in Times Square. What did we think of the experience? Read on for a review!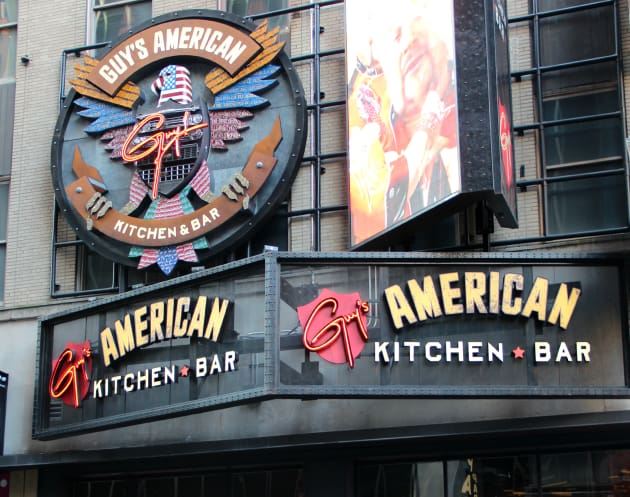 Last November The New York Times published a review of Guy Fieri's new Times Square restaurant, Guy's American Kitchen & Bar, that was so scathing many believe it hit below the belt; it read like an exercise in hyperbole. However, living a mere hour from New York City, I was intrigued.
Truth be told, I've never been a huge fan of Guy Fieri. The Food Network star is best known for his spiky blonde hair, addiction to sunglasses and confusing fashion choices. But I have made a few of his recipes, and admittedly, they've been pretty tasty.
So back to the NYT article… I read it, reread it and then had some friends read it too - it was THAT brutal. With no prior affinity towards Guy, I still felt like I needed to give him a hug and a neck nuzzle.
Pete Wells, the author of the NYT review used words like, "nuclear waste", "inedible" and "oil-sogged"… which instead of turning me off to Guy's, intrigued me. I asked myself: "Could it really be THAT bad?"
Challenge accepted, Mr. Wells.
I talked a foodie friend of mine to come along for the ride. She gladly accepted, also having made a few of Guy's recipes with great success. We milled over the menu for weeks online before the day we drove into the city.
We arrived in Times Square for an early lunch, right after opening at about 11:45, … and the place was empty.
We were welcomed by a hostess of average congeniality and seated at a table towards the front of the restaurant, near the bar area.
Looking around, the restaurant is pretty similar to basically any suburban chain restaurant you've ever been to, just on a larger scale. Our server was friendly and greeted us promptly.
After reading about the Watermelon Margarita that "glows like nuclear waste" I scanned the menu to place my order. It appears that glowing margarita has been removed from the drink list, however.
My friend and I both settled on Blueberry Mojitos – they were light on the alcohol, but overall, tasty and not overly sweet.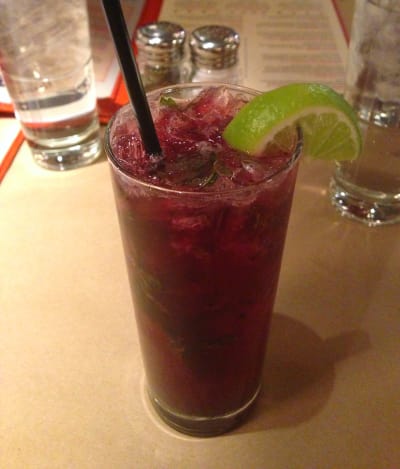 I do have to mention that I was a little underwhelmed by the selection of specialty drinks on the menu. With a bar the size of the one they have, you would think that they would have lots of interesting concoctions. Count that as disappointment numero uno.
After scanning the appetizer list, we agreed on the California Egg Rolls as our starter. They were good, albeit slightly uninspired. The menu in itself is a lesson in well-spun adjectives. At first glance everything sounds major! But then, reading a bit further, you see through the jaunty on-purpose misspellings (Provolone Stix) and realize he is just selling you Fried Cheese.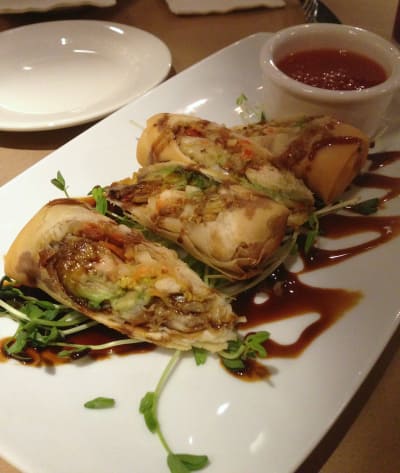 I guess I expected more.
We decided we'd stick to simplicity and sandwiches for our main lunch course. Now, I'll tell you I went back and forth on whether to order an entrée or a sandwich. But in all honesty, I wasn't drawn to any of the entrees. They were fairly typical (and boring) like steaks, ribs, and salmon.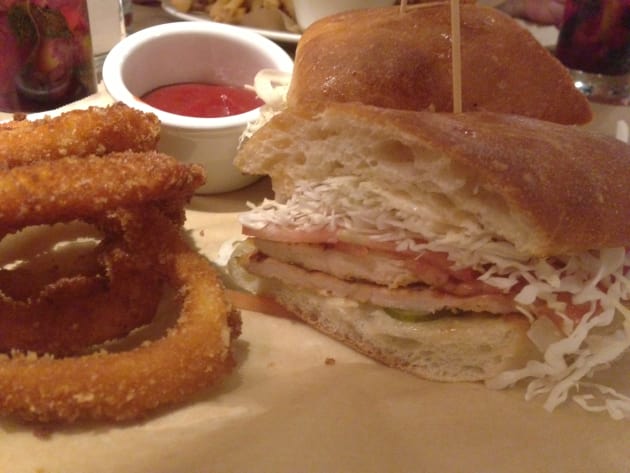 I settled on "Unyawns Cajun Chicken Ciabatta". It's described as "Grilled Cajun-spiced chicken breast with a slathering of Donkey sauce, shredded cabbage, and sliced tomato on garlic-butter toasted ciabatta".
The food came out in a timely fashion, but my sandwich, while acceptable, wasn't special in any way. I had to ask what "Unyawns" meant in the title. The server said that the "Onion Ciabatta bread" was what the sandwich was served on. Very confusing, even he admitted so.
The "slathering" of Donkey sauce was more like a wisp. Before we go any further, get your mind out of the gutter. Donkey Sauce is a spicy-ish mayo. I did ask for more, which the server brought out for me. Honestly, it wasn't very spicy, and much more mayo-ey than anything else. Donkey Sauce FAIL.
My friend ordered "The Big Dipper", which was a basically a French Dip sandwich. It was good. Not great. Sensing a theme here?
The portions are huge, which was to be expected, for sure. Despite being full, we decided to give Guy's desserts a try. The server said they are all made in-house, fresh every day.
We chose the "Salted Whiskey Caramel Fool," which was described as "Sea salt whiskey caramel sauce, macerated strawberries, toasted house made pound cake, fresh whipped cream and hazelnut brittle." It was listed as a "Guy's Signature Dish", and again didn't live up to my expectations of a signature dish.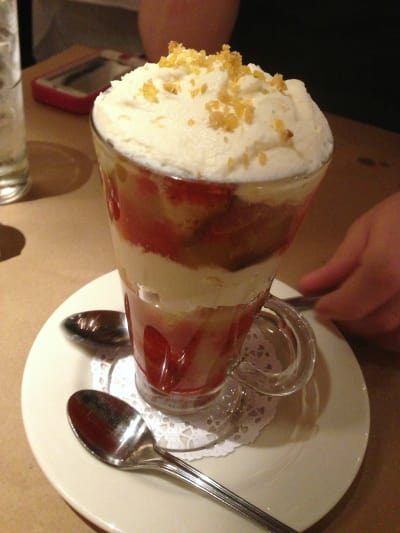 Sounds like a feast for the taste buds, yes? Well, it was essentially a parfait. Annnnd it was just ok.
Here's the thing. I really, REALLY wanted to like Guy's American Kitchen. Like, really. I mean, I read the NYT review and still went, hoping that Mr. Wells just had his britches in a wad. And while I didn't find the food or experience nearly as offensive as Wells did, I won't be rushing back.
If you happened to be going there and invited me along, I would go with you and try something new. But I certainly wouldn't recommend it, especially when New York City has so many other amazing options from which to choose.
I expected Guy to raise the bar a little bit from the Friday's around the corner.
Are you tired of the dinner routine?
Stuck in a rut or looking for fun new recipes to try?
Our Facebook Group is growing every day! If you haven't joined yet, we invite you to come check it out and join the fun.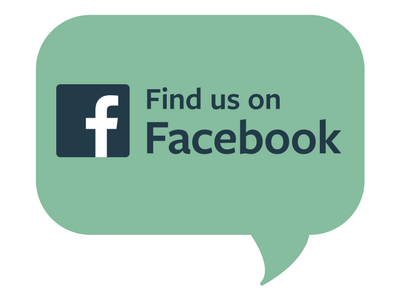 You can ask for recipe ideas, talk about cooking techniques, or get help figuring out the right new pan set for you. If you've already joined, invite a friend along!

Tags: Restaurant Reviews