Cilantro Pesto Meatballs
Natalie Perry | Perry's Plate Updated
Cilantro pesto meatballs are where it's at! Juicy meatballs spiked with cilantro pesto simmer away in a pan of enchilada sauce.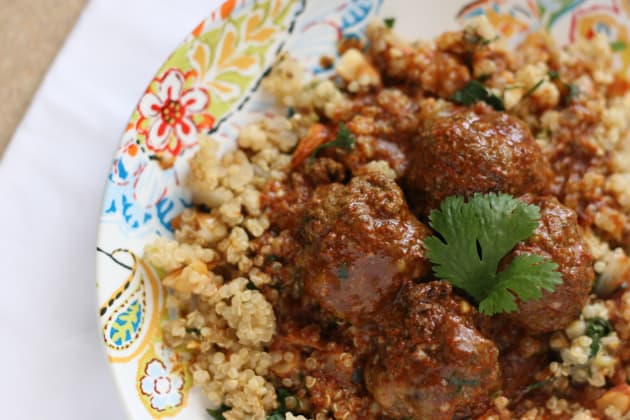 Enchilada sauce, to me, is the real star of a big, steamy, drippy pan of enchiladas. Without it, you'd just have a bunch of dry burritos squished into a pan. And a lot of chafing.
But a pan of enchiladas is a big, giant carb commitment that you might not be willing to make on a regular day. And let's face it, they're a lot of work as well. Because I would pretty much eat anything covered in enchilada sauce, and I like short cuts, I figured meatballs would work.
They really do. Especially since these particular meatballs are stuffed with cilantro pesto. (Hence, the greenish hue. You weren't scared, were you? I promise I have good beef.)
Depending on how strict you are about your paleo meals, you could sprinkle a little cheese on them. Or serve them with Cilantro-Lime Quinoa (like I did). Spaghetti squash would work, too.
I used the leftover sauce from my Taqueria-Style Shredded Beef, which is pretty spectacular. If you don't have leftovers from other projects in your fridge, try making your own enchilada sauce!
Ingredients
Pesto:
1 bunch Fresh Cilantro
3 tablespoons Red Wine Vinegar
2 cloves Garlic, peeled and halved
2 large Green Onions, chopped into 2-3 pieces
1/4 teaspoon Ground Cumin
1/2 teaspoon Salt
1/4 cup Olive Oil
1 teaspoon Hot Sauce
Meatballs:
1 1/2 pounds Ground Beef
Salt
Black Pepper
1/4 cup Coconut Oil
1 10-ounce can Enchilada Sauce
Directions
Remove a few pinches of the cilantro leaves and set aside.
Put the rest of the bunch into the work bowl of a food processor along with the vinegar, garlic, onions, cumin, and salt. Pulse until mixture is finely chopped.
While the machine is running, slowly drizzle in the oil. Taste and adjust salt as needed. Add hot sauce, to taste.
Place the ground beef in a medium bowl.
Pour the pesto over the top with a pinch or two of salt and pepper. Using your hands, mix gently. Don't squish the meat in your fists, but mix it gently with your fingers. Form meat into about 18-20 2-inch balls and place on a large plate. At this point you can cover and chill the meatballs until you're ready to cook them.
Preheat the oven to 350°F. Pour half of the enchilada sauce into a 9x13 baking dish. Put the coconut oil into a medium skillet over medium-high heat.
When the oil is hot, brown the meatballs on two sides (no need to cook through), and place them in the prepared baking dish. Work in batches, browning 4-5 at a time.
Cover baking dish with foil and bake for about 20 minutes or until the meatballs are done in the center.
Notes
1 bunch of cilantro is a bouquet of leaves and stems that you can hold comfortably in your hands.

Tags: Paleo, Meatballs, Dinners, Sauteed, Gluten Free